Feature
Coming This Month
Notable January Indie Press Releases
Each month, our staff chooses several notable books released from indie presses and hybrid publishers.
Check out our top picks for the best new releases from indie presses this January - a mix of fiction, non-fiction and children's.
Let us know of any new releases you are excited about in the comment section below.
Happy reading!
---
Sirens, A Memoir
By Joshua Mohr (Two Dollar Radio)
With vulnerability, grit, and hard-won humor, acclaimed novelist Joshua Mohr returns with his first book-length work of non-fiction, a raw and big-hearted chronicle of substance abuse, relapse, and family compassion.
Sirens provides a harrowing and complicated account of Mohr's years of substance abuse and culpability. Employing the characterization and chimerical prose for which he has been lauded, Mohr leaves no rock from his sordid past un-turned, from his childhood swilling fuzzy navels as a latch-key kid, through the black-outs and fist-fights, his first failed marriage to his path to sobriety, through the birth of his daughter and the three strokes he suffers in his thirties that reveal he has a literal hole in his heart.
Sirens is a spectacularly moving tome of honesty and emotion from one of our most gifted contemporary writers.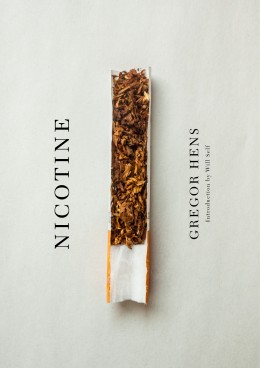 Nicotine
By Gregor Hens; translated from the German by Jen Calleja (Other Press)
Written with the passion of an obsessive, Nicotine addresses a lifelong addiction, from the thrill of the first drag to the perennial last last cigarette. Reflecting on his experiences as a smoker from a young age, Gregor Hens investigates the irreversible effects of nicotine on thought and patterns of behavior. He extends the conversation with other smokers to meditations on Mark Twain and Italo Svevo, the nature of habit, and the validity of hypnosis. With comic insight and meticulous precision, Hens deconstructs every facet of dependency, offering a brilliant analysis of the psychopathology of addiction.
This is a book about the physical, emotional, and psychological power of nicotine as not only an addictive drug, but also a gateway to memory, a long trail of streetlights in the rearview mirror of a smoker's life. Cigarettes are sometimes a solace, sometimes a weakness, but always a witness and companion.
This is a meditation, an ode, and a eulogy, one that will be passed hand-to-hand between close friends.
Marvellous Thieves: Secret Authors of the Arabian Nights
By Paulo Lemos Horta (Harvard University Press)
Although many of its stories originated centuries ago in the Middle East, the Arabian Nights is regarded as a classic of world literature by virtue of the seminal French and English translations produced in the eighteenth and nineteenth centuries. Supporting the suspicion that the story collection is more Parisian than Persian, some of its most famous tales, including the stories of Aladdin and Ali Baba, appear nowhere in the original sources. Yet as befits a world where magic lamps may conceal a jinni and fabulous treasures lie just beyond secret doors, the truth of the Arabian Nights is richer than standard criticism suggests.
Marvellous Thieves recovers the cross-cultural encounters—the collaborations, borrowings, and acts of literary larceny—that produced the Arabian Nights in European languages. Ranging from the coffeehouses of Aleppo to the salons of Paris, from colonial Calcutta to Bohemian London, Paulo Lemos Horta introduces readers to the poets and scholars, pilgrims and charlatans who made crucial but largely unacknowledged contributions to this most famous of story collections. Each version betrays the distinctive cultural milieu in which it was produced and the workshop atmosphere of its compilation. Time and again, Horta shows, stories were retold and elaborate commentaries added to remake the Arabian Nights in accordance with the personalities and ambitions of the storytellers and writers.
The Unintentional Adventures of the Bland Sisters: The Jolly Regina
By Kara LaReau; illustrated by Jen Hill (Amulet/Abrams)
In the spirit of A Series of Unfortunate Events and the Incorrigible Children of Ashton Place series, The Unintentional Adventures of the Bland Sisters will captivate middle-grade readers looking for humor, hijinks, and a swashbuckling good time. Meet Jaundice and Kale Bland, two sisters who avoid excitement at any cost. Together, they patiently await the return of their parents, who left on an errand years ago and have never returned.
One day, the Bland sisters are kidnapped by an all-female band of pirates. They're unwillingly swept into a high-seas romp that might just lead to solving the mystery of what happened to their parents. With whimsical illustrations and Roald Dahl–esque wit, The Unintentional Adventures of the Bland Sisters is the visually stunning, laugh-out-loud funny start to a new series for readers who are looking for an anything-but-bland adventure.
The Owl and the Pussy-cat
By Edward Lear; illustrated by Charlotte Voake (Candlewick Press)
Edward Lear's lyrical rhyme about an unusual couple who sail far, far away has delighted and captivated readers for generations. With expressive illustrations by Charlotte Voake and a forward by master storyteller Julia Donaldson, this is a book to be treasured by Lear fans young and old.
Follow the adventures of the Owl and the Pussy-cat in a beautifully illustrated new edition of the beloved classic.
---
Comments
---