Mark Michaels and Patricia Johnson have won three IPPY Awards for their books. Check out the award-winning books below.
Designer Relationships: A Guide to Happy Monogamy, Positive Polyamory, and Optimistic Open Relationships
Designer relationships may encompass: people who bond emotionally but not sexually; people who agree to be non-exclusive; single people who have occasional lovers or friends with benefits; couples who consciously choose to be monogamous; multiple partner configurations where long-term bonds exist among all or some; partnerships in which people are kinky and that make room to explore kink.
The possibilities are limitless, and thinking about a partnership as something people can craft allows for flexibility and change. Relationships can open and close or have varying degrees and kinds of openness as circumstances demand. In the context of a designer relationship, decisions are made mutually, consciously, and deliberately.
Partners In Passion: A Guide to Great Sex, Emotional Intimacy and Long-term Love
Most of us long for intimate relationships, and though texting and emailing may keep us superficially connected, it ultimately cannot create the kind of intimacy necessary to sustain a deep, fulfilling, and lasting partnership. With the divorce rate reaching a staggering 50 percent in 2013 and the breakup rate among unmarried long-term couples even higher, it appears that the more we tweet, the more disconnected we become. So many of us believe that new is better, hotter, and more intense, but love at first sight isn't really love, it's chemistry. Developing the connections and intimacy that everyone craves takes time and skill. In Partners in Passion, Michaels and Johnson provide readers with a fun, step-by-step guide to discovering true, loving, and romantically sexual relationships that will last for decades.
Great Sex Made Simple: Tantric Tips to Deepen Intimacy & Heighten Pleasure
Take your sex life from ordinary to extraordinary with this fun and easy-to-use beginner's guide to authentic Tantra.
Explore new and surprising sources of sensual delight with fifty-four Tantric techniques for enhancing intimacy and deepening pleasure. Proving that Tantric lovemaking doesn't have to take hours, Tantra experts Mark A. Michaels and Patricia Johnson present straightforward, simple practices that anyone can do. Along with fundamental principles of Tantric sex, you will discover amazing ways to prolong arousal, physically and spiritually satisfy your partner, maximize sexual bliss, and reach higher states of consciousness.
Feature
Couples That Write Together
Collaboration Tips for Romantic Partners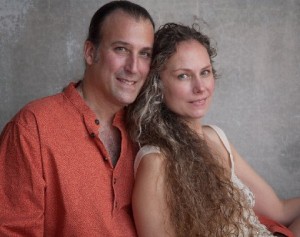 We have been married for sixteen years, and over the course of a decade, we have written five books on relationships and sexuality. Writing together as a married couple has been surprisingly intimate and sometimes challenging. We've had to develop skills to insure that the collaborative process functions well. These skills can deepen connection, build trust, and fortify any relationship.
Here are a few of our favorite, field-tested techniques:
1. Know Your Strengths and Weaknesses.
We have different backgrounds, skill sets, emotional tempos, and ways of working. It took us a lot of trial and error to arrive at a style that emphasized our individual strengths. This is the approach that works for us (your mileage may vary): we start by discussing a topic, often while we are on a road trip. Patricia touch-types the conversation and later composes a very preliminary outline from her notes. Mark then writes the next draft, and we take turns editing it. Patricia prefers to get Mark's feedback in a redlined document, whereas it is easier for Mark to sit side by side and hear Patricia's comments, while reviewing the manuscript.
2. Connect Non-Verbally
Receiving edits from someone you love can be highly charged, so it is important to feel connected first. We like to say that communication is important, but talking is overrated. As writers, we are word people, but verbalizing involves the narrative, logical part of the brain. Getting your point across can be antithetical to connecting. If you can connect non-verbally before starting to talk, you can quiet the mind a little, and get into a state of more emotional and physiological harmony. This makes it easier to address any issue as partners not as adversaries.
3. Be Honest in Moderation
This is very important when giving and receiving feedback of any kind. It entails striking a balance between expressing your opinions and gauging how they are being received. If you feel it necessary to be honest about something negative, we advocate tempering honesty with kindness by trying to express whatever it is in the least damaging way possible.
4. Be Kind
Striving to be kind, especially when things are not going well, is essential for maintaining an atmosphere of love and caring. Bearing in mind the importance of kindness, even when you are feeling angry or upset, can serve as a check on any impulse to be brutally honest. If you keep kindness as your touchstone, it is far more likely that your partner will be able to receive your words, even if what you are expressing is difficult and perhaps not entirely welcome.
5. Be Flexible
Humans are creatures of habit, and in many respects there is nothing wrong with behaving habitually. Most of us would be unable to function without some form of daily routine. This is especially true for most writers, but as much as we need our habits and routines, we also need to be able to adjust. In a collaborative relationship, you may have to alter your routine so that you can work together effectively.
6. Cultivate Profound Interest
We define love as profound interest. For us, the process of writing together has been a way of repeatedly rediscovering each other and reigniting this profound interest. This is an ongoing process that requires some effort. The first step is to cultivate the ability to pay attention to your partner's state.
7. Read to Each Other
This can be very intimate, even when it's done with editing in mind. Reading to each other is profound interest in action because it requires attention. We read our manuscripts out loud ten or more times and edit as we go. This insures that we're delivering the best possible product and also that we're solidly in agreement about our content.
---
Mark A. Michaels and Patricia Johnson (three-time IPPY Gold winners) are a devoted married couple. They have been creative collaborators since 1999, and their critically acclaimed titles have garnered numerous awards. Michaels and Johnson are the authors of Partners in Passion, Great Sex Made Simple, Tantra for Erotic Empowerment, and The Essence of Tantric Sexuality. They are also the creators of the meditation CD set Ananda Nidra: Blissful Sleep. www.MichaelsandJohnson.com

---
Comments
---