Get to Know Shirin Bridges
IP: Tell us a bit about your experience as an author.
SB: My first book, Ruby's Wish, was about a girl who grew up in China at time when girls weren't taught how to read or write. Yet Ruby wants to find a way to go to university. My second book, The Umbrella Queen, is about a girl who grows up in Thailand, in a village where all the women paint umbrellas in the same way. This girl wants to paint her umbrellas differently. You can see a theme developing from just these first two books. I am very interested in stories about girls who manage to assert themselves and do the unexpected.
IP: Why did you make the switch to publishing?
SB: I had been a creative director in advertising for a long time and I was looking for something different to do. I thought my skill sets overlapped enough with publishing to make the move interesting and within the realm of possibility, yet provide a good stretch.
IP: How has been an independent publisher affected your position in the market?
SB: It can be very hard to be an indie publisher because you carry a stigma with you. I think a lot of independent publishers are discarded from the beginning as being a vanity press, and the fact that I wrote the first six books myself made people wary that it was a self-published series. Fortunately for me, I had won several awards with my first two books so bookstores were willing to give me a second look. That initial barrier is changing for us now with accolades and awards like the IPPY medal, and with the simple fact that there are other authors now involved with Goosebottom Books.
IP: Do you have a personal favorite heroine?
SB: I have a few favorites. One princess who hasn't made the list yet is Marguerite, Queen of Navarre, the sister of French king Francis I. She has been recognized as the mother of the French renaissance, she was incredibly intelligent, and she spent her time with people such as Erasmus and da Vinci. In addition to being this super brainy person she also has an incredible activist side and a very compassionate side. She is a very appealing princess because she has so many facets; she's not only smart but wise, and not only brave but kind.
IP: How do you go about choosing the famous women for the books?
SB: We want the women to have balanced and three-dimensional portraits. We like to spread our women across the globe to show that this is a worldwide phenomenon in all different cultures and times in history. I start by doing some preliminary research on the possible characters and we cut down from about 15 to 6 women. I will then ask the authors if they could add or subtract to the list.
IP: Do you foresee any changes to your publishing strategy?
SB: I believe that our audience deserves female role models and books that are written with girls in mind. We are delighted when the books are enjoyed by both boys and girls but we don't need to chase after the boys, they can find us. One day it might become The Thinking Kid's series, but right now our titles say something about
Independent Publisher on Instagram
Indie Groundbreaking Publisher
Goosebottom Books
Celebrating Womens History Month with the Right Female Role Models
This month's Groundbreaking Indie Publisher, Goosebottom Books, is a brave new press with a mission that is near and dear to the hearts of female readers everywhere. Author and publisher Shirin Yim Bridges, along with the rest of the team at Goosebottom Books, strives to promote powerful and inspirational role models for young women, as well as sneak what they call "stealth education" into their books. With Women's History Month upon us, I spoke with Bridges about her books, her goals as a publisher, and Goosebottom's plans for the month of March.
The press began as a response to the lack of educational and empowering material on the market for young girls. "My niece was in the middle of a Disney princesses craze and I wasn't very keen on the message of some of those stories," Bridges explained. "I knew there were plenty of princesses who didn't sit around waiting for a prince. I thought the books were needed as many of those stories had yet to be told."
These stories became The Thinking Girl's Treasury of Real Princesses, six tales about real and influential princesses such as Hatshepsut of Egypt and Isabella of Castile. Bridges found herself working under a fairly serious deadline once Goosebottom Books was up and running in February 2010. "I did some research and I found out that in November the School Library Journal comes out with a roundup of the nonfiction book series of the year. In order to have a chance of being reviewed, your book has to be published by October, so I had to have the six Princess books ready in about seven months. It was a big leap, but it was fun and I learned a lot along the way!"
(Ed. Note: The Thinking Girls Treasury of Dastardly Dames was selected as a "Top Ten Nonfiction Series for Youth" and will be featured in the April 1st Series Nonfiction Issue of Booklist.)
Following the Real Princesses was The Thinking Girl's Treasury of Dastardly Dames, which feature Cleopatra and Mary Tudor, among others. Both of Goosebottom's series focus on the stories of powerful women and the historical context in which they lived. Bridges and the other Goosebottom authors have found that it is possible to get kids excited about reading nonfiction.
"Stealth education it really the crux of it," Bridges told me. "We put in the educational material that we want, and we're not afraid to put in unfamiliar words or concepts that seem a bit startling (such as eunuchs or concubines). Our end goal is a combination of education and empowerment, and we want it to be fun."
I was curious to know how the title The Thinking Girl's Treasury came about. "The books were inspired by my niece, the original Thinking Girl," Bridges explained. "We are writing for intelligent, curious, and advanced readers, and I wanted our title to acknowledge our primary audience. The publishing industry greatly favors books marketed to boys because there is a perception that girls will read anything they find interesting. We're smart enough to do that," Bridges joked. "But boys have traditionally been more reluctant to touch anything girl-centric. I thought girls deserved their own thing and I was quite appalled that all these female role models were missing from children's bookshelves. With Goosebottom Books I wanted to right that balance."
Bridges has undoubtedly taken some steps to swing publishing back into women's favor. However, the problem wasn't simply that these heroines had stories that went untold, but that there was a stereotype attached to the idea of a female role model.
"For a woman to be spoken about she has to be a saint, while male role models can have flaws," Bridges said. "Oftentimes men are profiled because they were powerful and affected world history. Women, on the other hand, are usually famous because they are good: think Joan of Arc, Mother Theresa, or Rosa Parks. Our women were chosen in part to get girls kids reading and developing a love for history and biography. The 'dastardly' aspect of The Dastardly Dames is darkly fascinating and reinforces the fact that women can be powerful and women do make history. In essence, a female role model does not have to be perfect."
Reviewers and book award judges must agree with this view, as Goosebottom Books have been getting quite a bit of buzz these days. The Real Princesses series won a 2011 IPPY in the Multicultural Non-fiction Juv-Teen-YA category, and both the Hatshepsut of Egypt and Isabella of Castile stories were selected by the Amelia Bloomer Project as Recommended Feminist Books for Young Readers.
"When we take the books to librarians and teachers, they pay attention to the IPPY," Bridges noted. "The Amelia Bloomer nominations are going to mean a lot to the part of our market that's aware of the shortage of feminist stories for girls. We're getting enough nods to help us out by making people realize we're serious about this and that we're producing quality books."
With March as Women's History Month, Goosebottom Books has a busy lineup for promoting their books and their message to young women. "We're very active in March," said Bridges, " and we all waive our reading fees in celebration of Women's History Month. There are a lot of readings on our calendar for schools, bookstores, book festivals, and writers' conferences. Our message is always the same: girls need to know that they can do it and that amazing things are possible."
Bridges and her team have proven that that is certainly the case, and they aren't stopping now. The press has a lot coming up in the next year; not only are they adding to both series with volumes on Sacajawea of the Shoshone and Njinga "The Warrior Queen," but they also have a spooky new book coming in fall 2012 and IP has the scoop.
"Horrible Hauntings: An Augmented Reality Collection of Ghosts and Ghouls is a ghost book that features ten different historical ghosts," Bridges told me. "What's neat is that you can download an app to your phone or iPad and when you look at the illustrations you can see the ghosts materialize and interact with them. Kids this age love ghosts and using new technology. Plus, it's still stealth education: all true stories from and about history."
All in all, Goosebottom Books is well on its way to changing the way girls (and boys!) view powerful women and the genre of nonfiction. Bridges perfectly summed up Goosebottom's goals for the years to come.
"We're a very idealistic little press and we hope that there will be more thinking girls in the future so that women will play an even larger role in history. The playing field isn't leveled yet and Goosebottom Books is one small way to address that."

* * * * *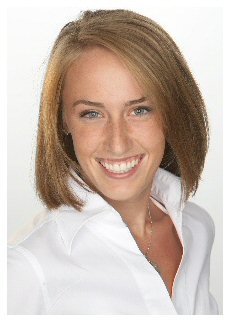 Jillian Bergsma Manning is a contributing editor for Independent Publisher. She loves reading and writing but not arithmetic. Follow her on Twitter at @LillianJaine or on her blog at www.editorsays.com.
---
Comments
---