What Does "Barefoot" Mean?
One click around Barefoot Books' website will tell you that living barefoot can mean anything from taking off your shoes and feeling the grass between your toes to living in such a way that fosters creativity without bounds. Featured on their website is the notion that living barefoot is "exploring other cultures, our planet, ourselves. It's making time for make-believe and letting imaginations run wild and free. Most of all, it's about using the power of stories to nourish the creative spark in everyone and strengthen connections with family, the global community, and the earth."
Living barefoot is a way of life for the men and women who work as ambassadors or otherwise at Barefoot Books. As Traversy says, "My children have grown up barefoot. We live the values of my business." Traversy's children also have an extra special connection to Barefoot Books, besides their familial tie. They wrote Animal Boogie, which has since sold 2.5 million copies and stands as one of Barefoot Books' bestselling titles.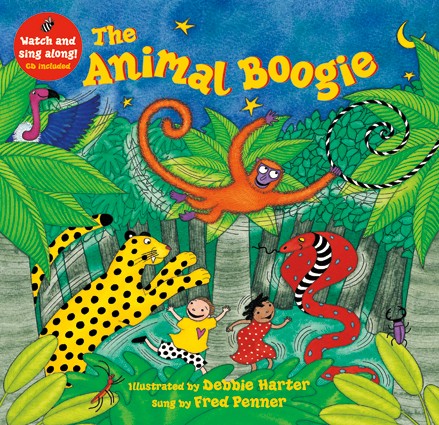 Barefoot titles are consistently recognized, often for their incredibly imaginative images. My Mama Earth, written by Susan B. Katz and illustrated by Melissa Launay was tied this past year for a gold Moonbeam Award in the category of Picture Book – 4–8 Year Old. Also awarded gold was World Atlas, by Nick Crane, illustrated by David Dean. This title now has its own app, the first and very successful one from Barefoot Books. The Wise Fool: Fables from the Islamic World, by Shahrukh Husain and illustrated by Micha Archer received a silver Moonbeam Award in the category of Multicultural – Picture Book.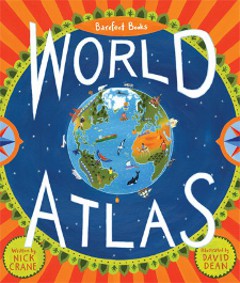 Barefoot Books has been awarded many Moonbeam Awards and has accumulated an array of accolades for their works in the past. They are certainly inspiring others to see the good in living barefoot.
Independent Publisher on Instagram
Indie Groundbreaking Publisher
Barefoot Books
Building a Barefoot Community for Twenty Years
Tessa Strickland and Nancy Traversy met for the first time in London in early 1992. By September 1993, they released their first list as the founders of this month's indie groundbreaking publisher: Barefoot Books.
Co-founder and CEO Nancy Traversy explained her initial meeting with Strickland. "At that time I was running my own consultancy business helping little creative start-ups. My background was in business—I had a business degree." Traversy's affiliation for visual creative projects stems from her artistic background. A personal tie brought her together with Strickland, who had a background in traditional adult publishing and wanted to start a children's publishing company.
"I was captivated by the idea of starting a small, creative children's publishing company that celebrated all the things that I was really passionate about," Traversy said. At the time of the founders' first meeting, Traversy had a young child at home, so she found this notion right at home with her personal and current interests. "The idea of starting a children's publishing company that allowed me to do something to do with kids, with a three-week-old baby daughter, but that was also artistic and creative and all about global awareness was a really wonderful idea. So we decided to start the company, Barefoot Books."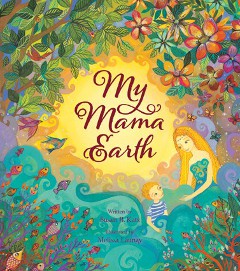 "It was really in response to what we perceived as a bit of a gap in the market—books that were, on the one hand, very high quality, very beautiful books that didn't dumb down to children but that really emphasized the power of a story in children's lives," Traversy explained. The founders were very focused on having an equal emphasis on the story and the illustrations of their titles. "We felt that books could be not only beautiful and engaging, but also educate children," Traversy continued. "We wanted to produce books that did both."
Launching for the first time in fall 1993, Barefoot Books released its first list from its offices in London. "The original model was that we would publish as Barefoot Books in England, and then we would find partners around the world to co-publish with. Much of our business in the early years came from selling rights to American publishers." Working with large American publishing houses as well as with other foreign publishers, Barefoot Books began with much of its business coming from abroad.
The company quickly began to grow and amass profit. In 1997, the company expanded across the Atlantic, setting up its new digs in New York in 1998. "It occurred to me that the whole was greater than the sum of its parts," Traversy said. "We were selling to lots of different American publishers, but our books were being really spread out. I would say that one of the things that really differentiates Barefoot Books from other publishers is that we've always had a distinct brand identity and a core set of values that underpinned all that we did. In the last 20 years, we've never really strayed from that set of values. When we were spreading out our books across all of these different publishing lists, no one really knew Barefoot."
In order to solidify their brand, the company made the transition to American soil. "We really wanted Barefoot Books to exist as a company and a brand in the U.S. market where we felt, almost more so than in England, there was going to be a market for multicultural, beautiful, high quality literature for children," Traversy told me.
From 1998–2000, the company offices remained open in New York until 2001, when the New York offices closed and were moved to Massachusetts. Throughout these moves, many tribulations seemed to follow the company and its founders. Carrying with it its core values of imagine, explore, create, connect, and give back, the Barefoot community continued to grow, opening their first flagship store in Cambridge in 2001.
Traversy explained the core values of the company, saying, "Explore very much ties into how we started the business—realizing that we live in a huge world and we want families and children to connect to their communities, but we also live in a small, fragile planet," and thus one of Barefoot's goals is to strive to help children become more globally-aware and appreciative of other cultures. Traversy emphasized the importance of imagination "in a world of too much information," saying, "Even in the name 'Barefoot,' it conjures up an image of a child, free to explore and imagine in their bare feet. More and more kids are getting away from that; they're programmed and over-scripted. I believe children should be independent and free to explore."
As part of their mission to give back, Barefoot Books has established its Ambassador Program, which Traversy called their "social selling network of passionate moms, teachers, grandparents," and others who sell Barefoot titles, receiving a portion of the profit, much like an independent bookseller. Barefoot Books Ambassadors include any and all individuals passionate about the power of children's books and in building communities, participating in charity work and benefiting those around them while earning independently.
The ambassador program also gives the founders a chance to connect more closely with its distributors and consumers, establishing and expanding its community of readers. Traversy said, "The nice thing about working with a community-based approach is that some people are attracted to Barefoot because they love that we are always 'green' and sustainable, and they are always doing their own projects like that. Others are attracted because they are artists and they love the color and design and art of our books. Others love the fact that we're multicultural and multilingual and that's what attracts them. Different people come to us for different reasons. They then go out into their communities and do things based on their own interests and how they're living barefoot."
Barefoot Books has also created their studios: elaborately decorated showrooms that foster a creative and playful atmosphere, available for public use. "It's where we bring our books to life," Traversy revealed. African drumming, puppet shows, arts & crafts, pottery, and yoga are just some of the activities that take place in these studios. The studios are used to foster connection-building. "It's really about connection," Traversy said. "I think parents, now more than ever, with so much information out there, are bombarded. I really believe that parents are looking for simpler, creative ways to connect with their children and in a community; that's what these studios are—they're hubbed in the heart of the Barefoot community."
(Image courtesy of Barefoot Books)

Traversy went on to say that Barefoot is also looking to foster similar online communities for both ambassadors and all readers to do some of these activities in their own homes. In the same vein, Traversy mentioned that Barefoot Books has always been in line with the digital movement, and it was one of the first British publishers to have a website in the early '90s. She likened testing Barefoot's new online objectives to jumping off of a cliff. "We often jump off cliffs," she said, "and we hope that we don't fall too far. I think that's what makes running a business fun and exciting. If you're not an innovator, it's hard to survive as a follower."
In alignment with their core values, Barefoot Books has also striven to remain an environmentally-conscious company. Their commitment to being as sustainable as possible is evident in both their titles as well as their production practices. In the past, the company has partnered with Eco-Libris in order to plant a tree for every copy of a book that was sold. A demonstration of dedication to the earth and a global mindset is at the heart of Barefoot practices.
Barefoot Books' core values and unique business model based on building and maintaining connections to new communities and to the earth have laid the foundation for the company's two decades of success. "We really have focused our business model very differently than most publishers…We've always thought about connection, community, and thinking outside of the box," Traversy told me.
As they begin to explore the world of apps and a new website, Traversy says, "We're really proud that we've done our first successful foray into the digital world and we really want to build on that. I think we've followed a model that was a bit radical, a bit pioneering. So many times over the years, people in the publishing industry have told me, you can't brand a publisher...You don't brand a publisher; no one knows who a publisher is. Now it's all about branding. Well, we've been saying that for twenty years."
With confidence, Barefoot Books is striding into its future, kicking off its twentieth anniversary year with Israeli Singer Rita Jahanforuz's book and tour—a very exciting way for the company to celebrate. Continuing to build their online presence to foster an even larger community, Traversy concluded, "We've always believed in that community-based model. We've always had that philosophy. Now in a world where it's all about connecting and social media, communities, branding, stickiness, and engagement, we've thought that way for a long time. I think that we're hopefully in a really good place to launch into our next twenty years."
* * * * *


Ariel Bronson is a senior at the University of Michigan studying as a dual concentrator in English and Communication Studies. She worked as an editorial intern at Sleeping Bear Press in 2011 and is currently an Online Content Editor at LEAD Magazine on Michigan's campus. Please contact her with any comments, questions, or criticisms at abrons@umich.edu
---
Comments
---