Darren Devitt
Though Devitt considers SmartEdit to be one of his greatest accomplishments, it's certainly not his only notable piece of work. Once a student of medieval history, Devitt spent most of his 20s traveling the world, eventually falling into the world of programming and software development as a career path. He's worked on major pieces of banking software, programs used by governmental departments, and projects for small eCommerce start-ups, all while balancing his own independent work on the side. In fact, Devitt has a lot in common with professional writers: he works his day job like a good citizen, and then comes home to his passion projects.
"I alternate between corporate software development and building things that I'm passionate about," he said. "It's the reality of the world we live in: passion doesn't always pay the mortgage, though it does feed the soul. So I pay the mortgage through corporate gigs, and take care of the soul myself."
In "taking care of his soul," Devitt has found that he was able to take care of a lot of other writers as well. His first product, a customizable word-processor and organizer called PageFour, earned him a slate of appreciative emails, and that trend has only increased with SmartEdit. With his latest software, Devitt took a less-is-more approach, trying to create a program that "knows its limitations" rather than one that tries to be smarter than its user, and he believe that no-frills attitude generally strikes a chord with a wider user-base.
"Too many other editing packages pretend to human—telling the writer (often incorrectly), to remove x instances of a word or phrase that it found repeated x times. What a human editor would know, and a machine does not, is that in many cases, word and phrase repetition is deliberately used by writers."
Independent Publisher on Instagram
Tech Desk
From the Tech Desk
New editing tool helps writers save on publishing costs
It's a common frustration for writers: you finish your latest work, be it a multi-page article or a sprawling novel, and then you direct your mouse to that small "ABC" check mark up at the top of your screen, hoping Microsoft Word's good old spelling and grammar check application has some helpful suggestions for you. Invariably, there are some words you spelled wrong or a few legitimate sentence fragments that Microsoft is more than willing to help you fix. But for the most part, you find yourself clicking through an hour-long string of bizarre punctuation corrections, fragments that aren't really fragments, and irritating, repetitive spelling notices for foreign last names or words that hadn't yet been added to the Microsoft dictionary when your version of Word hit the market.
If you have a publishing deal and a professional editor who is willing to do all the pesky detail work for you, then why waste your time with Microsoft Word and its largely disposable corrections? After all, it's infinitely more fun to spend that time refining your main character's motivations, or adding a scene to strengthen that chapter that was just shy of great the first time around. But more and more these days, that publishing deal doesn't exist and that "professional editor" is a freelance contractor who you're paying by the hour to get your work into publishable shape. And if you're one of those perfectionist writers who gets self-conscious about the smallest textual errors, there might still be a middle man within the software realm that can help set your mind at ease.
The program is called SmartEdit, a brand-new, first-pass editing tool aimed toward writers and their major projects. Like Microsoft Word's spellcheck tool, SmartEdit "flags possible misused or misspelled words, examines sentence structures, and monitors sentence length." But according to developer and mastermind Darren Devitt, the app is also considerably more intuitive than most other editing tools on the market, with a strong focus on pointing out unintentional cases of repetition—frequent sentence-starting phrases, for example—or illuminating inconsistencies in punctuation.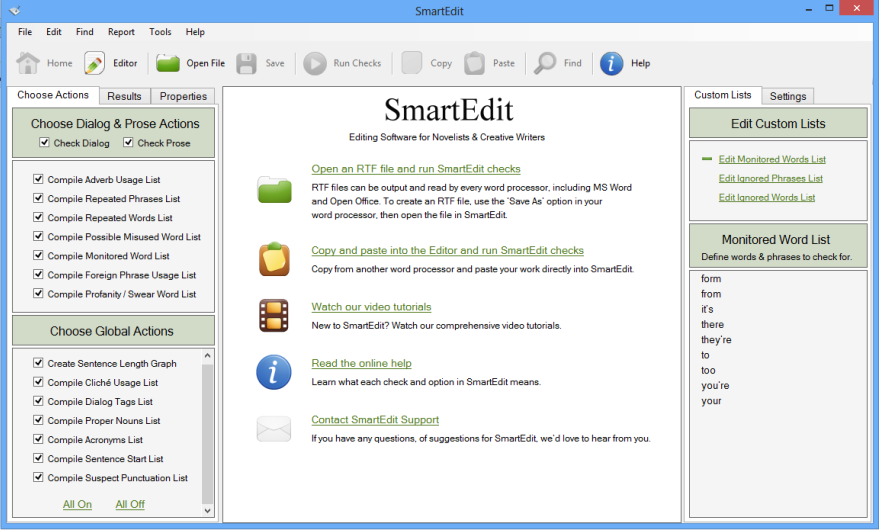 According to Devitt, a London-based computer programmer and corporate software developer who built SmartEdit on the side as a passion project, the need for such a tool has been growing rapidly over the past few years. Devitt, a self-confessed "voracious reader" took to hanging around writer's forums just as self-publishing and eBooks were really taking off, and that do-it-yourself trend quickly set off a series of light-bulbs in his mind.
"What I noticed in the past couple of years was that greater numbers of emerging writers were choosing the self-publishing route and bypassing the large publishing houses, at least initially," Devitt explained. "Unfortunately, many were also choosing to bypass the professional editor stage, usually due to the money involved in hiring a good editor—something the publishing houses would have paid for. SmartEdit emerged from this. My early thoughts were that an automated tool could identify some potential problems with a work before that work reached the professional editor, and in doing so, would reduce the cost of editing for these writers."
Because of its origin story, Devitt originally intended for SmartEdit to be an aid for creative writers and novelists. So while the tool could certainly be of use to journalists or people who use writing in a professional office setting, the program is carved out with the structure of a long-form creative writing project as its rubric.
"The software was built with novel writers in mind, and many of its checks only satisfy that sort of user—running checks on dialog only for example," Devitt said. "It's currently in use by published authors writing in all sorts of genres—romance, science fiction, YA fiction—and by writers who have yet to be published."
Of course, the positive reception and good will for the SmartEdit software hasn't been limited to authors looking to independently publish manuscripts. Devitt has seen the full force of the writing world rally behind the program in the months since its release—a strong reaction that seems to point toward the growing importance of quality writing in nearly all fields of work.
"Only last night I had an email conversation with a young writer who had been hired by her local paper to write a weekly column," Devitt said. "She wanted something to help polish the work before her boss's red pen got involved, and SmartEdit had already helped with her first submission."
So where can writers get their hands on the software? Head over to www.smart-edit.com to learn more or to download a free, unrestricted, ten-day trial version. Users can then peruse the site's galleries, videos, and FAQs to learn how to use the program on the fly, take advantage of its editing capabilities, and then, once the ten-day trial runs out, either move on or spring for the full version's $49.95 price tag.
* * * * *
Craig Manning is currently studying English and Music at Western Michigan University. In addition to writing for Independent Publisher, he maintains a pair of entertainment blogs, interns at the Traverse City Business News, and writes for Rockfreaks.net and his college newspaper. He welcomes comments or questions concerning his articles via email, at manningcr953@gmail.com.
---
Comments
---