The Decline of the Book App
Part of the reason for the major publishers' slow move toward ebooks as a children's book platform is the disappointment they experienced after gambling on book apps a few years ago. Rather than doing with children's books what they had done with novels and other older-audience titles, the big six publishers embraced the book app as the most likely successor for a physical children's book. After all, book apps offer interactive capability and support the kind of visual flare that kids love, and they do it in a way that more bare-bones ebooks might never be able to do. But book apps were too expensive to produce and to difficult to build an audience behind, so the publishers jumped ship.
"About three years ago, the book apps category was number one in number of apps, even bigger than games," Chintu said. "But today, they have really fallen out of favor, due to monetizing and compatibility issues. Now they are number six."
In that three-year time window, the big six publishing houses have decreased book app production by 75%, in essence acknowledging that the format is not a viable one. Chintu knows from his KiteReaders experience that simply selling children's books in the regular ebook stores is the better way to go, but how long will it take the major publishers to follow his example and get over the book app fiasco?
Independent Publisher on Instagram
Tech Desk
From the Tech Desk
KiteReaders Takes the Lead in Children's Ebooks
In the first quarter of 2013, nearly 50 million tablets were sold worldwide, up dramatically from 20 million in the same timeframe for 2012. That kind of market growth is impossible to ignore and most factions of the publishing industry have made a point to embrace it. However, as digital evolution has continued to overwhelm the book world in recent years, encouraging a swell in ebook titles—and in turn, cutting down significantly on sales of physical books—one portion of the publishing market has been somewhat left behind: children's book. Picture books, thanks to the fact that a great amount of their appeal rests on visual components, simply work better in the physical form than they do in the electronic realm. End of story. Or is it?
Enter KiteReaders, a start-up publishing platform devoted to creating electronic versions of children's books that retain the beauty, magic, and transformative charm of their physical counterparts. Led by co-founders, Chintu and Aarti, both veterans of Yahoo!, KiteReaders was founded in the fall of 2011 and has since become a major player in the children's ebook marketplace.
"So far, we have produced 105 beautiful titles for iBookstore, Nook, and Amazon.com," Chintu said. "In terms of market share, we are the number one player. We have more titles across the three stores than the biggest of the biggest players, like Random House or HarperCollins."
105 seems like a small number of titles for KiteReaders to be sitting in the number one position, but that figure only shows how far children's books still have to go before their digital presence is on the same level as novels or non-fiction titles. And they have an even longer path before that digital presence compares to the market sway that children's titles currently hold in physical bookstores.
So why the delay? Chintu doesn't think the blame rests on children, or more specifically, on any reluctance from young readers to evolve toward the digital format. In fact, kids may be more ready than anyone to embrace new technological forms. No, if blame must be placed, Chintu believes it belongs with the publishers and either their inability to construct viable digital options for picture book titles or a wider resistance to change.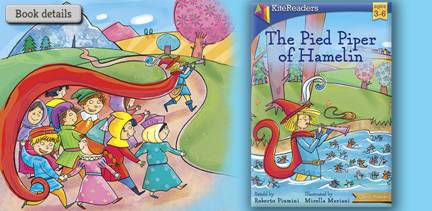 "Clearly the multi-billion dollar children's book market is transitioning into digital, because kids are already there and reading on their iPads and what-not," Chintu said. "But what's not there...if you go to Amazon today and look for books within the children's category, we saw about 733 thousand titles available in print to buy, but only ten percent of those are available in the digital format. So the devices are there, the kids consumers are there, but the content is not."
The reason KiteReaders has been able to climb so rapidly to the top of the digital children's book market is that most large publishing corporations still have a staggering blind spot in that market. From the beginning, KiteReaders has made it a mission to take advantage of that blind spot and fill the void, and the result, while not high in quantity, is bursting with quality. Sure, Chintu and the rest of the KiteReaders team have only produced 105 ebook titles, but they have also notched seven design awards—one which they defeated the design kings at Disney to acquire—and landed 32 of their projects on the top 100 ebook bestsellers list. That's not a bad average, and the statistics, along with a sampling of KiteReaders' gorgeous finished ebook products, have brought the California-based company mountains of buzz and attention.
Working primarily with independent publishers and self-producing authors, KiteReaders guides their clients through the three stages of ebook publication—creation, distribution, and marketing—with a steady hand and a collection of reliable connections. The first two phases—managed by the company's "KitePress" division—operate on the creation or conversion of ebook formats and help authors establish presences with all three of the major digital marketplaces. Chintu, thanks to his days at the helm of Yahoo!'s mobile search advertising platform, had the connections necessary to link his company with Apple, Barnes & Noble, and Amazon, and KiteReaders clients can now take advantage of those connections rather than trying to blaze trails on their own.
"Each major player has its own processes and different ways of doing things," Chintu noted. "If you are not working with the right people, you're not getting into the curated lists."
The other major point in the creation and distribution phases is making sure the ebook is formatted correctly to fit each different marketplace. The iPad, Nook, and Kindle all use different file formats, and for an author to be successful in the digital world—in children's books or otherwise—their titles need to be available in all three formats. KitePress boasts a program that rapidly and efficiently takes a PDF and produces three separate ebook versions of it, one for each major tablet format.
Once KitePress has done its job in creating and distributing the ebook, duties surrounding the title pass to KitePromote, which handles an array of marketing solutions from social media campaigns to wider promotional efforts. As Chintu notes, even with a good product, there are no guarantees: your title will still be competing with millions of other options. However, with the wealth of KiteReaders' resources and efforts behind your book, the title stands a much better chance at getting the attention it deserves. And with the company's 32 for 105 bestseller track record, KiteReaders is certainly one of the safer bets in the publishing game.
Interested in checking out what KiteReaders has to offer? Click here to join their email list, get a free ebook, and learn more about their publishing processes.
* * * * *
Craig Manning is currently studying English and Music at Western Michigan University. In addition to writing for Independent Publisher, he maintains a pair of entertainment blogs, interns at the Traverse City Business News, and writes for Rockfreaks.net and his college newspaper. He welcomes comments or questions concerning his articles via email, at manningcr953@gmail.com.
---
Comments
---