The Art of Recommending Books
The secrets to Prairie Light's success may be in their careful selection of inventory and hand-selling. "We try to curate a selection of books that encourages frequent browsing," states Jan.
If you aren't able to make it into Prairie Lights to browse their shelves or get a personal recommendation from Jane, Jan and their staff of extremely knowledgeable booksellers, so check out the books that Jan reveals are currently on the top of their lists.
Jan's recommended poets from the past: Keats, Dickinson, Wallace Stevens, Elizabeth Bishop, Donald Justice
Jan's recommended contemporary poet:
Micrographia, by Emily Wilson (University of Iowa Press)
The Daughters of Mars, by Thomas Keneally (Atria Books) - a recommendation by Paul Ingram and Kathleen Johnson
The Luminaries, by Eleanor Catton (Little, Brown and Company) - a recommendation by Evan James, a recent Writer's Workshop graduate and bookseller at Prairie Lights
The Empathy Exams, by Leslie Jamison (Graywolf Press) - a recommendation by Evan James and Jan Weissmiller
These recommendations will definitely keep you reading through the winter months. If you are still at a loss for what to read next, check out the staff selections here, or see what you find at Paul's Corner.
Independent Publisher on Instagram
Indie Groundbreaking Bookseller
Prairie Lights
A Writer's Paradise
While you are waiting for a coffee at the cafe at Prairie Lights, it's not uncommon to see students from the University of Iowa's Writers' Workshop furiously typing away at their computer keys as they tweak the closing scene of a chapter. Other times, you may see an instructor from the Writers' Workshop or The Iowa Summer Writing festival leading a class.
Sometimes, those same students who spent countless hours in Prairie Lights working away come back to read from their first published book years later, which Jan Weissmiller, co-owner of Prairie Lights with Jane Mead, reveals is a rite of passage for many former Workshop students.
The doors of Prairie Lights have been opened by countless famous authors who have sat in the same seats to hone in on their craft as the students from the Writers' Workshop. The current location on South Dubuque Street used to be the meeting place for a literary society with authors such as e e cummings, Langston Hughes, and Robert Frost.
Jan and Jane bought Prairie Lights in 2007. Before buying the store, both were full-time employees soon after the store opened in 1978 and occupied a 1,000 square-foot space.
"It was rewarding to work here in all of its stages. There was something wonderful about having a small, intimate store, and despite the fact that Prairie Lights is currently 11,000 square feet, it still feels vital and intimate," reveals Jan.
Another employee, Paul Ingram, has been with the store since 1989. "For the past two years he has run a very popular book club. Paul's Corner on our website promotes the club. He chooses books he has loved that he feels may have been neglected. We keep a full display of all of his book club selections in the store and it is heavily browsed," states Jan. All of their staff are separate pieces of the puzzle that without one, Prairie Lights wouldn't be what it is today. "These are professional booksellers; if you spend time watching them work, it becomes clear that it's an art form of sorts," concludes Jan.
Over the past several years, Jan and Jane have turned the challenges of owning a bookstore into an opportunity to take risks at Prairie Lights. "Anytime you can work in a space that works as a hub for a community of artists and the exchange of ideas, your work will be invigorating," states Jan. And no one would argue that the work that Prairie Lights is anything but invigorating and inspiring.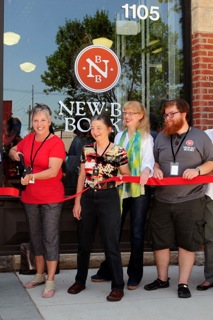 From changes involving an expanded cafe menu, a bookstore partnership, and a new publishing arm, Jan and Jane truly tune in to what their community needs and wants. "In 2012, we partnered with Mary Ann Peters who has opened New Bo Books in the neighboring city of Cedar Rapids," states Jan. While Mary owns the store, the business is considered a division of Prairie Lights and the two stores share inventory.
It wasn't until 2013 that Prairie Lights started Prairie Lights Books, a publishing arm of the store. Prairie Lights has an agreement with The University of Iowa Press who distributes, designs and edits the books. "Last year we published a reprint edition of Philip Levine's long out of print poetry collection, Sweet Will, along with a collection of essays about Philip Levine called Coming Close. In March, a collection of short stories by Jean Ross Justice, Family Feeling, will appear. In late summer, we are publishing a collection of Thurber-esque drawings by the poet Gerald Stern," states Jan.
The store's partnership with The University of Iowa doesn't stop there. The university co-sponsors the bookstores' readings that involve faculty or former students. "We work closely with the Workshop's legendary staff member Connie Brothers, who posts the reading on their website, makes posters, arranges parties and/or receptions, and promotes the reading to all of the current faculty and students," states Jan. The readings always draw in a large crowd, which helps boost book sales.
"This kind of cooperation means we often end up with crowds of 75-150 for these events. In cities ten times the size of Iowa City, such crowds would seem impossible, but the literary community here thrives and grows," discusses Jan. What stands out to Jan even more than the large crowds is the level of engagement for each event. She gives credit to Kathleen Johnson, Prairie Lights's events coordinator, "The sensitivity and humor with which she facilitates the Q&A period is continually remarked upon."
The partnership between Prairie Lights and the University of Iowa defines what collaboration should entail: people who love what they do and want to expose their community to all its writing talent. With a store whose owners, staff, and customers do just that, Prairie Lights has a long future ahead of them. We can't wait to see where it takes them, as well as all of the aspiring and published writers who have and will walk through its doors.
To stay up-to-date on what's going on at Prairie Lights, check out their website: http://www.prairielights.com/
Or tune in to their readings, "Live from Prairie Lights," streamed live online and archived on The Writing University Website: http://www.writinguniversity.org
---
Nicolette Amstutz is a writer for Independent Publisher. She recently graduated from the University of Michigan where she majored in English and Communications. Please contact her with any comments, questions, or criticisms at namstutz (at) umich.edu
---
Comments
---