Each find has a great story behind it, and Kenneth Gloss has appraised books on the "Antiques Roadshow" for about 15 years. "It is a lot of fun and a great way to see the country. Almost everywhere you go in this country if you make a little effort it is beautiful," he said.
On the Brattle Book Shop's website, there is a list of Kenneth's appearances on the show, with images of each item, the value, and a transcript from that episode. Kenneth told me about one memorable appraisal he did a number of years ago: "I did an appraisal of a lady who had her house built by Frank Lloyd Wright. It was the only one done in Omaha, Nebraska. This woman's grandmother acted as the general contractor in the early 1900s, which wasn't normal for a woman. She also told Frank Lloyd Wright she didn't like his designs and plans and told him to redo it. That was early in his career because he never would have put up with that later. She had all of the plans, all of the pictures, all the details, all of the blueprints and all of the correspondence. They were worth over a $100,000 and she was thrilled."
Independent Publisher on Instagram
Indie Groundbreaking Bookseller
Brattle Book Shop
Boston's Own Treasure Island
Kenneth Gloss, owner of Brattle Book Shop, describes his job perfectly; finding rare books across the U.S. makes him feel like he is Jim Hawkins on Treasure Island. The store is known for its large and diverse collection of rare and used books and has been going strong since 1825. Brattle Book Shop has been in the Gloss family since 1949 when Kenneth's father, George, owned the store.
Kenneth was thrown into the world of bookselling from a young age. The year after his parents bought the store, he was born. Many of his afternoons and weekends during elementary, middle, and high school were spent helping out in the store. Originally, it was part of Kenneth's plan to get his doctorate in chemistry, but looking back, he reveals he is a lot happier than he imagines he would have been if he was working in a research lab.
There definitely is a different kind of science behind running a rare and used bookstore. "The competition is a lot different," Kenneth said. "With new books, if you can sell a 1,000 copies you can buy 1,000 copies. In used books, the real competition is buying. If you can't buy the books, you can't sell them. You usually only have one copy of each thing although there are some exceptions."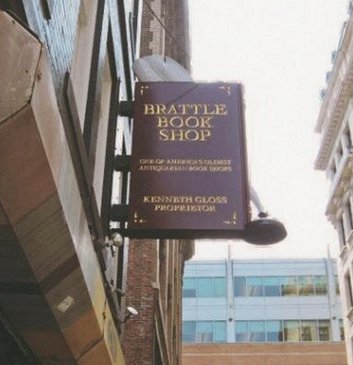 Although the major means of acquisitions is through estates, Kenneth sometimes will travel around the United States to obtain a certain book. However, unlike some of his colleagues, he says that he doesn't participate in book auctions. When he does travel though, it is always with a specific mission in mind. "Almost everyday we are going out to houses and estates in the Northeast and across the country," Kenneth told me. In many cases, a couple may be moving from a bigger house to a smaller apartment and need to get rid of some or all of their book collection.
At that time, Kenneth will decide what he wants to buy, go in with a check for the amount, and the deal is then done. There isn't the back and forth communication with various distributors and publishers about returns and new shipments. Kenneth admits that he doesn't miss that aspect of bookselling and prefers having less paperwork than you would have with a bookstore that sells new trade books.
At Brattle Book Shop, customers may recognize Kenneth from his visits to the local libraries around Massachusetts. He gives talks two to three times a month that are directed toward lawyers, antique departments, estates, trust-upons, and other book dealers who come in contact with rare and used books they are looking to part with. With these talks, Kenneth wants them to leave knowing Brattle Book Shop is there and ready to go when they are.
In addition to giving talks at local libraries, Kenneth participates in radio shows such as WBZ 1030 Radio—NightSide with Dan Rea and acts as an appraiser on "Antiques Roadshow." So how does Kenneth go about appraising a book? He says you can never know everything. Thanks to technology, Kenneth will do a quick search to find the information he needs if he doesn't have the answers. Sometimes he will work with other book dealers or call a colleague if he knows he doesn't have the expertise needed to appraise a certain item. Other times, the employees of Brattle Book Shop will do some of the research into the worth of a document or book.
With decades of experience in appraising books, Kenneth has racked up some great stories from fascinating people he has come across. At one talk he gave at a library in the Boston area, a lady brought a box of old papers up that were up in her attic. In the papers was a copy of the Declaration of Independence. Although it wasn't the first edition, it was from a few weeks later and was valued at $750,000. "It probably had been sitting in their attic since the Revolutionary War," Kenneth stated.
Another time, he got a call from an estate regarding a trunk they were going to throw away. The trunk contained 10 letters written by John Adams, John Quincy Adams, Madison, and Jefferson. In one letter, Jefferson wrote about how to deal with "traitors and terrorists" in regards to the War of 1812. "You are holding a letter that Jefferson sat, wrote, put his name on, held talking about 'traitors and terrorists' right after 9/11," Kenneth marveled.
Each day unearths new treasures. Another story that comes to Kenneth's mind when I ask about some favorite finds is a first edition of Great Gatsby. Not only did F. Scott Fitzgerald write a note inside, but the note was addressed to T.S. Eliot. Eliot wrote a bunch of comments in the margins of this edition upon receiving it as well. This book was valued at around $300,000.
While normally writing in the margins devalues the book, it adds to the value if the individual was famous in some way. For instance, Kenneth came across a Spanish textbook that had writing in the margins. It looked like any student's textbook with more doodles at the spots where the student's attention was completely lost. This textbook ended up being Dwight Eisenhower's when he was at West Point.
But what are the most-sought after books? Kenneth points to Temerlane and Other Poems. It was published in 1827 and is extremely rare. Oddly enough, the work itself looks like a pamphlet that wouldn't be worth anything. On the cover, it just reads "by a Bostonian." The Bostonian was actually Edgar Allen Poe, and this pamphlet-sized publication was his first published work and is valued at $800,000. "If you saw it, you would say it's nothing special—it is just a few pages, paper. It doesn't look like much. There are only a few copies left. It has tended to show up at yard sales and antiques sales because it doesn't look like anything," Kenneth said.
One of Kenneth's favorite parts of the job is that when you go through these estates you never know what you are going to see or what the people you meeting are going to be like. Even if you don't meet the people, Kenneth says he always ends up learning a lot about the owners from the books they have in their collections.
Now it's time to get hunting for some hidden gems of your own! Check up on Brattle Book Shop at http://www.brattlebookshop.com/.
---
Nicolette Amstutz is a writer for Independent Publisher. She recently graduated from the University of Michigan where she majored in English and Communications. Please contact her with any comments, questions, or criticisms at namstutz (at) umich.edu
---
Comments
---