Five Other Fictional Bookstores from the Screen that We Wish Were Real
1. Embryo Books from Funny Face
Studious bibliophiles would flock to this classicly intellectual bookstore if it were real. Though in the movie it becomes the chaotic scene of beautiful fashion, it is hard to ignore the leatherbound scenery and, perhaps, imagine the wonderful smell of books.
2. Women & Women First from Portlandia
This home of "bottom-selling" authors is always a treat when Portlandia allows us to visit. Sure, it is over the top and absurd, but how can you help but love it and its wonderful array of customers. It does occasionally take over the show's Twitter feed, like for hilarious live tweeting during the Super Bowl, so at least we have that.
3. Ray's Occult Books from Ghostbusters 2
The second movie finds the Ghostbusters bankrupt and Ray Stantz (Dan Ackroyd) operating his very own occult bookshop. As a former Ghostbuster and Columbia University faculty member, his collection must have ranged from rare and wonderful to bizarre and pulpy.
4. Argosy Bookstore from Vertigo
The dark wood shelves! The glass cases! But just enough clutter to make it seem like the kind of place you could wander into and not be intimidated. Jimmy Stewart came seeking information, but a real collector would have a hard time leaving without a quick hour or two browse. If you happen to be on Sutter Street in San Francisco you can visit The Argonaut, whose original location in the Financial District was the inspiration for the Hitchcock scene.
5. Shakespeare & Co. from When Harry Met Sally
Remember that romantic scene where Sally and Harry lock eyes and in the bookstore and it led to a great romance? (Well, eventually). That charming bookstore did actually exist. Thanks to a Barnes & Noble opening a block away, it went out of business in the mid-'90s.
Bonus: Flourish and Blotts from the Harry Potter series
While this bookstore is the realization of many a reader's dream bookstore, it started in the book series so technically did not count. But the movies did such a wonderful job of bringing it to life, it at least deserved a mention. Now, go ahead and imagine it in all its glory!

Independent Publisher on Instagram
Indie Groundbreaking Bookseller
Black Books
An Artisan Bookstore for Real People
Hidden away in the heart of London is a new/used bookstore that is sure to warm the heart of any bibliophile. Black Books is a bijou gem that is hard to find these days- charming built-in shelves with books piled on the floor, completely lacking pretense. Bernard Black wouldn't have it any other way.
Stepping into Black Books is like stepping out of time. Cell phones are strictly prohibited, as are devices of any kind. There are no computer stations to check inventory, just the mind of the owner. Adding to the effect, Bernard can often be found sipping wine and usually has a cigarette lit. When was the last time you saw that kind of joie de vivre in a shopkeeper? That carefree spirit can often be applied to the store hours as well. Opening hours can vary, but are rarely before noon. As Bernard says, "Have you ever bought a book at half ten...? No, you see, that would be a world gone topsy turvey." The shop, in theory, is open until five or six, but has been know to close at random times in the afternoon. How delightfully unique.

Like many in the business, Bernard has an innate understanding of what customers are really looking for and hand sells like the pro he is. A couple recently came in looking for a good vacation read. He grabbed two copies of the new release Tempocalypse. "You're going on holiday, you want trash. You're a woman you want social themes, believable characters. You, you want plot, suspense. This'll do you both." Both customers left excited about their new reads. To another customer after her purchase he said, "Enjoy it, it's dreadful, but it's quite short." What a master of bookselling!
Bernard Black wants you to know he cares about his staff. His staff is Manny. Yes, Black Books is run on a sparse staff of two, but one would hardly notice if they happen upon the shop when it is open. Manny's enthusiasm is evident in all his actions. "What? Do me a favor. Of course, we've got Jane Austen!" Manny enthused to a caller's inquiry.

Manny helps keep the new books in stock and is learning the knack of handselling from his boss. Bernard's management style could definitely be considered more of a trial and error model, often allowing Manny to follow his instincts with customers only to be berated or insulted. Manny seems to be an ideal employee for the experience though, as he is keen to do tasks around the shop including getting more wine for his boss. Bernard, to his credit, realizes what he has in Manny and has done much to keep him at Black Books, including wooing him back after Manny briefly left to work for the chain store Goliath Books and tearing up Manny's acceptance letter from Open University before he could even see it. That kind of personal attention and family-like atmosphere is rare sign of caring in business.

For shoppers, this tight-knit group can be a sight to behold as personal and professional issues are played out before them if they occur when the shop happens to be open. Again, this unusual lack of focus gives Black Books a genuine and authentic feel. After all, don't we all read to feel connected to the human experience? If people have to wait to purchase a book or have questions ignored while these slices of life are played out before them, shouldn't they be grateful?As mentioned, wine before, during, and after store hours is commonplace. This makes Black Books a regular "hangout" for people. Well, one person really- Bernard's oldest friend, Fran. Fran has helped out the men of Black Books on more than one occasion both with the shop and their personal lives. She has even been known to participate in the the occasional after hours dance party with the staff. Bernard Black even gets into the spirit with his unique '70s cop impersonations Belly Savalas and CoBumBo. Still, he does have his limits and decorum. "Don't you dare use the word party as a verb in this shop!" Bernard warns.
The human experience is, in fact, what makes Black Books, dare I say it, an artisan bookstore. I am sure we will see more of them in the future.
NOTE: Fans of the British television show Black Books know Black Books is not a real London bookstore. We at Independent Publisher thought it would be a fun pre-April Fools Day piece to feature this fictional shop which highlighted, in part, the everyday struggles of bookstore owners with competition from massive chain booksellers, sometimes clueless customers, and that delicate balance of loving books but not always loving book shoppers. If you have not seen Black Books but enjoy British comedy, the show is available for streaming at several sources.
---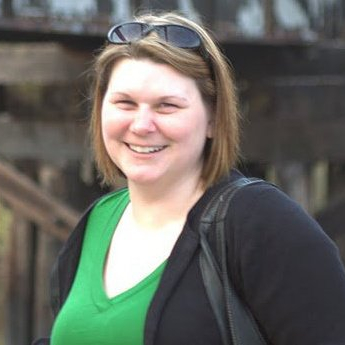 Amy Shamroe is Festival Director and Awards Coordinator at Jenkins Group. She has spent most of her adult life working in, with, and around books. Though she started her career as a bookseller, for the past eight years she has worked as a Jack of All Trades for the Awards. In her spare time, Amy enjoys traveling, sits on her local library's Friends Board, and keeps a blog about what she reads (when she remembers to update it).
---
Comments
---