IT'S A WAFFLE HOUSE CHRISTMAS
a poem by Danny Caine
The hotel closest to Grandma's
closest to affordable doesn't have
breakfast but it does share
a parking lot with a Waffle House
so Christmas morning over
the curbs and through the
gas station hedge to Waffle's
House we go. As soon as
the door chimes we feel it—
Tiny Tim doesn't show us
to our table but he might
as well. All the seats are full
except for ours and the waitress
is in a good mood. The line cook
isn't on a 45-minute smoke break
and all our food comes hot
and at once and people are
laughing and cheerful but
they're not singing or anything
thank god
and the whole place feels—
what's the word—clean?
It's a Christmas miracle,
a Waffle House that looks
like what Waffle House
looks like in your sepia
memories. It's enough
to make me want to stand
on a table, spread my arms
and yell
God bless us,
every scattered
smothered and
covered one of us.
Independent Publisher on Instagram
Indie Groundbreaking Bookseller
The Raven Book Store
Award-Winning, Rabble-Rousing, Neighborhood Bookseller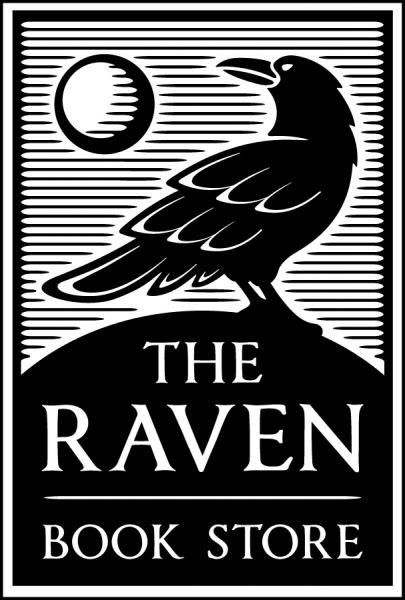 Danny Caine is an indie bookseller with a capital "I" and also an activist with a capital "A". Not surprising, I suppose, for a bookseller who's also a poet -- ala Lawrence Ferlinghetti and City Lights Bookstore, founded in 1953 as the nation's first all-paperback bookshop and still one of the world's most infamous indie booksellers.
But Lawrence, Kansas is a long way from San Francisco, and The Raven Book Store doesn't have quite the notoriety -- although it is over 30 years old and did outlive a Borders Books & Music that moved in across the street in 1997. Caine's own bookselling career is quite short, but in just five years -- two as store owner -- he has become somewhat notorious for his outspoken views on the unfair practices of online giant Amazon. But first, some background...
"Like so many of us, I grew up an avid and insatiable reader," says Caine. "I fell in love with Wooster, Ohio's Books in Stock used book store when I moved there for undergrad. I'd never lived in a place with an independent new-only bookstore with a robust event program and community engagement until I came to Lawrence to do an MFA in poetry. While in grad school I got a part time job at The Raven and fell in love with the whole business, enough to take over when I graduated."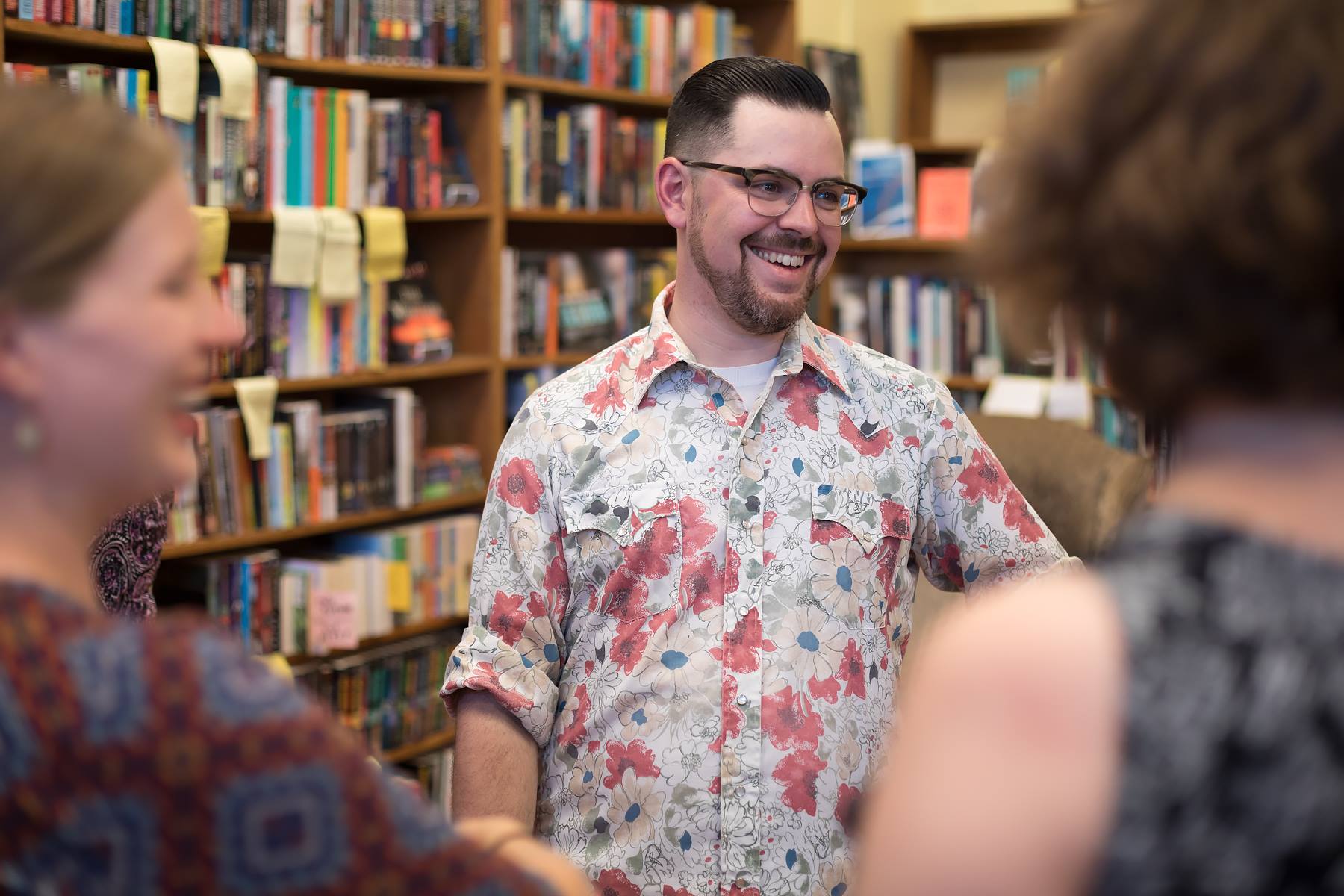 In September of 2019, just two years into his ownership, Caine received the Midwest Independent Booksellers Association Bookseller of the Year Award, given to an "independent bookseller who has had an extraordinary impact on their community," and the award webpage describes Danny as "a talented and ambitious face of the indie bookstore renaissance both regionally and nationally" and says he "believes in the power of books to bring people together in big and small ways—consistently giving a platform to underrepresented authors, demystifying the bookselling industry, and educating consumers in the service of helping every indie bookstore sell more books."
The Raven itself started as a small mystery-only store founded by Pat Kehde and Mary Lou Wright on September 1, 1987. "They funded the store themselves, scraping together enough money because no banks took them seriously enough to give them a loan," says Caine. "The store is here 30 years later, now a general-
interest, neighborhood bookstore, but maintaining a strong mystery section."
The Raven is a 1,200 square foot space, stocking 10,000 new books with specialties in literary fiction, poetry, current events, and mystery. In addition to Caine, the Raven has a dedicated group of nine part-time booksellers with diverse expertise and reading habits, from nature writing to horror, from middle grade to cozies, from cookbooks to memoir.
When asked for his opinion on the evolving state of publishing and bookselling, Caine had a lot to say: "In five years bookselling I've seen the rise and fall of ripped-from-the-headlines political nonfiction. Things like A Warning, by Anonymous aren't nearly the sensation that Fire and Fury was. I think people, at least among our customers, are moving back to lyrical, well-constructed nonfiction that artfully meditates on the act of living. Carmen Maria Machado's In the Dream House is outselling all of the Trump books this season, and frankly, I'm glad to see it."
"There's been a lot of talk about big publishers consolidating all of their publicity efforts behind bigger and bigger titles, but I actually see that less this Q4 season than I did last Q4 season where everything was Becoming. We haven't seen a single big title emerge yet; there are six or seven big books instead; still not a lot, but more than last year. Regardless, the consolidation of big publisher energy into fewer and bigger books makes me as a bookseller more excited to sell books from smaller publishers. "
"Really, the thing that scares me the most about how publishing is evolving, the thing I can unequivocally say is bad, is when single companies have outsize influence on the entire industry. When a little burp in Amazon's orders sends the entire publishing industry into a panic, we are 100% putting too much stock in a single company. It's even worse when that company is working hard to devalue the book itself. "
Of course the company he's referring to is Amazon, and here was Danny's activist side showing up again, fighting for the "little guys" of bookselling. When, in early September, Amazon began shipping Margaret Atwood's The Testaments a week before the "very strict, very clearly-stated affidavit" from Penguin Random House bookstores were required to sign, promising not to sell the book before September 10th, a Twitter firestorm erupted. Not only did Amazon "cheat" by selling the book early, they sold it at a price for which Danny's store, and likely many other indies, would make a profit of $1.73 per copy. He quoted Rachel Cass of Harvard Bookstore in Cambridge, Mass describing it in a PW interview: "It makes us look bad," she said. "This is bigger than just the book. Customers will see that people who ordered it online got their books. They will come into our store and see that we don't have it yet. They won't know or care about embargoes; they will just see that Amazon can supply them a book and we can't. They might not come in next time."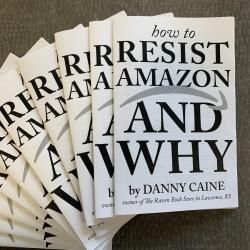 All this let to Caine deciding to write an open letter to Jeff Bezos and Amazon, scolding him for "devaluing the book" and requesting a more level playing field: "Correct me if I'm wrong, but it certainly seems like the book part of your business is modeled like this: sell books at a loss to hook people into Prime subscriptions, Kindles, Alexas, and other higher-margin products. While this strategy has worked really well for you, it's totally disrupted everything about the book business, making a low-margins business even tighter. Most dismayingly to us, your book business has devalued the book itself. People expect hardcovers to be 15 bucks and paperbacks to be under 10. Those margins are a nightmare for our bottom line, of course, but they also cheapen the idea of the capital-B Book. There's already enough happening to cheapen the idea of truth, research, and careful storytelling. We're dismayed to see the world's biggest book retailer reflecting that frightening cultural shift by de-valuing books."
The letter ends with a bit of a warning: "For our part, we try to level things by being really good at what we do, and really loud. So we use our platform to try to teach people what's at stake as your company increases its influence and market share. I think it's starting to work. I get the feeling that we're seeing chips in Amazon's armor." He concludes by inviting Bezos to come to Lawrence for a chat over pie and coffee, observe "a vibrant community anchored by small businesses," and the final statement: "Maybe it'll help you realize that some things don't need to be disrupted."
Caine then turned the entire letter, the tweet storms, some lists of Amazon's misdeeds, and suggestions about how to boycott them into a 16-page 'zine entitled How to Resist Amazon and Why, available at the Raven Book Store website for $3.00. Here's the last page: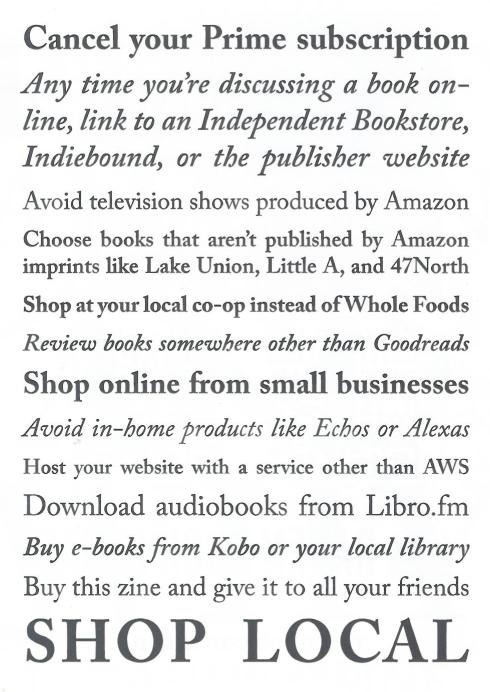 I asked Danny for his take on the bookstore co-op/membership fee concept:
"I think a co-op or membership model is fascinating, and I've wanted to research alternative ownership models for stores like Porter Square Books or 57th Street Books. I'm a proud member of our local food co-op and there's a lot to admire about that business model. Still, I'm new enough at all this that I have a lot to learn before I can think about making big moves. As far as entry fees go, no way. That New Yorker piece still makes me mad. Bookstores have a lot to answer on the privilege front; we're still at a point where it's hard to shop (or even work) at an independent bookstore without a certain level of privilege. Charging for entry would make this problem worse."
Okay, enough about the politics of bookselling! I asked about the local author scene in Kansas:
"Lawrence is home to an amazing collection of authors; we're just bursting with poets and fiction writers and essayists and researchers. One of the biggest chips on my shoulder (beside the whole Amazon thing) is the idea that there's 'nothing' in Kansas. So much great art gets made here by authors with connections to here, and much of it happens thorugh independent publishers. Mercedes Lucero. Megan Kaminski. Simone Savannah. Andy Farkas. Justin Runge. Becky Mandelbaum. Jim McCrary. Nino Cipri. Daniel A. Hoyt. Lesley Wheeler. I could go on. One great independent publisher that operates out of Lawrence is Inside The Castle, whose books are gorgeous and ambitious."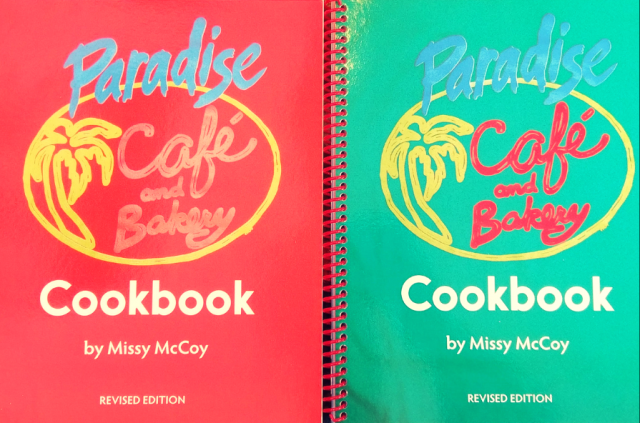 You know it's a "neighborhood" bookstore when their all-time bestselling title is a self-published cookbook from a restaurant that's been closed for almost two decades. Paradise Café & Bakery Cookbook, by Missy McCoy, is spiral-bound, comes in different-colored covers, and features the cafe's classic recipes and photos from the restaurant, known for its decor of Hawaiian shirts hanging on the walls among pictures of people wearing Paradise Café tee-shirts in far-off locales.
"I don't think Paradise Café was revolutionary," says Caine. "As far as I know it was just a place that served 'Good, real food' in a Kansas town for a few years. Yet its memory is still a presence in Lawrence. Its archive is stories, knowing glances, a few old shirts, and one spiral-bound self-published cookbook that people keep buying."

Thank you, Danny Caine. Your community spirit and dedication to the indie bookselling and publishing scene is an inspiration to us all!
Click here to visit Danny Caine's website.
Click here to read three Christmas poems by Danny Caine.
---
Comments
---