Feature
On the Hummus Route
A utopian journey between cities, people, and dreams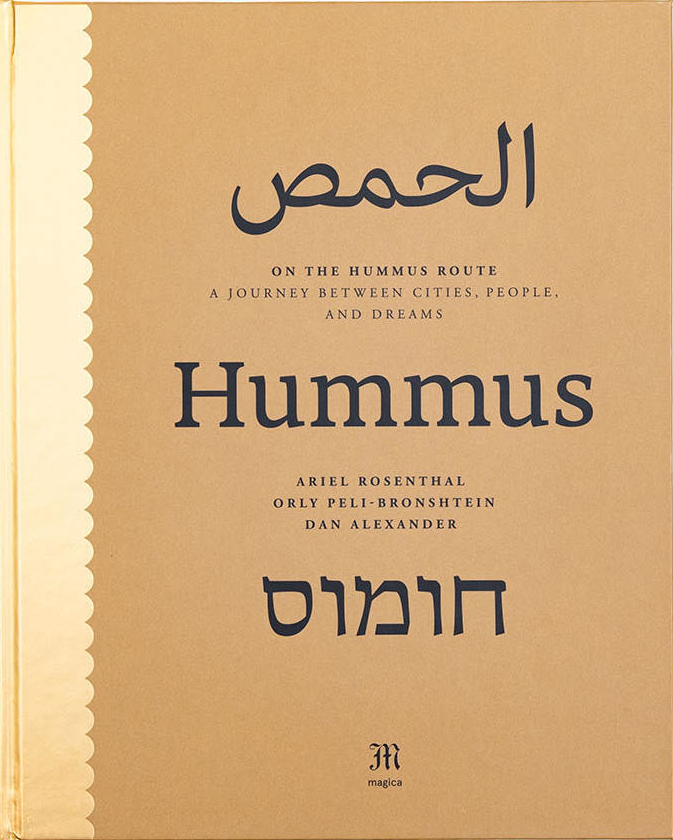 "A Palestinian, a Lebanese, and an Israeli walk into a bar…" This is not the beginning of a joke, but the start of a true story of how the co-creators of the book, Ariel Rosenthal, Orly Peli-Bronshtein, and Dan Alexander, met in a Parisian bar to begin collaborating on the project. In his introduction, Alexander recalls that first meeting, and how during their second round of martinis, "things heated up Middle Eastern style with our tempers soaring up for the real battle: What is the right amount of tahini for making hummus?" Such is the reverence for this seemingly humble foodstuff, what Orly Peli-Bronshtein describes as "the most perfect, most delicious, most nutritious and healthy food on earth." This is likely why a global team of 30 photographers, illustrators, chefs, restaurateurs, researchers and philosophers were eager to join them on their "utopian journey between cities, people, and dreams."
They traveled on "the hummus route" across nine hummus hubs in the Middle East, starting from Cairo and then up to Damascus through Gaza, Jaffa, Tel Aviv, Nazareth, Jerusalem, Acre, and Beirut. This book chronicles their journey, with essays and anecdotes "that transcend place and time – from ancient Egypt and Greek mythologies, to the song of Rumi and the force of the future's superfoods." And a magical journey it is, 400-page mash-up of culture, cuisine and science. The book succeeds on many levels, an an art book, cookbook, and cultural/historical study. Quite amazing, actually, for such a simple concept to develop into a major publishing event.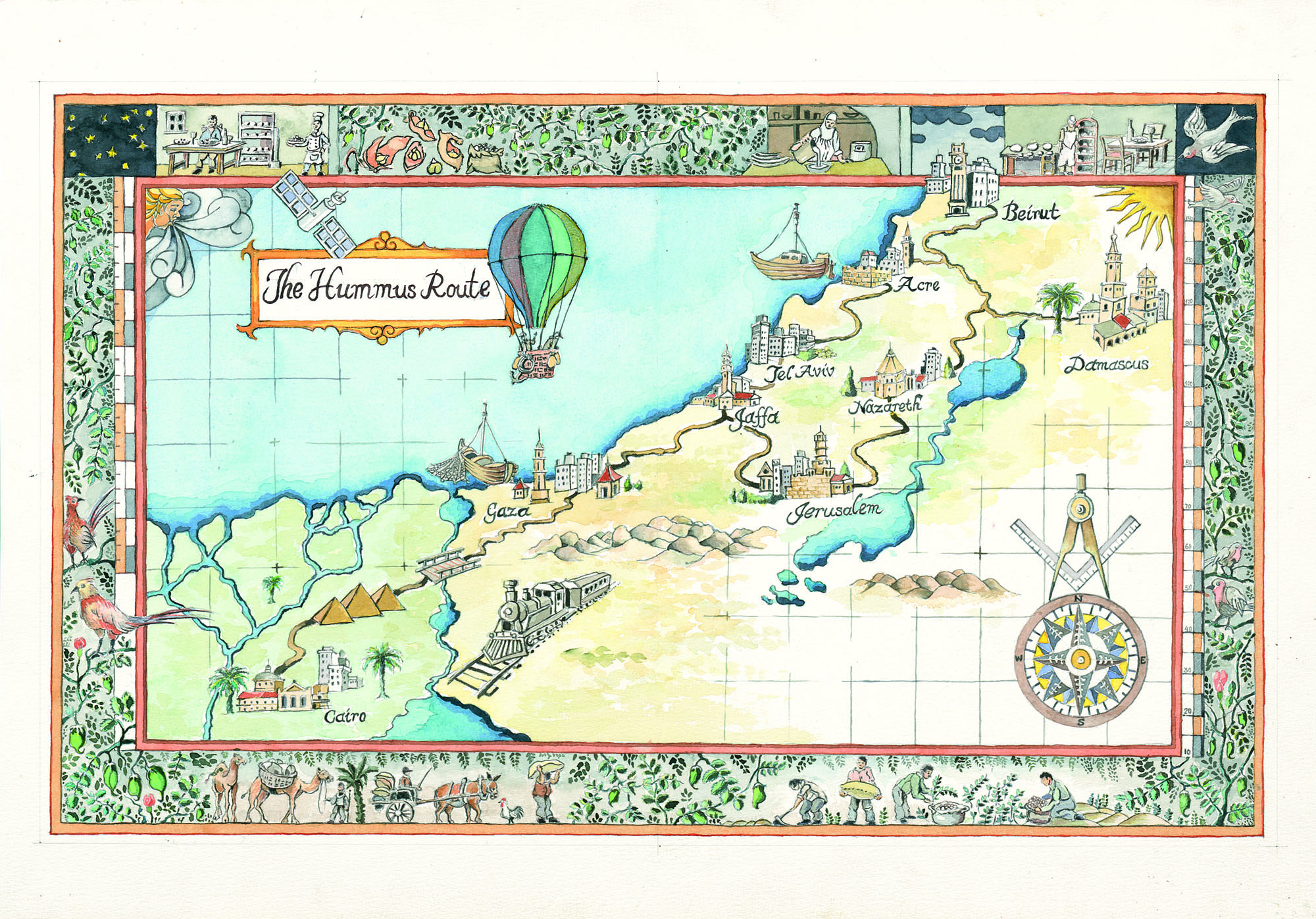 "It took me more than 20 years of cooking and writing about bood to acknowledge the fact that pita and hummus are my bread and butter," says Peli-Bronshtein. "Made from the most basic raw ingredients the local terroir has to offer, they are the cornerstone of the Mediterranean diet. Chickpeas are right for us in so many ways, it is almost as if they were designed in a lab. They are rich in protein – there are nine grams for every 100 grams of chickpeas, compared to eight grams in 100 grams of milk, and six grams in the same amount of eggs. Chickpeas are also full of vitamins, minerals, and soluble fibers, which provide us with plenty of energy, and keep us felling full for longer. Simply put, hummus is one of the healthiest raw ingredients out there."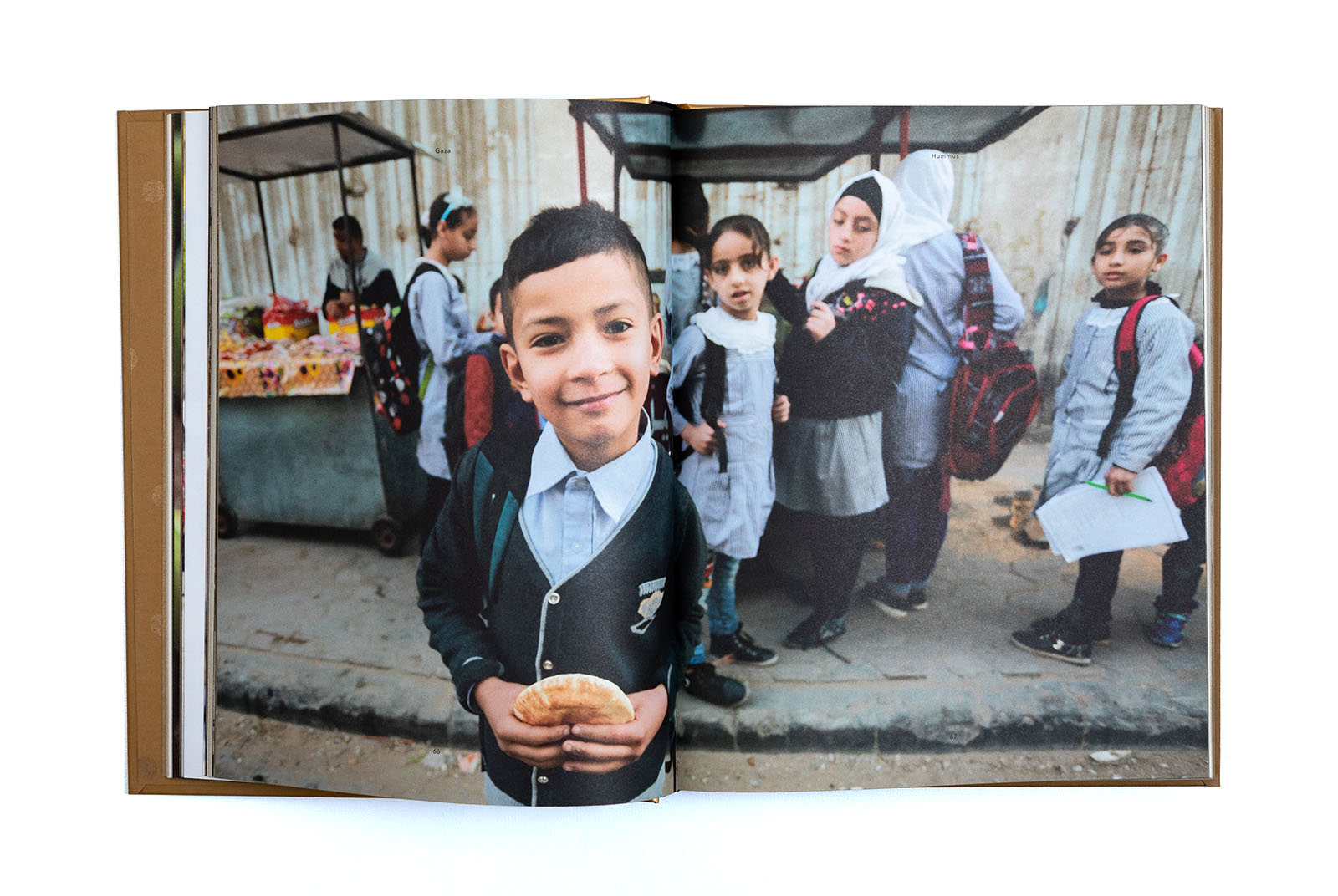 "I believe that the chickpea grain encapsulates within it an essential culinary truth, and it cannot be a coincidence that everyone who tastes falafel and hummus gets caught up in the magic, no matter their origin or background. In this book, you will find many recipes for hummus and falafel, each with its own particular flavor and mystique. As Hazan, a falafel stall owner in Nazareth, once told me: 'There's a secret in every falafel ball.'"
The book is filled with sumptuous images of the food, and especially the people, all captured in their everyday lives, bringing the reader into the streets of Gaza, Tel Aviv, Beirut, and Damascus. There is an intimacy and vibration rarely achieved on paper, and you truly feel transported to another world. The 70 recipes shared here for the first time by leading chefs from the Middle East are depicted in mouth-watering detail, and make you want to run to the nearest food truck.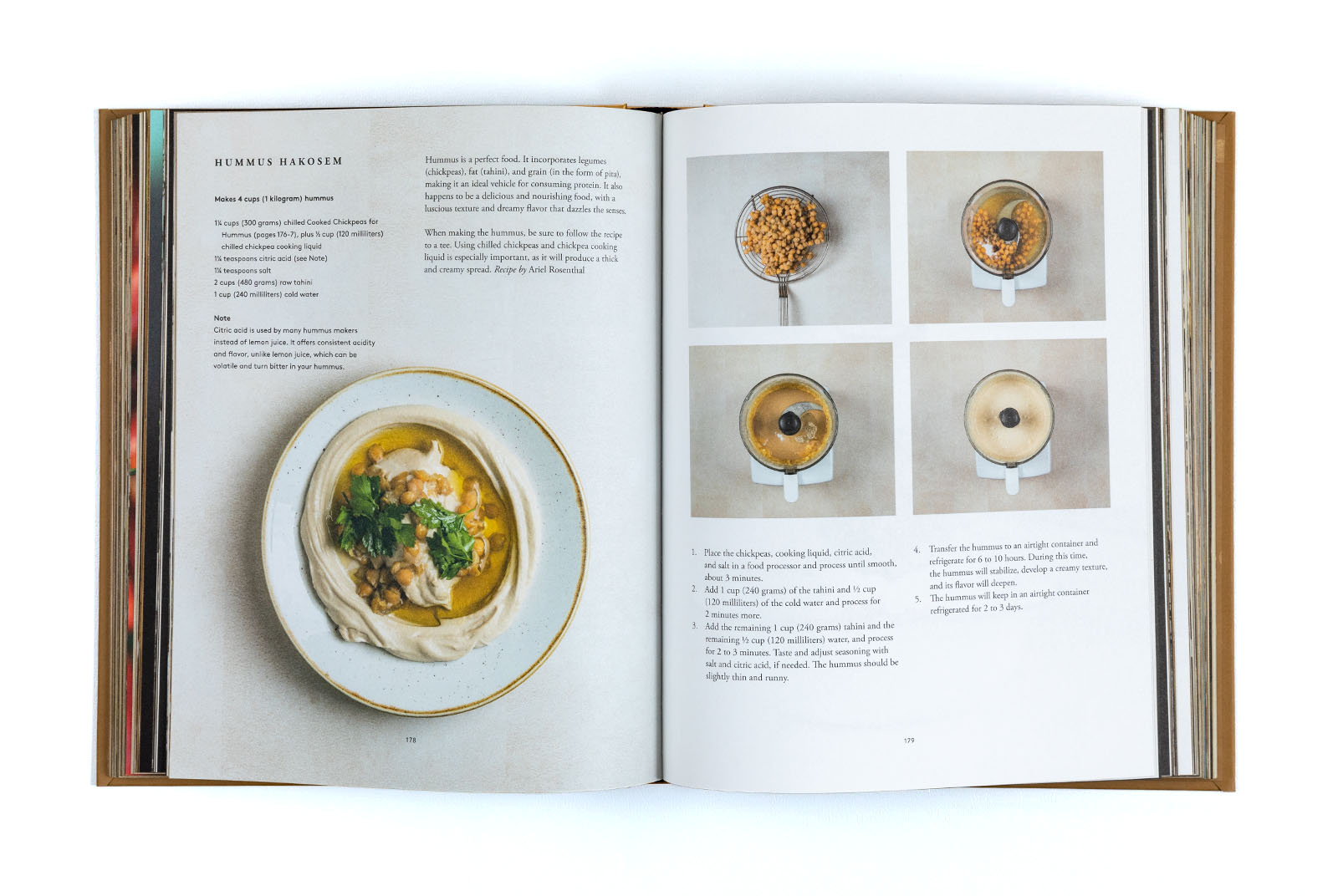 "From the tables of sultans and the courts of kings, through the secret alleyways of age-old marketplaces and between the leaves of ancient manuscripts, to the food stalls of bustling streets and hushed high-end restaurants, the chickpea embodies the story of us all."
* * * * *
About the book's co-creators
Ariel Rosenthal, the initiator and vision behind the book, is the chef and owner of the acclaimed restaurant Hakosem, a major culinary landmark in Tel Aviv for almost two decades, serving a menu primarily based on chickpeas.
Orly Peli-Bronshtein is a culinary expert and chef of over two decades, boasting a long line of cookbooks in Hebrew, the chief gastronomic editor of Israel's leading culinary magazine Al HaShulchan.
Dan Alexander, the chief editor and designer of the book, is the founder and creative director of Dan Alexander & Co., an international strategy and creatives house based in Paris, winner of the prestigious Gourmand International Cookbook Award.
About the groundbreaking book design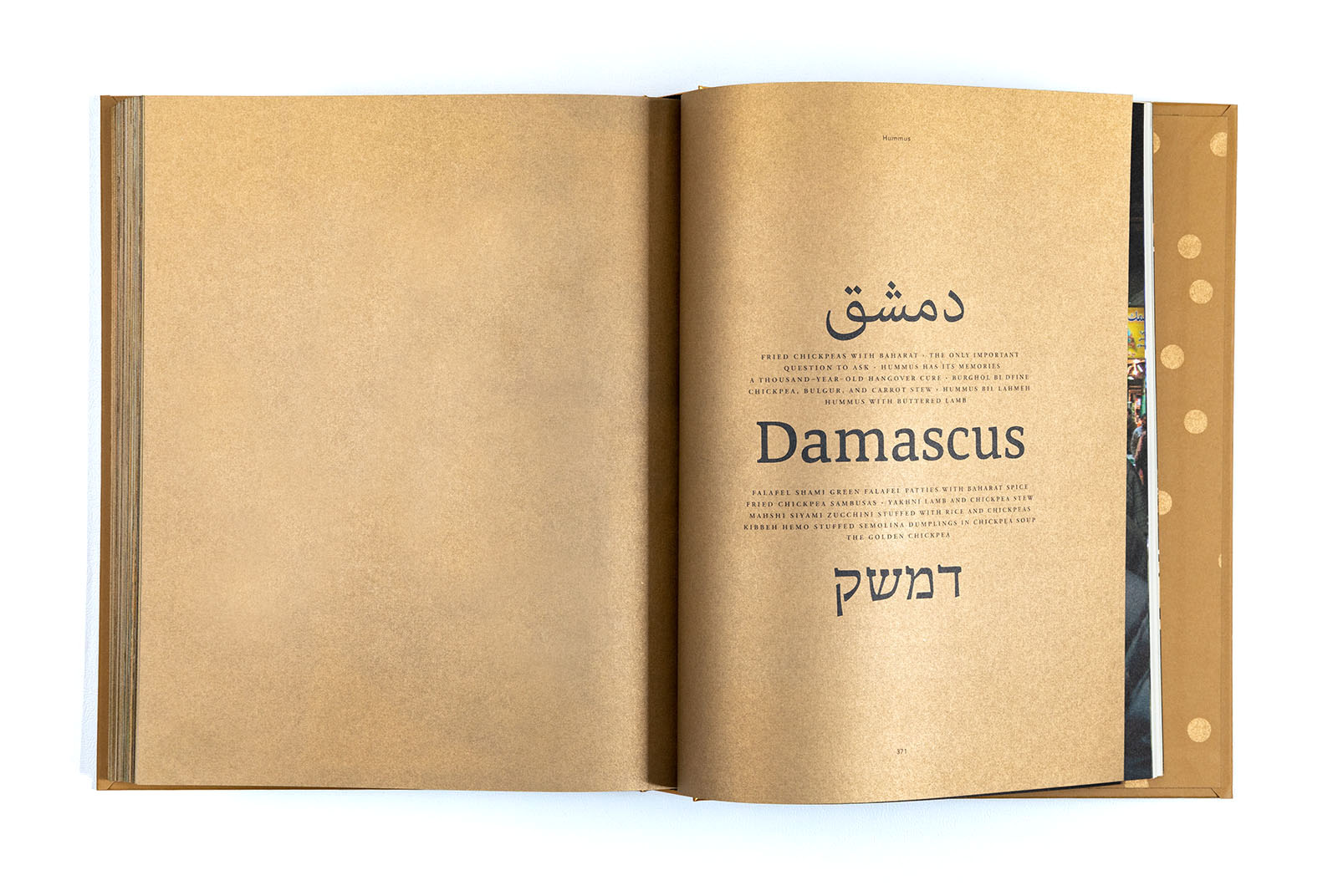 Chief editors, book designers, and art directors Dan Alexander & Co. created a forward-thinking design language that serves the characteristic essence of the nine cities, while harmonizing multiple content types. A set of carefully planned graphic grids was developed to streamline a coherent flow between the book's recipes, essays, anecdotes, and imagery, staying true to the authenticity of each hummus capital.
"For us, design is a language for communicating key messages about the community in which we live. We apply design as an impactful tool for bringing about social change. It carries an accurate definition in substance, echoing messages of optimism and positivity that aspire to mobilize change and offer the horizon of a new social space, because, in the end of it all, it's all about humanity."
Publication data:
On the Hummus Route: A Journey Between Cities, People, and Dreams
by Ariel Rosenthal, Orly Peli-Bronshtein & Dan Alexander
Magica (2019) 408 page hardcover
The book can be purchased online at hummusroute.com
---
Comments
---