Why YOU Should Attend YPC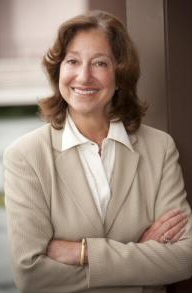 "The curriculum of the Yale Publishing Course is specifically geared to mid to upper-level professionals from publishing houses of all sizes. The presentations cover all areas of the publishing process ranging from understanding and utilizing new technologies and balancing being a publisher of both electronic and print books to strategic planning in a rapidly changing industry and expanding into the global marketplace. The conversation extends beyond the classroom, and the informal atmosphere provides ample opportunities for networking with peers from all over the world." - Tina C. Weiner, Director, Yale Publishing Course
"As a small specialty book publisher, I found the Yale Publishing Course provided an excellent opportunity to expand my knowledge of the field and the changes it is going through. The Course was well-balanced, highly informative, and extremely helpful in developing a good clear vision for the future for me and my business. It was a week very well spent." - Joseph S. Freeman, Owner and Manager, Racemaker Press LLC, Boston, MA
Independent Publisher on Instagram
Feature
Yale Publishing Course Offers Leadership Strategies in a Time of Transition
Editor's Note: This feature is by Jillian Bergsma, our summer intern here at IndependentPublisher.com. Jillian attends the University of Michigan, and upon graduation plans to transform the publishing industry and write the Great American Novel. Covering this story is the perfect assignment, as the Yale Publishing Course is very likely the most comprehensive and valuable offering of publishing industry information ever offered in one place and time.
* * * * *
The 2011 Yale Publishing Course is aptly titled "Leadership Strategies in a Time of Transition." We were lucky enough to speak with Program Director Tina C. Weiner about the advantages and opportunities that the course has to offer. With four decades of experience in the publishing industry, Tina was also the Publishing Director of Yale University Press and has taught at a variety of other publishing courses.
"There have been periods of time where crises of one kind or another have arisen in the industry, but I have never seen things moving so rapidly," Tina states. "More publishing is being done than ever before, whether it be through self-publishing or traditional publishing, and older books are being brought back into print."
With these changes in mind, as well as a deep consciousness of the importance of embracing digital technology, the Yale book publishing course has four main concentrations: making the transition from print to other mediums, utilizing social media and apps, developing business strategies for electronic publishing, and viewing publishing as a global enterprise.
After years of being a leader in upper-level publishing education, Stanford University closed its publishing program in 2009. Yale took up the challenge of providing an intensive course for mid-to-upper level professionals in the industry. According to Tina, Yale's course "embraces the legacy of Stanford" and offers a forum in which industry leaders can address the big issues facing publishers today.
Only in its second year, the Yale Publishing Course has made vast changes in the curriculum. Instead of combining the book and magazine courses, there are now two separate programs that allow faculty to go deeper into the issues specific to each industry, allowing more people to attend while keeping the class size relatively small. Tina believes that although this shift is ambitious, the attendees will only reap the benefits of a more focused curriculum.
This year, the magazine course is scheduled for July 10-15 and the book course runs from July 24-29. Both programs are limited to 80 participants and take place in a state-of-the-art facility located on Yale's campus in New Haven, Connecticut. The tuition fee covers all meals, receptions, special events, and materials.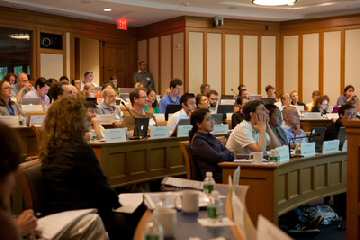 The Yale campus provides the perfect academic backdrop to a rigorous program.
"Our course is much more intense and interactive than a conference," Tina says. Whereas courses such as NYU, University of Denver, and Columbia University are for entry-level individuals, the Yale Publishing Course is one of the only programs available for senior managers and professionals with at least four years of experience.
Each day is packed with fantastic lecturers, ranging from John Sargent, Chief Executive Officer of Macmillan Publishing to Kirsty Melville, President of the Book Division of Andrews McMeel Publishing, as well as speakers from HarperCollins, Penguin, Random House, Bloomsbury, and many others. The course also offers presenters from Yale's School of Management to give insight into the business end of the industry.
Finally, and perhaps most important to today's publishing climate, Yale's course includes speakers that address the changes that have come from recent technology. Not only do the majority of presenters focus their lectures on incorporating digital media and working in a time of transition, but experts such as Jon Fine, Director of Author and Publisher Relations for Amazon, Tom Turvey, Director of Strategic Partnerships for Google, and Michael Cader, Founder and Publisher of PublishersMarketplace.com will offer their opinions and advice on the various changes and challenges created by the transition to eBooks and digital publishing.
A typical day runs from 9:00 A.M. to 5:30 P.M. at Yale's Maurice R. Greenberg Conference Center. The majority of the day is taken up by lectures and presentations from the distinguished array of teaching professionals. The end of each lecture is reserved for a Q&A period that allows for discussion and participation from the entire group. Although she emphasizes the seriousness of the course and its participants, Tina describes the learning environment as a "friendly, cooperative, and collaborative atmosphere," full of people excited about publishing. In addition to more than 30 presentations throughout the week, there is also ample time for informal small group meetings and networking. Tina tells us that during meals, after presentations, and at the end of the day attendees and speakers alike gather together to discuss lectures and other issues.
The program prides itself on selecting speakers who are truly interested in sharing their knowledge with others and many of the speakers are available for one-on-one counseling sessions. While each day offers a variety of different presentations, Tina refers to the last day of the course as "the future day," during which the course looks forward to new issues and opportunities in the field. "It used to be that we focused on what technology means," she says, "but we're far past that now. The industry is more dynamic than ever and we need to find ways for the print and digital worlds to coexist profitably."
Throughout the week, attendees are exposed to new approaches to change and a great deal of new information, giving them a comprehensive and fresh outlook on the industry.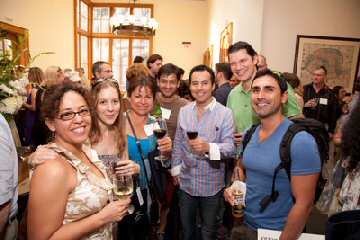 Program participants come from many different backgrounds in both publishing and origin, as the Yale Publishing Course is international in scope. "We attract many international attendees; there were representatives from 17 different countries last year and we are expecting that number to grow this summer," Tina predicts. "There are also a significant number of participants from smaller houses, and independent publishers make up a good portion of the group." Similarly, speakers come from both large and small houses, and their presentations are tailored to address issues for companies of all sizes.
Although all of the lectures are unique and encompass the many different fields within the industry, Tina maintains that the topics are important and applicable to any audience. "The course is not meant to divide people into editorial, marketing, business, etc. We are trying to get people out of their silo because even if you spent your career as an editor, odds are you'll need to know something about the business side too."
We independent publishers are known to juggle many functions from production to accounting, and this program perfectly suits the needs of multi-faceted staffs. Whether you have 3 or 30 on your payroll, we all have to accomplish the same tasks and succeed in the same playing field, something we must all be very conscious of in today's competitive book selling market.
Much of the course is dedicated to addressing the various new technological aspects of the publishing world, but there is a consistent undertone of commitment to the written word and the integrity of book publishing as a whole. The Yale Publishing Course is focused on the latest information and the process of transition, as well as fostering continuing education and leadership opportunities.
"This program helps people to move forward in their careers. Past participants report that the Course enabled them to take on new responsibilities and introduce new ideas and strategies at work. All left the course inspired and energized," Tina tells us.
As we often say at IndependentPublisher, innovation is always the bottom line, and Yale's course is certainly leading the way in tackling the new topics and transformations that have arisen in the publishing industry. Tina is very calm in the face of such great change. "We shouldn't panic," she says. "We need to view change as a good, exciting thing. It's not the future, it's now."
This positive and modern outlook is what makes the Yale Publishing Course an important resource and opportunity for publishing professionals, and in today's ever-changing environment, it is one we should embrace and enjoy.
For more information about the Yale Publishing Course, including detailed preliminary schedules, speaker lists, and participant testimonials, please visit the Yale Publishing Course website.
*****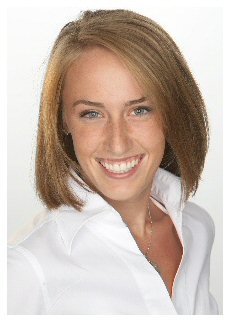 Jillian Bergsma is a writer and contributing editor for Independent Publisher. She graduated from the University of Michigan with a degree in English. She welcomes any questions or comments on her articles at jbergsma (at) bookpublishing.com.
---
Comments
---