Print vs. Digital
With so many books that rely on graphics, photos, and figures, such as cartoons and cookbooks, there are bound to be some problems with the crossover between print and digital. Can e-books support giant, colorful cookbook pages? Can you get the same experience reading a comic strip on an e-book as you do in print? These are some of the challenges that Andrews McMeel faces today.
IP: How are you addressing the need for digital books and yet keeping the quality content and format?
Kirsty: The biggest challenge for illustrated books in the digital space relates to the capacity of technology to keep up with consumers' expectations for the digital reading experience, based on years of web interactivity. While text driven content is relatively straightforward to convert, the e-book reader experience is not so different from the print book in that text layout flows easily. Once you add integrated illustration or photographic design to text, e.g. comic strips where text is embedded and the story is told in panels, the flowable text doesn't work. Added to this is the lack of a universal e-book technology standard for all of the devices, which adds complexity and the need for redesigning books for different devices. While the goal is for a standard that will be adopted, right now we are faced with making choices about which books to invent in digital re-design.
IP: Does the print book have a better life expectancy in certain markets (cartoon vs. fiction, for example), and what is your plan for providing books to customers?
Kirsty: The value of illustrated books lies in their tactile quality. The value of the digital rendition of the same content resides in its accessibility in a mobile world. We live between the physical and digital worlds and as a publisher we need to make our content available where our readers can find it.
Feature
Niche Publishing Success, the Andrews McMeel Way
How to Stand Out and Stick Around in your Niche.
Kirsty Melville, President of Andrews McMeel Publishing's Book Division, is no stranger to niche publishing. Originally from Doubleday and Simon & Schuster of Australia (and yes, complete with enviable accent), Kirsty is now in the U.S. and has built her career on capitalizing in specific markets.
"I moved to Berkeley, California in part because I had been publishing cookbooks for Ten Speed Press from Australia," Kirsty explained. "Ten Speed had built its reputation on quirky, niche publishing in cooking, careers, and humor, so I learned first-hand from Phil Wood, owner of Ten Speed, about how groups of people with shared passion or interest in a subject can create an audience for books. Phil was ahead of his time in recognizing the power of niche publishing and he built his company by focusing on college students (What Color is Your Parachute?), sustainability (The Moosewood Cookbook, How To Grow More Vegetables), and humor (White Trash Cooking, Why Cats Paint). My Australian experience creating sales opportunities in that small market of 20 million people laid the foundation for developing sales and promotion strategies outside the trade for the categories we published at Ten Speed."
For many independent publishers, having a niche is one of the best ways to compete in the market and maintain a steady consumer base. However, as the industry goes through change after change, how can we be certain that our niche, and our publishing approach, will be successful? Kirsty has the answer.
"For any publisher, success in a niche depends upon the quality of the content, the ability to produce it well (in whatever format), a constant eye on the audience and why the reader might want the book, and a marketing and publicity strategy that is supported and shared by the author, publisher, and the community. The word niche is derived from the French word for nest, and I think the key here is that the publisher provides the nest for the author and the community to find connection."
An example: "When we published John Besh's cookbook My New Orleans, we had three different but related audiences for the book: fans of John Besh, fans of southern food, fans of New Orleans. The book provided a way for all three groups to connect. The production values in this book were also very important in establishing our reputation as a publisher of high-quality cookbooks. This was an important piece of our approach to building an audience for this and other cookbooks."
Throughout her years in various niches, Kirsty has coined six characteristics of successful niche publishing: passion, point of view, perspective, platforms, peril and panache.
"A publisher needs to have passion for the niche it chooses. If you don't have real enthusiasm for your chosen category (be it romance, military history, or craft) then you won't be able to sustain or develop publishing plans of meaning, nor will you develop the editorial depth to make successful acquisition decisions. The passion carries through from the author to the editor to marketing and sales. Without a real feel for the content you are publishing, you won't be successful in your niche. "Discoverability is so crucial today, and one string to this bow is having an author or approach that has a strong voice or point of view. And that point of view has to be worthy of investment. This speaks to the choices we make about authors, their ability to express ideas, and how publishers still have a role in shaping, editing, and producing content that is distinctive.
"Publishing is opportunistic," she continues, "but in niche publishing, making choices or investments in authors whom you can work with and build over a long period is important. The perspective that comes from publishing in the same category, with authors who have established reputations and followers, creates credibility in the market that builds businesses. Taking the long view may be counterintuitive in our short term 24/7 world, but being mindful of a bigger picture is a helpful framework for decision making.
"Both the author and the publisher need platforms from which to launch. The author needs an audience and the ability to reach that audience, and the publisher needs a credible reputation in that niche. Both are intertwined. The better the authors, the better the publisher's reputation. The better the reputation, the more likely the publisher is to attract better authors. The publisher's ability to publish well (edit, produce, market, and sell) and be recognized for quality and critical success are key to building a platform.
"There is peril in niche publishing. It is very easy to feel complacent, lazy, or bored and want to leave your niche. That's where the passion comes in. You have to love your niche and want to live in it. The collective benefits of experience, reputation, and ability to market disappear if you stray. The chemistry for success is panache: having fun, enjoying what you publish, and publishing with style. That's the secret ingredient."
The panache for Andrews McMeel clearly lies in its comedy, though we also enjoy all of their other divisions. (They won an IPPY Humor Award for The Complete Far Side back in 2004.) For those publishers who have a foot in the door with niche publishing, making the full switch over to a specialized house might seem like the way to go. I asked Kirsty if she would suggest making the move, and what were some qualities of successful niche presses.
"Establishing a niche provides direction, focus, and a framework for publishing in a very competitive, overwhelming marketplace," Kirsty said. "Publishers can concentrate and build upon a foundation and relationship between authors and readers. Examples of some great independent niche publishers include: New Harbinger (health), Chelsea Green (sustainability) and Harvard Common Press (cooking and parenting). Each of these publishers share similar characteristics. They have a strong editorial point of view, clear identification of the publishing category and a clear audience for their books. They also have a creative marketing/sales focus on how to reach and sell their books and content to that audience and a reputation as a leading publisher in their niche."
It might be a bit of work getting established, but having Kirsty's six characteristics in your back pocket can help pave the way. Another common concern when it comes to being specialized is the fear of going extinct while in competition with so much content available on the web. Kirsty had a few more tips on how can a publisher define itself and keep both authors and readers interested.
"It is not so much about the choice of niche," she explained. "The challenge going forward is how publishers add value and survive in a world where authors and retailers are trying to become publishers"
For publishers to find their own niches, Kirsty lists three key opportunities: 1. Invest in editorial and marketing skills to adapt, interpret, and make content available in distinctive ways, in partnership with authors and readers. 2. Invest in technology to make the quality of what you publish stand out. 3. Provide marketing and social media support to authors and readers to build that relationship, so they can thrive within the nest you provide.
Whether or not niche publishing is right for your house, you have to admire the success that Kirsty Melville and Andrews McMeel Publishing have had over the years. Check out a few of their best-selling books below.
The Complete Far Side by Gary Larson
U.S.: $150.00 Canada: $195.00 ISBN: 9780740721137 Format: Hardcover 2-Book Boxed Set On Sale: September 2003 Perfect For: Fathers Day Property: The Far Side Category: Comics – Comics and Humor
"Every one of these cartoons is just something that drifted into my head when I was alone with my thoughts. And, for better or worse, I 'jotted' them down. It was only later, when perhaps I received an angry letter from someone, that it struck me: Hey! Someone's been reading my diary!" —Gary Larson, from the preface to The Complete Far Side
Cake Wrecks: When Professional Cakes Go Hilariously Wrong by Jen Yates
U.S.: $12.99 Canada: $15.99 ISBN: 9780740785375 Format: Hardcover On Sale: September 2009 Category: Comics and Humor – Blog to Book Humor
Have your cake and laugh at it, too, with the sweet treat known as Cake Wrecks: When Professional Cakes Go Hilariously Wrong. From the creator of the ultra-popular blog CakeWrecks.com, here are the worst cakes ever, including the ugly, the silly, the downright creepy, the unintentionally sad or suggestive, and the just plain funny. With witty commentary and behind-the-scenes tidbits, Cake Wrecks will ensure that you never look at a cake the same way again.
The Blue Day Book: A Lesson in Cheering Yourself Up by Bradley Trevor Greive
U.S.: $9.99 Canada: $12.50 ISBN: 9780740791871 Format: Hardcover On Sale: March 2010 Property: Bradley Trevor Greive Category: Keepsake and Gifts – Inspirational Gift Books
Ten years after its first printing, Bradley Trevor Greive's global best-seller The Blue Day Book has become a modern classic and is still bringing smiles to readers around the world. And because we all still have bad days now and then, the time is right for a commemorative tenth-anniversary edition of this uniquely funny, compassionate book that inspired an entire genre of uplifting gift books.
* * * * *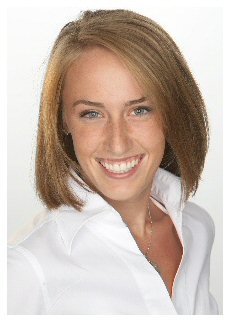 Jillian Bergsma is a writer and contributing editor for Independent Publisher. She graduated from the University of Michigan with a degree in English. She welcomes any questions or comments on her articles at jbergsma (at) bookpublishing.com.
---
Comments
---