U Presses are Prospering
Seth Ditchick believes that university presses are thriving in the publishing world. "One of the things I came away thinking was that university presses such as Princeton are ahead of the curve in some ways, particularly when it comes to acquiring, publishing, and distributing our books for a global marketplace."
At the YPC, Seth considered the lectures that focused on the issues Big Six publishers face to be just as relevant to Princeton as they were for those big houses. "I found much of the material geared towards the larger trade houses to be of interest, in part because we have many of the same issues, but also because I compete for some books with trade publishers and it was good to get a sense of where they are headed and what their priorities are. I came away thinking that the attendees from trade houses probably would have benefited from hearing more from people outside of the trade world."
Seth Ditchik is an executive editor for Princeton University Press and publishes books on economics and finance. He's been at the press for six years; prior to which he was the economics editor for Blackwell Publishing.
Independent Publisher on Instagram
Feature
YPC for Small Presses: Princeton University Press
The Benefits for University Publishers
In September, we spoke with Keola Akana and Matthew Corry of Kamehameha Publishing about their experience as a small press at the Yale Publishing Course (see article links below). This month, we present executive editor Seth Ditchick of Princeton University Press.
Despite the fierce Ivy League competition between Princeton and Yale, Seth had only praise for the Yale Book Publishing Course. "I'd absolutely recommend that other university presses attend the course," Seth said. "At a time when many people are despairing about the future of publishing, I came away feeling bullish about the future of this industry and excited to be a part of it."
Not a feeling we get very often these days, is it? If you haven't quite caught on, smaller presses are raving about the YPC. Yes, it comes with a bit of a price tag, but the experience, contacts and information are well worth the cost. Going in, Seth recognized the need for a comprehensive look at the world of publishing. Yale presented an opportunity to get views and advice from experienced executives, successful innovators and from our peers.
"I was hoping to get a global view of a changing industry," he told me. "Publishing is undergoing tremendous changes, with a lot of opportunities for smart organizations that are open to rethinking what it means to be a publisher. At the same time, I don't think books are going anywhere, so the question is also, how do we achieve our core mission – to disseminate information – in both the print and digital worlds? My expectation was to be able to come back to Princeton with some new ideas and a fresh perspective on the challenges and opportunities we face as a university press."
Although the YPC does put an emphasis on the concerns of the larger houses, Seth felt he gained a great deal of knowledge from all of the lectures, even if they weren't geared toward his field of expertise or his publishing niche.
"I found the presentations on how houses like Hachette and Random House are producing digital books, and the workflows involved in doing so, to be very useful. This was in large part because, as an editor, production has always seemed like a black box to me. I was glad to get an inside look at this process. I also really appreciated the 10,000 foot view of the industry from heads of major presses such as John Sargent, David Steinberger, and Nigel Newton, as these are the people making decisions that will directly affect the future of publishing."
Like Keola and Matthew of Kamehameha Publishing, Seth's favorite speaker was Nigel Holmes of Explanation Graphics. "His talk should serve as the template for any great presentation: fun, interactive, and massively informative. It also didn't hurt that there was a little alcohol involved," Seth joked.
When Seth wasn't in the lecture room, he found there was much to enjoy about the course. "One thing that really impressed me about the YPC was the diversity of people in publishing," Seth said. "I had a chance to talk with people in areas of publishing I would never have considered to be similar to my own little corner, not to mention internationally, and was surprised to find out how much we had in common. I also really appreciated the opportunity to interact with speakers – many of whom stayed for a day or two – in informal settings such as lunch."
Now, several months after the course, Seth still has Yale on his mind. Many of the themes that YPC presenters focused on weren't quick fixes to an industry in a state of upheaval. Instead, a lot of the main points (such as how to be effective in the digital market, how manage in times of change, etc.), were those that needed further reflection and went far beyond the week at Yale. What were Seth's most important takeaways from the course?
"To me, two of the areas with the most potential for growth are in digital and international sales, and I came back with a number of ideas for new ways to do more in these areas. I also think that Tina Weiner and Robert Baensch have done a good job of creating a community that will continue to converse beyond the week-long course. I feel like there is a network of both colleagues and industry leaders who I can turn to in the future when I have questions or new ideas."
He couldn't have said it better. As if the knowledge and experience the course offers weren't enough, the contacts you make among speakers and attendees are entirely invaluable. Convinced you'll go now? Good. As we wrap up our coverage of the 2011 Yale Book Publishing Course, go back and look through the articles - from the introductory piece to the features on presenters and participants - and if you're still not sure that the YPC is for you, give us a call and we'll set you straight.
* * * * *
Read Jillian's previous articles about the Yale Publishing Course: The Insider's Guide to the Yale Book Publishing Course Yale Publishing Course Offers Leadership Strategies in a Time of Transition YPC for Small Presses: Kamehameha Publishing -- "Two Heads are Better Than One"
* * * * *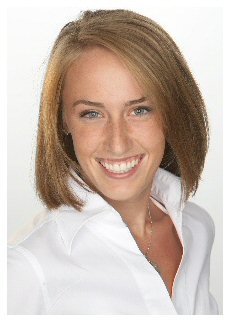 Jillian Bergsma is a writer and contributing editor for Independent Publisher. She graduated from the University of Michigan with a degree in English. She welcomes any questions or comments on her articles at jbergsma (at) bookpublishing.com.
---
Comments
---