Extra Tips
If you're really feeling ambitious, you can create extra sites for each of your books or projects. Make sure that you link these back to your home site. Also include links to any blogs, columns, or other places where readers can get more of your writing. You can also link to your publisher.

Some publishing companies and service firms will connect you to web templates that are especially good for authors and publishers. These layouts have all the features you will need and won't bog you down with random details or pages.

Jon Roth, web strategist and developer, had a few more suggestions for author websites:

- Research sites that inspire you and that appear to be popular with the audience to which you would like to appeal. Notice the features, interface design, and storyline that these sites use and consider how similar approaches might suit your mission.

- Frequent sites where your audience congregates and listen to what they say there by reading comments or forum posts. Participate in conversations online.

- Identify what you think are the top issues within the community and then design your site to address those issues specifically. Be sure to include features (such as a blog built into your site or a link to a blog you maintain on a popular blogging platform) that encourage participation from your audience.

- All roads lead back to your book(s) and to the writing you do on your topics. Your website should be an extension of the narratives in your books as well as an open door for your audience to interact with you.
Independent Publisher on Instagram
Feature
Your Website 101
How to Create a Strong Online Presence
Before you even finish your manuscript, your website should be in the works. Nothing looks worse to a publisher, customer, or reviewer than typing your name into Google and coming up with…nothing. In this day and age, you can't afford the luxury of not being online. I'm not saying you need to sign up for Facebook, Twitter, LinkedIn, Google+, and every other social media site known to mankind (not yet, at least—you'll want at least one of those eventually). Of course, you can do just that, and if you network and market properly, being super connected can be incredibly beneficial.
But, for the sake of simplicity, let's just stick with the basics. We suggest creating a personal website so readers can have a more direct link to you and your book. You can link back to places like Amazon, Barnes & Noble, and Facebook with ease, and having your own website will help you make direct sales, have contact with your customers, and, above all, maximize your profits.
There are two choices when it comes to creating your website: hire a pro or do it yourself. This decision all depends on your level of comfort with technology, as well as the amount of time and money you have available.
Option 1: Hire a Pro (or at Least Get Some Advice)
If you are still running an ancient dial-up beast or aren't quite as tech-savvy as you'd like, getting online will could be tricky for you to do alone. Even if you're an experienced surfer, a professional web designer can give you the edge that you couldn't get if you created a site yourself.
"Professionals tend to stay more current with technology trends as well as coding standards and search engine algorithms," says Jon Roth, web strategist and developer. "As an author, your goal is to reach as many interested viewers with your web content as quickly as possible. Without a current, professional understanding of how websites optimally function, it's easy to make mistakes that inhibit that goal. You know 'what' you want to say to your audience, but slight differences in 'how' you say it and present it can make large differences in the effectiveness of your site. For example: how you structure the navigation and separate your content among pages can alter how search engines rank your site and how users experience your site. Additionally, attention to the structural details of each page, post, or discreet information area can make a significant difference to the traffic levels you ultimately attain."
Who do I choose?
There are literally thousands of web developers and designers out there, so which do you choose? It's time to do some digging and research several different options based on your needs. You can go local if you live in a large enough area, work through your publisher, or find someone else through the web. As always, ask for recommendations and examples of work. Look for a commerce-oriented web designer, someone who has had experience creating websites for product sales or, even better, other small publishers or authors.
There are two other important factors when looking for a web developer: years in the business and responsiveness. You'll want to hire someone who has had experience with web design and has passed the test of time. If your designer has been working on the web for ten years, it's likely he or she has been successful and will stick around to offer you support. In regard to responsiveness, your web developer should get back to you in a reasonable period of time when you have questions or request changes. These two requirements will ensure that your developer will stick with your project and give you the help and guidance that you need.
What does a developer do?
If you choose to hire a web developer, he or she will help you get your domain name, create your layout, set up pages and options such as PayPal or Google Checkout, and make your site polished and easy to navigate. If you feel uncomfortable writing the copy for your website (e.g., the "About the Author" section), you can also hire someone in marketing to write or help you write the content of your site. Typical copywriters cost about $1 per word.
What does it cost?
A good web developer usually charges between $1,200 and $2,400 to build a site. This price all depends on your design needs and how complex you want your site to be. Remember that it will be well worth your money when the site is up and running and you're selling books by the bushel due to the great layout and convenience of your page.
Option 2: Do It Yourself
If this isn't your first website (let's say you have a blog or have had a website in the past), there are a few simple steps to follow to make sure your website will be tailored to selling you and selling your book. You should feel comfortable on the web, navigating pages, and filling in forms. If you're experimenting with web design for the first time, pay close attention.
Step One: Domain Name
Domain names are relatively easy to come by these days. Companies such as Go Daddy can set you up with a domain name for a small fee and very little hassle. Try to keep your URL simple and easy to remember and skip awkward characters such as asterisks or plus signs. If you're planning on writing more than one book (and don't want to create multiple websites), consider using your name or your publishing company's name as the URL.
Step Two: Choose a Template
Go Daddy and similar third-party sites (such as Wix.com or YourPubSite.com) give you hundreds of layout options. Look for one that has good contrast between the background and the text (navy blue on black isn't the easiest to read), uses a clear font, and offers a simple but classic design. You can certainly get creative with your layout, but steer clear of pages that are too cluttered (or sparse), confusing for visitors, or overly psychedelic (go easy on the neon, tie-dye, and rotating backgrounds).
Step Three: Create Your Pages
Here are some basic pages that you will need on your site:
- Home page: This page includes basic info about you and your book, perhaps a couple of photos, recent news, and links to other sites. This should have well-written copy to drive interest for first-time visitors.
- About the Author: If you don't already have a bio, start writing one. As we mentioned earlier, you can also get some outside help when writing your website copy. Your site is one giant PR piece, and you want it to be as nice as possible. If you feel uncomfortable blatantly promoting yourself, get someone else to do it for you. On this page, you should include information about your background, your experience with writing, your related interests, etc.
- Merchandise/Purchase page: This is where you will have your books or any other merchandise available for your readers. We'll go into more detail on this page in a minute.
- Media section: Upload all of your positive reviews, newspaper mentions, awards, or achievements related to your book.
- News/Events: Be sure to keep this section up to date. Include book signings, release dates, TV or radio appearances, etc. However, if you're not big on events, skip this section. An empty or outdated calendar doesn't look good.
- Contact: Give your readers a way to contact you with fan mail or questions. You don't need to provide the direct route to your front door, but give them a phone number, e-mail address, or P.O. box (or all three!).You could also include an "About the Publisher" section, a page for each of your books, and/or a "Sample Content" page where visitors can read an excerpt or download a chapter for free.
When writing site copy, Roth suggested doing targeted keyword research. "This way, you know which terms relevant to your topic areas are generating the best search traffic. Then plan your site content around those terms, but be sure to design your narrative and navigation to be as user friendly as you can. At the end of the day, conversions come from a good user experience."
Step Four: Merchandise Setup
Because you're selling a book, you'll need a website merchant payment function such as PayPal or Google Checkout. Wait to create a shopping cart center—these can be complex and sometimes expensive and are really necessary only when you have a large inventory of products (we're talking fifty different items).
Step Five: Marketing
Once your website is up, it's time to get the word out. Start linking to your site in every Facebook post and tweet, and add it to your e-mail signature. Put it on bookmarks and in any of your promotional material, and ask your friends to promote it, too. As for search engine optimization, submit your URL to Google to help it move up in the ranks. Search engines such as Google try to provide the most readily accessed sites with the best content, and this should be you.
Step Six: Editing
Oh, yes, the editorial process does not end with your final manuscript. Readers will be just as disappointed if they find typos on your website. You can have your editor briefly look over your site or just enlist a small army of friends and acquaintances to play around with it. Have them look for errors but also gauge the ease with which they can navigate the page. You want all of your pertinent information front and center, with simple one-click options to get where visitors want to go.
At the end of the day, the most important aspects of a good website are 1.) it's easily accessible, 2.) it's relevant and features the right information, and 3.) it looks appealing and professional. No matter whether you decide to work with a professional or go it alone, be sure to beta test until your can check all three of those boxes off. And always remember—your website should reflect you and your book, so have some fun with it!
---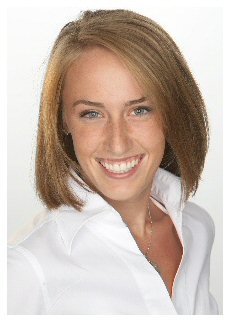 Jillian Bergsma Manning is a contributing editor for Independent Publisher. She graduated from the University of Michigan with a degree in English. She welcomes any questions or comments on her articles at jbergsma (at) bookpublishing.com. Follow her at @LillianJaine.
---
Comments
---