This article is part of the IPPY 20th Anniversary Feature Series. In celebration of 20 years of the Independent Publisher Book Awards, Independent Publisher is drawing on IPPY's rich literary history with a series of feature articles and initiatives.
"We want to showcase how vibrant and dynamic the indie publishing industry is and always has been… the history of the IPPYs reflects the history of this industry, and the hard work and dedication of publishers who submitted 20 years worth of award-winning books," says Jim Barnes, Editor and Awards Director. "From the beginning it's been about recognizing authors and publishers who are willing to stand for something and dare to be different. Viva la Independents!"
Check back each month for the latest feature in the series, or check out past articles below:
Independent Publisher Book Awards Celebrates 20th Anniversary
Feature
Around the World with IPPY
IPPY 20th Anniversary Feature Series
Every year, around 300 guests gather at the annual IPPY Awards Ceremony to celebrate the year's award-winning books. While most of these guests hail from the states or Canada, a handful brave 23-hour flights and rickshaw rides through the streets of NYC to make it to our ceremony and BEA. Below, medalists from some of the most far-flung places share their stories about the journey.
---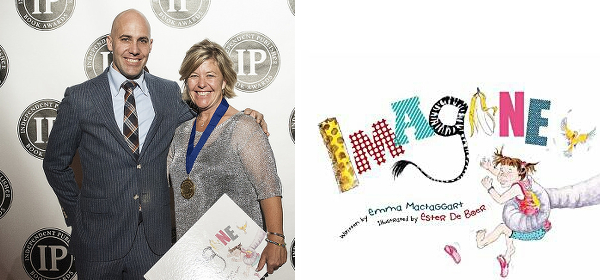 MEDALIST: Emma Mactaggert
AWARD-WINNING BOOK: Imagine, Boogie Books. 2015 Gold Medalist, Best Children's Illustrated E-Book
TRAVELED FROM: Toowoomba, Australia – 9,691 miles

If you think for a moment the idea of going to an event in New York to accept a GOLD medal for Best Children's Illustrated eBook is exciting, you are on the money! Having travelled from Australia to accept the prize, well, that made the entire journey incredibly surreal. I 'justified' the journey by organising my brother and his bride to meeting me there – they came from Canada. I cajoled a friend from Sydney to travel with me, under the guise of doing 'more' when we arrived, art galleries, food experiences, walking.
"New York! What an indulgence, yet when you land in the city with purpose, it is extraordinary how much you feel as though it embraces you. From the customs officers at JFK, 'What are you travelling for' in a droll, uninterested voice, watching their face lift with interest as you reply, 'To pick up a Gold medal!' The joy shared by New Yorkers as the best of the best come to town to be recognised for contributing so wholeheartedly to independent publishing is palpable at every street corner. For me though, all of this was a bonus.
"The true impact of the event, the win, being in attendance, hit me just at the moment the first camera flash obliterated the crowd in front of me as I stood in the spotlight accepting the medal. It was permission – I was given permission. Permission to write, permission to publish, permission to follow my dreams. Here I was, in New York City, being acknowledged for something I was passionate about, something I want to pursue and I returned home, glowing, having had the epiphany (and the medal to prove it) that indeed I could do this!"
---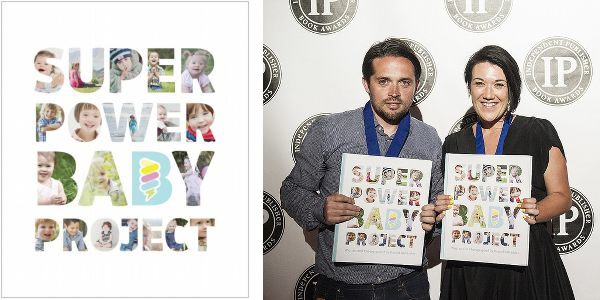 MEDALIST: Rachel and Sam Callander
AWARD-WINNING BOOK: Super Power Baby Project, Evie's Book Club. 2015 Outstanding Medal for Independent Spirit
TRAVELED FROM: Timaru, New Zealand – 9,103 miles

Being from New Zealand, the prospect of going to New York to receive the award was both exhilarating and daunting. We took a few weeks to think about it and after talking to people around us, the unanimous consensus was that we'd be silly not to go and make the most of the opportunity to celebrate the success of the book. So we flew to New York!
"We attended the seminar on the afternoon of the awards ceremony and got so much out of the presentation, which for us was a fabulous added bonus. We got to the awards ceremony early to get a good seat as we knew it would be packed with excited award winners! We found a spot with some other authors and had a blast getting to know them and celebrating with them. The highlight of the IPPY ceremony was the atmosphere of celebration and happiness and meeting so many wonderful people, from all over USA to share in the excitement of being an IPPY winner!
"The evening was the highlight of our trip and being invited to the after function—smoking cigars and drinking whiskey with the organizers—was incredible! It is a memory I will cherish forever.
"We are SO glad we put in the time and investment to get to New York to receive the award in person. The contacts and friends we made, as well as being part of the party cannot be counted lightly. We are SO proud of our IPPY."
---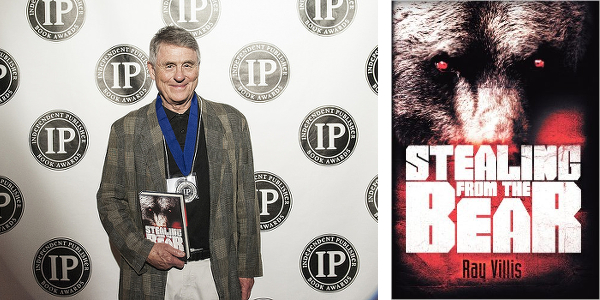 MEDALIST: Ray Villis
AWARD-WINNING BOOK: Stealing from the Bear, Joa Publishing. 2015 Silver Medalist, Best Regional E-Book
TRAVELED FROM: Primrose Hill, London (where the aliens land in War of the Worlds!) 3,457 miles

Some years ago I lived on W 10th Street in Greenwich Village. Now, on my first day back, here I was again, sleep-starved and striding through Manhattan in the sunny mid-80's soaking up its boundless electricity. I walked from 42nd St to Columbus Circle and beyond and all the way back to Grand Central Station, sixty blocks or more in all, but I wasn't tired, I was exhilarated. I'd rediscovered why I loved New York so much, and it felt like home.
"On IPPY Awards night I found myself at Grand Central again, and late, but nothing a quick cab couldn't rectify. Sadly, this was rush hour and no cab—light on or off— would stop. The venue was now an eighteen block walk away, I was going to be really late. Then, out of thin air came a highlight of my trip, a rickshaw ride through a crazed and ill-tempered NY traffic jam. Weaving in and out, squeezing through tiny gaps, swooping in front of cars, vans and trucks, horns blaring, shooting red lights, exciting and wonderfully scary stuff. A too—damn-close a moment and a press headline lit up in my head - 'BRIT AUTHOR DIES IN RICKSHAW MASH-UP EN ROUTE TO FIRST LITERARY AWARD'. Such a headline would have done wonders for my book. True, I'd survived, but clearly I'd also missed a gargantuan opportunity for mass market sales. I laughed out loud and got a worried glance from my pedalist. We arrived safely outside 'PROVIDENCE NYC', I clambered out of my wooden box and gratefully dived into the warm and welcoming excitement of the IPPYs with plenty of time to chat to excellent people from everywhere in the States and all over the world. Strangely, most were writers. I say strangely because writers don't often get to swarm like this. I had a great time.
"The next two days I went solo at BEA in the Javits Center. It was my first book fair and the endless maze of books and stands stunned me. We've all spent time in vast libraries, but the books there are present in spine only, at BEA it was all about front covers, and they created a fabulous and dizzying riot of color. Most visitors had bags filled with giveaways. I overheard one woman with a stuffed backpack and two full carriers tell her friend 'Shoot me if I try to take one more book'. Then she took another.
"Looking back, BEA made me appreciate what a massive and exceptional industry we are all part of. Long may it flourish."
---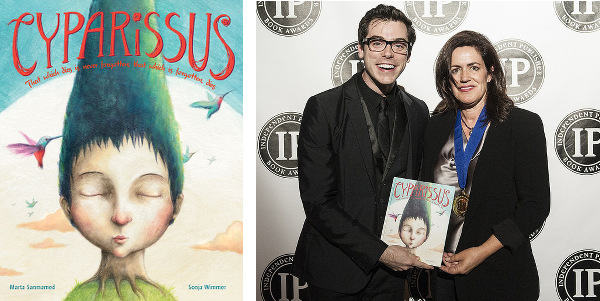 MEDALIST: Christian Hultner, Publisher
AWARD-WINNING BOOK: Cyparissus, by Marta Sanmamed; illustrated by Sonja Wimmer; translated by Jon Brokenbrow. 2015 Gold Medalist, Children's Picture Book (in addition to numerous IPPYs in past years)
TRAVELED FROM: Madrid, Spain – 3,594 miles

I have been coming from Madrid, Spain to New York City for BEA every year since we started publishing back in 2010, and one of the highlights of the visits has been the IPPY ceremony! Always a great event to meet fellow publishers and authors from around the world.
"Jim's talent to bring people together and inspire everybody is amazing. This year was very special as one of our titles, Cyparissus, won an IPPY Gold Medal."
---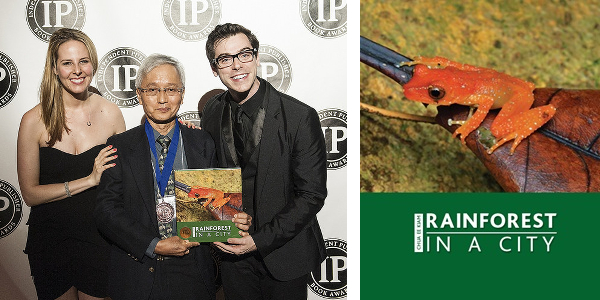 MEDALIST: Chua EE Kiam
AWARD-WINNING BOOK: Rainforest in a City, Simply Green. 2015 Bronze Medal, Environment / Ecology / Nature
TRAVELED FROM: Singapore - 9,521 miles

I was thrilled when the results of IPPY 2015 were announced. Rainforest in a City was awarded a Bronze medal! Being the only one in Asia to win it, the award has an even more special meaning to me. It was as good as a Gold award! With some frenzied moments and a flurry of activities, my wife and I secured our flights tickets and accommodations at a short notice. A much dreaded 23-hour flight to NY ensued. But the bright sunshine at Central Park and Times Square and the recommended must-visit restaurants listed in Trip Advisor more than made up for the long flight halfway across the world.
"Jim Barnes was at his eloquent best, and the gorgeous Kaitlin Pollock and affable Trey Gerrald added glamour to the much-awaited event. I could not wait to have my photos taken with them and with some of my newfound contacts. It was the first time I was introduced to so many creative and knowledgeable writers and publishers. The medal spurred me to focus on my work, and certainly more new books are in the pipeline. I will wait with bated breath for more propitious news at future events. Thank you IP."
---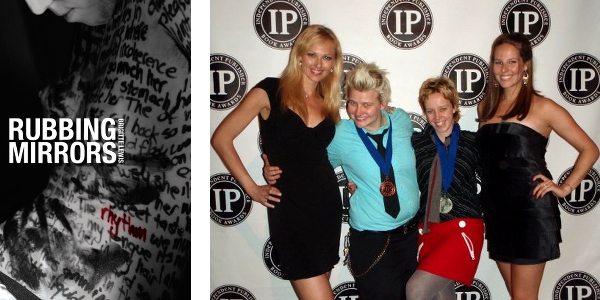 MEDALIST: Brigitte Lewis
AWARD-WINNING BOOK: Rubbing Mirrors, Detour Press. 2009 Gold Medalist, LGBT
TRAVELED FROM: Melbourne, Australia – 10,353 miles

My book is poetic verse - erotic lesbian poetic verse - set in Melbourne Australia where I'd travelled from so winning the gold medal, for what was at the time (and arguably still is), a provocative form and subject matter was a rapturous feeling.
"Meeting the other writers and independent publishers on the night was particularly special because we all know how long and hard the slog is to get a book out into the world. We share that unwritten grit in our eyes and our collective back stories so it was beautiful to feel it so viscerally in the room. I couldn't wipe the smile off my face.
"Winning the award and actually being there was the expression of a shared effort of friends who believed in what I do - friends with mad graphic design, photography (that's me on the cover) and web skills (still live at www.rubbingmirrors.com and bearing my [IPPY] gold seal). It really was an acknowledgement of the power of group art and independent publishing and how good it can be and look. The cover of my book is pretty sexy and its environmentally friendly.
"I have some great pics of Amy, Rach (the graphic designer) and I too that are still etched into my memory years later."
---
We'd like the thank the authors, publishers, illustrators and photographers who have made the IPPY party such a memorable experience, bringing their diverse talents, stories, and books with them. Cheers to their independent spirit!
---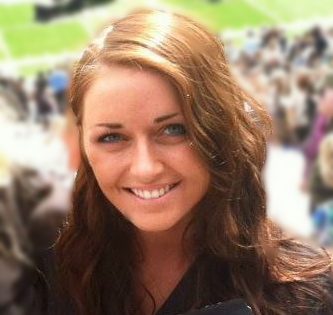 Lauren White graduated from the University of Michigan with a degree in History and English. She is serving as Assistant Editor and Awards Account Manager at Independent Publisher. Please email her at lwhite [at] bookpublishing.com with any questions and comments.
---
Comments
---