An IPPY Award Winning Author
Jean P. Moore's first novel, Water on the Moon, won the 2015 Independent Publisher Book Award gold medal in Contemporary Fiction. Check out the award-winning book below.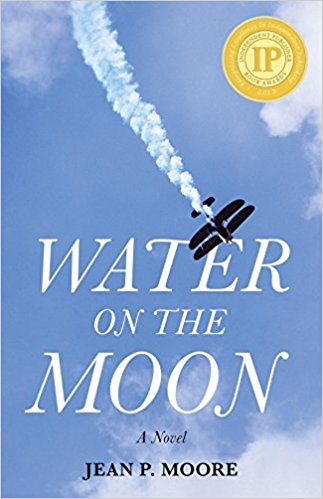 Water on the Moon (She Writes Press)
Early one morning, Lidia Raven, mother of teenage twins, awakens to the sound of a sputtering airplane engine in the distance. After she and her girls miraculously survive the crash that destroys their home, they're taken in by Lidia's friend, Polly, a neighbor who lives alone on a sprawling estate. But Lidia has other problems. Her husband has left her for another man, she's lost her job, and she fears more bad news is on the way when she discovers a connection between her and Tina Calderara, the pilot who crashed into her home. In the months following the crash, Lidia plunges into a mystery that upends every aspect of her life, forcing her to rethink everything she thinks she knows.
"A fusion of history, romance, and mystery, Moore's ambitious debut dazzles. With sympathetic characters who come alive, and with threads of Byron and Earhart cleverly woven throughout the pages, Moore spins a bewitching tale of hope, tragedy, and family secrets."
—Lori Nelson Spielman, author of The Life List
Feature
Ten Things Iíve Learned about Writing a Second Novel
Thoughts from an IPPY-Winning Author
My first novel, Water on the Moon, came out in June 2014 and was named winner of the IPPY award for contemporary fiction the following year. In addition to being stunned by my win, I was stunned by something else that year: my newfound passion for writing novels. Writing the first was a true page-by-page learning experience. And I discovered after its publication that I couldn't wait to begin my second, the characters and situations already swirling in my head. Now that I'm readying my second for submission to publishers, I'm thinking about my third, fourth, and fifth—a trilogy with more than a little resemblance to The Scarlet Letter.
With these comments as backdrop, here's what I've learned about writing a second novel:
Every novel must be a true "page-by-page learning experience," also sentence-by-sentence, maybe even word-by-word.

I am enthralled by the joy inherent in the process of writing a novel—creating the story and the world the characters will inhabit; creating the characters themselves, their strengths, their weaknesses, their sorrow, their joy, their failures, their successes.

I am delighted to have this love in my life. I wish I had discovered it earlier. I may have more ideas than I have time.

I am concerned that at this stage in life I feel compelled to spend so much time writing about life when, to paraphrase Thoreau, I should be living it.

I am more confident about my process.

I am not so sure about my process.

I think my nearly finished second effort is good and ready for publication.

I think the second effort is not nearly ready for publication.

While I do love practicing the craft of writing, I dread the marketing aspect.

I cannot wait to apply all I've learned in the past two years about how to steer my new novel through the shoals of publicity and marketing.
Okay, there are 11 things: Just as you should never get between a hippopotamus and the water, you should never get between a novelist and her work!
---
Jean's latest novel, Her Year of Mourning, explores one woman's quest to find purpose after the foundation of her life crumbles when her husband of more than 40 years dies unexpectedly. Jean felt compelled to delve into the subject of grief, healing, and renewal after many of her friends shared with her firsthand their own first years of mourning.
---
Comments
---