The Book Fair Fund
Part of BookPeople's community outreach includes holding book fairs at most of the elementary schools in Moscow. As much as they love selling books to families and helping schools, Carol Spurling noted there were always families who could not afford to buy new books. Moscow is a rural area and there are a lot of low-income families. "It made me frustrated and sad, and I wanted to figure out a way to help, so I just started asking our customers to contribute." As with so many other things, supporters of the bookstore responded enthusiastically and the Book Fair Fund was created.
While the Fund has found community support, when Spurling heard about the Blind Date with a Book idea, she thought it would be a perfect fundraiser for the Book Fair Fund. Working with publishers, she got permission to use Advance Readers Copies of books to use for the Fund. After staff has a chance to review books ahead of their publication, they wrap them up in paper with a few clues and put them out in a special section. Customers donate whatever amount they like and then go off on their "blind date." Perhaps not surprising to book lovers, Spurling says, " They love to take a chance and we have a lot of people who come specifically to get a blind date book."
If you want to support this project, you can send checks to:
Book Fair Fund at BookPeople
521 S. Main
Moscow ID 83843
Or order a BookPeople gift card and note it is for the Book Fair Fund here.
Independent Publisher on Instagram
Indie Groundbreaking Bookseller
BookPeople of Moscow
Location, Location, Location
"The longer I am a 'Main Street' bricks and mortar independent bookseller, the more I am convinced that democracy in the United States depends on businesses like ours, and the customers who support us," Carol Spurling explained. The question was prompted by a recent New York Times piece which argued advocating for a return to "Main Street" is nostalgia and not good business. In a written response, Spurling expanded, "Nostalgia for Main Street has nothing to do with the consumer cost of goods. It has to do with the feeling, as you carry on with the business of your day, that you belong to a community and by extension are a contributing member of our civil society." Her letter to the editor in response was not published by the Times, but it can be found in the comments of BookPeople of Moscow's original Facebook post from April 11, 2017.
Spurling's passion for physical stores is more than a talking point; she has taken action on it at as well. BookPeople of Moscow was started by Ivar Nelson in 1973, who passed the reigns on to Robert Greene in 1981. Greene ran the store until his retirement in 2011. The announcement of his retirement caused a good deal of concern in the community which led to meetings among dedicated customers to find a way to keep "their" bookstore open. Carol and her husband Walter Spurling and Nicole and Steffen Werner stepped up. With the help of many of supporters, they reopened the store a couple months after Greene's retirement with a fresh look, but the same community behind them.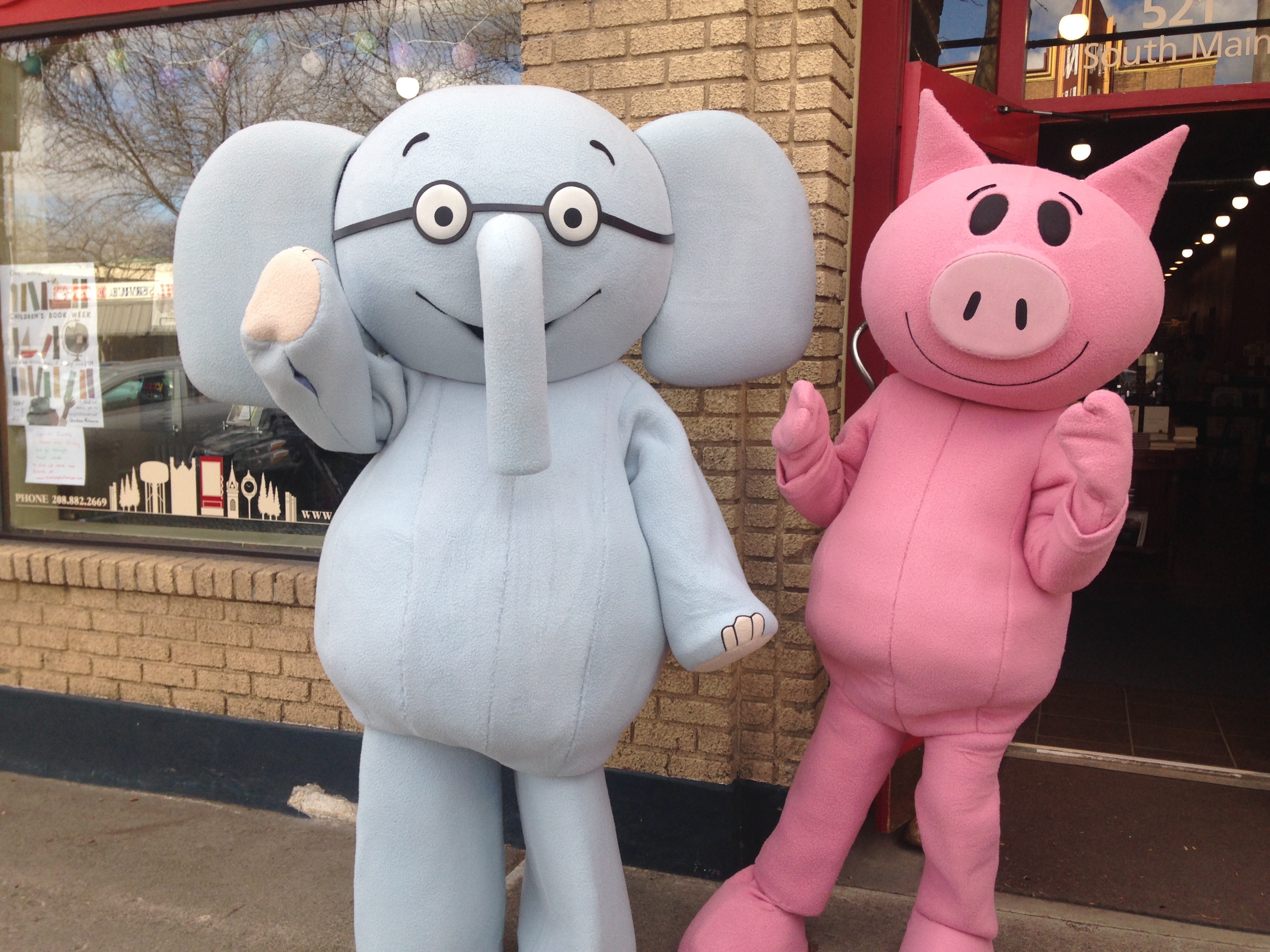 Elephant and Piggie, from the books by Mo Willems, visited the store April 28 and 29 for the start of Children's Book Week.
Moscow, ID might not be a well known must see destination outside the Mountain States region of the United States, but it is a gem nearby just about everything a person could want. Moscow itself is home to University of Idaho. Washington State University is just a couple miles across the border in Pullman, WA. The universities make it a hopping city with great restaurants and breweries, farmers markets, and a lot of cultural events. Its location in The Palouse means it is nestled in a region of rolling hills rich in agriculture, but also beautiful views and great outdoor activities. This all makes the area very popular among students from different backgrounds. Some of these students are even lucky enough to work at BookPeople when a position is actually available!
Pamela Royes of Joseph Oregon, with her book Temperance Creek, which was shortlisted for the 2017 PNBA book award.
With an excellent MFA program at University of Idaho to back them up, BookPeople of Moscow is able to bring in a lot of great authors. In just the five years since Spurling has been an owner, the likes of Anthony Doerr, Sherman Alexie, C.J. Box, and Otessa Moshfegh have had events. Doerr has actually visited twice and Alexie is set to return again this year to promote his new memoir. Despite all the impressive authors who come to visit, the area is home to great writers as well. Dana Simpson, Pete Fromm, Jess Walter, Kim Barnes, Robert Wrigley, and Alexandra Teague are only a few of those who call the region home. Spurling credits the enthusiasm and attendance of patrons as a major factor in getting so many authors to come and even return.
"[W]e provide jobs, we recirculate money through our communities, we pay attention to what is happening in our neighborhoods, we help children get hooked on reading, we provide a place where people are valued members of their communities, we help ideas circulate, we value diversity, and we are passionate about personal and civil liberties and freedom of expression. "
Location is everything to BookPeople of Moscow. The dedicated citizen/customers of town, the academic surroundings, and those drawn the area in general all make for a vibrant community that values its bookstore. That community worked to save it and, with the help of new owners including Carol Spurling, BookPeople will continue to serve as a real, functioning part of Moscow itself.
---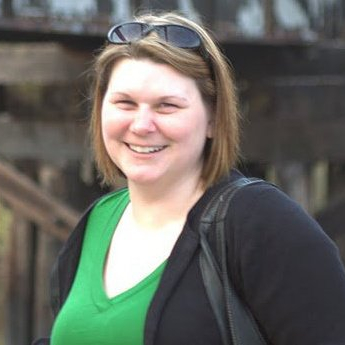 Amy Shamroe is Festival Director and Awards Coordinator at Jenkins Group. She has spent most of her adult life working in, with, and around books. Though she started her career as a bookseller, she has worked as a Jack of All Trades for the Awards since 2007. In her spare time, Amy enjoys traveling, sits on her local library's Friends Board, and keeps a blog about what she reads (when she remembers to update it).
---
Comments
---