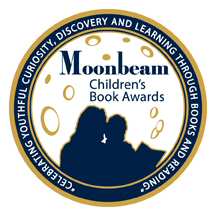 Here's an excerpt from this year's results announcement press release: The awards attracted nearly a thousand entries from throughout North America and the English-speaking world. Medals will go to authors, illustrators and publishers from 32 U.S. states, 5 Canadian provinces, and 7 countries overseas. Numerous award-winning books encourage children to be generous and compassionate, to stand up to bullies, and to believe in fulfilling their dreams. The diversity of the winning publishers proves that promoting childhood literacy knows no boundaries, as medal-winners came not only from long-established publishers and university presses, but from small presses, foundations, and self-published entrepreneurs. "This year's Moonbeam award winners confirm that books can change children's lives," says Moonbeam Awards founder Jerrold Jenkins, father of four children ranging in ages 7 to 17. "They've already had a big impact on the judges and the kids that read them, so we know these books were created to enrich childrens' lives. The Moonbeams are all about rewarding these books and bringing them to the attention of parents, booksellers, librarians – and to the kids themselves." Jenkins Group has been involved in book packaging, marketing and distribution since 1988, and many of its employees now have children and grandchildren who strongly influence the company culture with their youthful exuberance and love of books. Read a Moonbeam Award-winning book to your child today!
Independent Publisher on Instagram
Feature
2009 Moonbeam Children's Book Awards Press Page
Photos of the Event, plus links to press materials and merchandise
Welcome ot the Moonbeam Children's Book Award Winners Page.
Here are photos from the awards ceremony held last year at the West Virginia Book Festival in Charleston, WV. (Photography by Michael R. Henshall -304marketing.com)
Read a press release about the 2009 Moonbeam Awards
here.
See additional photos from the event
here.
Link to the Moonbeam Awards merchandise page:
www.jenkinsgroupinc.com/IXXO/index.php?p=catalog&parent=2&pg=1
.
The first photo below is of Moonbeam Awards director Jim Barnes and Mary Kay Bond, Executive Director of the
Read Aloud West Virginia
organization, who introduced Jim and welcomed the audience to begin the Moonbeam Awards ceremony.
---
Comments
---