The Additional Capabilities of WiX
Over the years, WiX has evolved tremendously. Not only has the platform transcended its initial flash-based roots to become a unique and fully functional HTML 5 editor, but it has also adapted along the way to fit the new trends of technology and web use. WiX launched in 2006, but as Eric Mason notes, everything really changed the next year when the first iPhone hit the market. Fast-forward six years and smart phones, tablets, and other mobile devices account for a hefty percentage of the hits that any website can hope to collect. Today, in addition to making the desktop version of their site look perfect, a web designer has the added challenge of building mobile optimized sites that can retain traffic on an entirely different class of devices.
Unsurprisingly, WiX has met the new challenges of web engagement and mobile formatting with open arms. For example, shortly after unveiling HTML 5, WiX introduced a platform that allows users to supplement their websites with third-party applications and services.
"I think there are about 170 apps in there now, everything from ecommerce to social apps to marketing apps," Mason explained. "So there are ways for you to run your entire business, whether you're an author or a restaurant or a message therapist or just building a portfolio to show off at school."
Furthermore, WiX launched yet another feature in October of 2013 to allow users to build mobile websites. The so-called "mobile solution" will automatically create a mobile version of any site designed with WiX, but that's not all. Users are also now able to go into the mobile version and tinker with different design and display options, all without disrupting the design of the original desktop version of the site.
Independent Publisher on Instagram
Tech Desk
From the Tech Desk
WiX Makes Building a Great Website Easy
Picture this scenario: you're an author with a complete polished manuscript and plenty of friends and family members encouraging you to publish it. You may have even reached out to Amazon, Apple, and Barnes & Noble to see about releasing your book through their e-publishing programs, or contacted a third-party entity like Vook or CreateSpace about walking you through the process of self-publishing your book. But even with an arena as wide open as the internet at your disposal, getting attention and buzz for your self-published book is never an easy task.
After all, simply following all of the different guidelines and file format standards for eBooks is enough to make anyone's head spin. How could you possibly function with the next steps of the process? How can you hope to make it through the labyrinthine traps of book marketing and publicity without starting to lose at least a little bit of the enchantment you felt from publishing your own book in the first place? And how can you manage the balancing act that comes from boosting attention for your current book while simultaneously working to build a base of readers who will be interested in reading your next book?
In many cases, all of these questions can be answered by a functional and well designed website. The right website can work wonders for anyone, and can certainly be a wonderful boon to your career as an independent author. It can position you as a professional and authoritative new voice on the publishing landscape and present your book in a manner that will draw readers in and keep them interested. It can give you a place to sell your books and to communicate with readers, or lend you the type of online home base that you need to link back to when you post on social media or do interviews with local publications. In short, a website can be the engine that takes your writing career from zero to…one. And beyond.
Of course, all of these things have been true for years. Websites have long been an essential part of doing any type of business and facilitating any type of growth, and that's true whether you are starting a restaurant or following your lifelong dreams to publish a novel. The difference nowadays is that internet users will no longer accept websites that look like the Space Jam promotional page. In a world where everything is about attractive and sleek design, websites need to follow suit. They need to have striking fonts and delicious color schemes, eye-catching visuals and embedded flash videos, convenient links and logical flow. If a net surfer doesn't like how your website looks, they're more likely to lose interest and leave it behind than they are to muddle through. The logical conclusion, then, is to not ask them to muddle through.
But seriously, how the heck can you design an attractive website if you don't know the first thing about coding? For every self-publisher who is also a self-taught computer whiz, there are undoubtedly authors among us who don't know the difference between the monitor and the actual computer. How can a technology-challenged writer possibly hope to design a website that will attract and engage readers rather than send them scurrying away with a mixture of laughter and confusion?
The key is WiX (Windows installer XML), a free website template editing tool that allows even the most inexperienced web designers to build beautiful websites. First introduced as a flash builder in 2006, WiX became a truly unique web-building tool in 2012 when it launched a full-fledged HTML 5 editor—a capability that Eric Mason, the company's Director of Communications for the US, calls "the first of its kind in the industry." In other words, while WiX may often be lumped in with other similar pieces of software as a "template editor," Mason was quick to point out that it actually allows for functionalities and capabilities that other similar website building tools simply haven't been able to muster quite yet.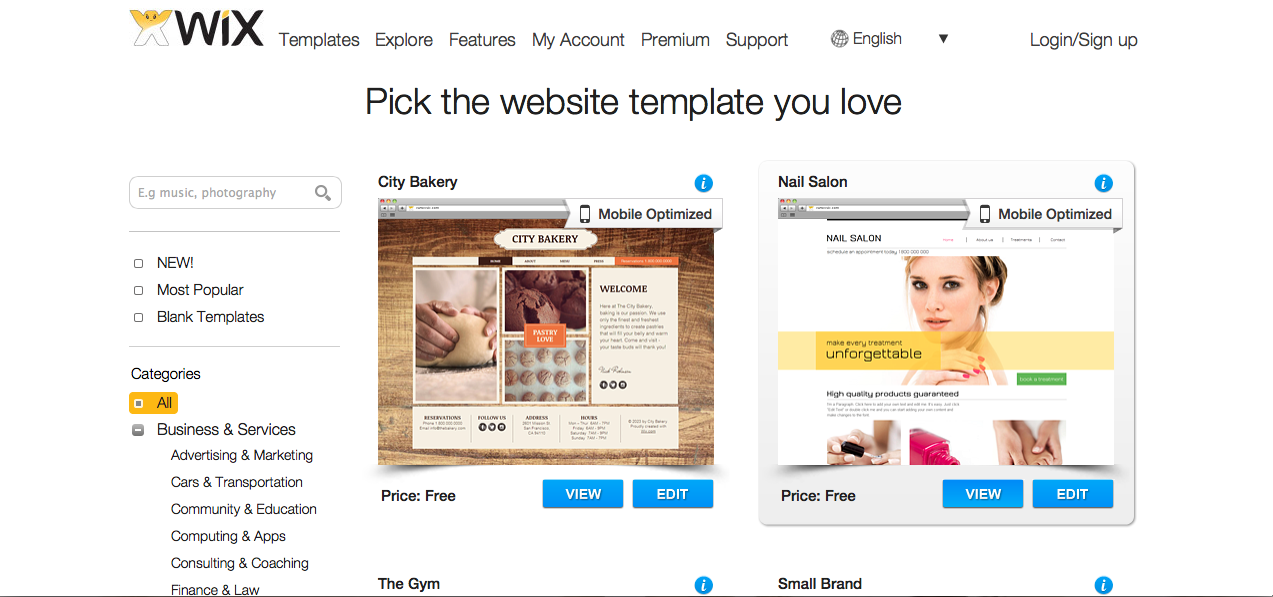 "If you build a website with any of the other template builders, you're restricted by what you can do with the template," Mason said. "Everything is built on blocks. So you might have a banner that is 650 pixels by 150 pixels and two full boxes down the side and with every other builder out there, you're restricted to that basic set-up. You've got to put the banner in that space and you've got to use those boxes the way you see them. With WiX, we're actually a 'what you see is what you get' editor, which means that you are free to move any piece anywhere you want on the platform."
Indeed, WiX is no ordinary template builder. While the program lets users choose a template based on what type of general website design they like most, it also gives them the freedom to tweak almost everything about that template, from the fonts and the colors to the menus and the links. It's a system that makes it possible for a single template to create a dozen entirely different websites, each as creative and visually striking as the one that came before it. The best part of the whole thing—especially for independent authors and publishers who don't have a lot of experiences in HTML—is that no coding is necessary. Everything you need to build a good-looking, functional website is right there in the template, but so are the allowances of customization and creativity that make WiX unique.
Interested in learning more about WiX, checking out a few templates, or getting to work on your own brand new website? Head to www.wix.com to get started.
---
Craig Manning is currently studying English and Music at Western Michigan University. In addition to writing for IndependentPublisher.com, he maintains a pair of entertainment blogs, interns at the Traverse City Business News, and writes for Rockfreaks.net and his college newspaper. He welcomes comments or questions concerning his articles via email, at manningcr953@gmail.com.
---
Comments
---