Library Recommendations – A Look at the Titles Available from StoriesAlive
Need a bit more convincing that StoriesAlives is worth checking out? We've perused a few different library sections and put together a brief list of highlights, from well-known stories to lesser-known titles.
Princesses & Fairytales: Unsurprisingly, this category probably includes the largest number of iconic classics, including fairytales like "Jack and the Beanstalk," "Little Red Riding Hood," "Rumpelstiltskin," "Beauty and the Beast," and more. There are even versions of Washington Irving's "Rip Van Winkle" and Jonathan Swift's Gulliver's Travels, for parents who want to establish a cultured literary appreciation from a young age.
Mother Nature: Stories about flower children, trees, and animals. Our picks are "The Acorn's Story" – which charts the life journey of a mighty oak tree – or "White is the Moon" – which uses beautiful illustrations to capture a 24-hour cycle of the natural world.
Poems & Rhymes: From nursery rhyme collections to classics like "The Ugly Duckling" – all the way to On the Night You Were Born – this category is an embarrassment of riches. We particularly like "Doggy's Doings," which teaches kids about man's best friend.
Independent Publisher on Instagram
Tech Desk
From the Tech Desk
Book App Company Aims for Even More Interactive Territory
In today's publishing world, nothing seems to divide prognosticators more than the book app. Some say that book apps aren't a viable publishing model, since they are expensive to produce and only serve a niche audience anyway. Others believe that book apps are the best possible way to get modern children interested in and engaged with reading. StoriesAlive, a subscription-based library service that launched last October, is an application whose mission statement falls into the latter belief system.
Available for both Android tablets and the iPad (integration with smartphones and other mobile devices would be nice, but isn't available yet), StoriesAlive offers a full-service book app library to its users. The app is free to download, with new customers being granted six free books from the StoriesAlive library upon installing the app. After that, a subscription for the service costs $7.99 per months for unlimited library access. In other words, for parents looking to introduce their kids to book apps, StoriesAlive might be the most efficient and cost-effective way to do so.
Right now, the main draw of StoriesAlive is its "Story Apps" section, which includes over 150 different book app titles, ranging from classics (a Brothers Grimm fairytale collection, for instance) to current bestsellers and award winners (like Nancy Tillman's gorgeously illustrated On the Night You Were Born). While 150 titles might not seem like that much – especially given just how many children's book titles make it to the marketplace each year – it's still a number that makes StoriesAlive one of the biggest libraries out there for interactive book titles. As time goes on and StoriesAlive continues to grow, the size and selection of the library will undoubtedly follow suit. For now however, the app is more than a suitable option for parents or kids wanting to bring books to their tablets in exciting new ways.
On the Night You Were Born is the most recent addition to StoriesAlive, and it's a jaw-dropping example of precisely what the library service – and the book app model as a whole – is capable of delivering. Already a beautiful book, Tillman's story gains a new level of charm on a tablet. Illustrations dance, move, and leap off the page with a tap of the touch screen. Voices of parents, grandparents or other loved ones can be recorded so that the book will essentially read itself to a child. And added personalization is possible. The app's "scrapbook component" is one of its nicest touches, as it can be used to capture photographs, video clips, or other childhood mementos – handprints or footprints, for instance – all inside the virtual pages of the book. With StoriesAlive, On the Night You Were Born evolves from a wonderful, life-affirming children's book to a perfect and poignant baby book keepsake. It's worth a look for anyone with young children.
The current focus of StoriesAlive, however, isn't so much the "Story Apps" segment of the story as it is the newly launched "Creator Apps" section. Creation apps are collected under the umbrella of a new sub-application called "MyStories," which, according to a recent press release, was conceived by a team of people who have previously contributed their talents to big Hollywood film projects like Titanic, The Polar Express, The Matrix Revolutions, and the original Spider-Man film. Unlike most of those pricey blockbusters, however, the big basis of MyStories isn't on special effects. Rather, it's all about creativity.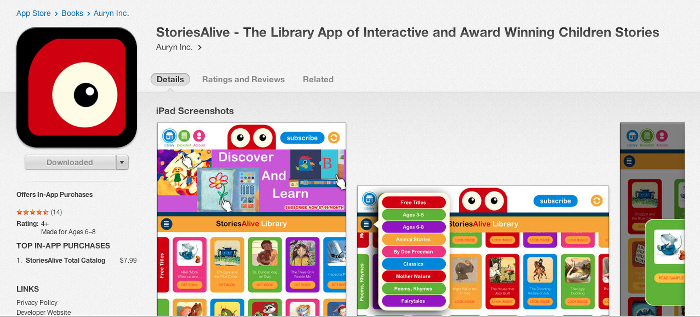 Described by the StoriesAlive people as "technologically-advanced 'About Me' books," the collection of titles in the MyStories app gives kids the materials and encouragement they need to craft unique and original stories about themselves. As of launch, MyStories has five different story templates, including an "All About Me" book – in both boy and girl variations – an animal-themed coloring book, and "Me and Grandma" or "Me and Grandpa" storybooks. Each of these five templates allows for a variety of activities, ranging from detailed and unique capabilities (the personalization facet, which allows kids to add text, photos, and sounds into their stories) to more surface level diversions (such as drawing and coloring book features).
The sound feature is especially cool, allowing users to create a so-called "hot spot" of sound on every page. When tapped, that hot spot will play back customized audio. From making lions roar to adding vocalized dialogue between characters, the sonic capabilities are a nifty way of taking full advantage of the technology afforded by the book app format. Sure, interactive children's books have been around for ages, whether we're talking pop up illustrations or books with a built in soundboard. However, with modern technology surging forward and tablets rapidly establishing themselves as household items, book apps present a leap forward in imaginative and engrossing reading experiences. Kids and parents alike should be thrilled at the new developments being made by services like StoriesAlive.
Interested in trying out StoriesAlive or in being one of the first users to engage with the MyStories app? Visit the official website to learn more, or head to the Apple or Google Play app store to download the app.
---
Craig Manning is currently studying English and Music at Western Michigan University. In addition to writing for IndependentPublisher.com, he maintains a pair of entertainment blogs, interns at the Traverse City Business News, and writes for Rockfreaks.net and his college newspaper. He welcomes comments or questions concerning his articles via email, at manningcr953@gmail.com.
---
Comments
---