Opus, the Book-Making Machine, at Politics & Prose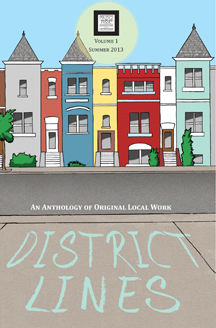 With the renovation of the main floor came the addition of an Espresso Book Machine, which was given the name "Opus" by the staff at Politics & Prose. Not only can customers self-publish their own manuscripts, but they can use it to print out-of-print books, and in-print books made available by the publisher.
But what caught my eye at the store was the line of vibrant new takes on covers of classics lined up along the windowsill. "Recovering the Classics" offers customers a countless number of re-imagined covers to choose from when they print one of the included classics using Opus. The purchase of two "Recovering the Classics" books gets the customer a postcard pack of their title for $4 and a free ebook.
Politics & Prose also published their first anthology, titled District Lines,using Opus. This collection features original and previously unpublished poetry, prose, art, and photographs by local writers and artists. For both volumes, the team at Politics & Prose issued a call for submissions on their website. With their first volume, they were surprised at the overwhelmingly response and received over 100 submissions. District Lines, Volume Two is coming out this coming summer.
To learn more about "Recovering the Classics" and the titles offered through this program, go to http://recoveringtheclassics.com/.
If you would like to find out more about Opus at Politics & Prose, go to http://www.politics-prose.com/espresso-book-machine
Independent Publisher on Instagram
Indie Groundbreaking Bookseller
Politics & Prose
From One World of Words to Another
As I get closer to the front doors of Politics & Prose, I notice that the folks walking toward the door with me all pick up their pace and talk excitedly to whoever they are with as they get in sight of the store. When I walk in I know why.
The store is packed with groups of friends and family who have decided there is no better place to send their Saturday evening. Strangers are in conversation about the books on the table. Booksellers are milling about laughing with customers and giving book suggestion after book suggestion with an enthusiasm that can't be anything but genuine. Other customers are anxiously awaiting an author event with Patrick Tucker, the author of The Naked Future that starts in 45 minutes.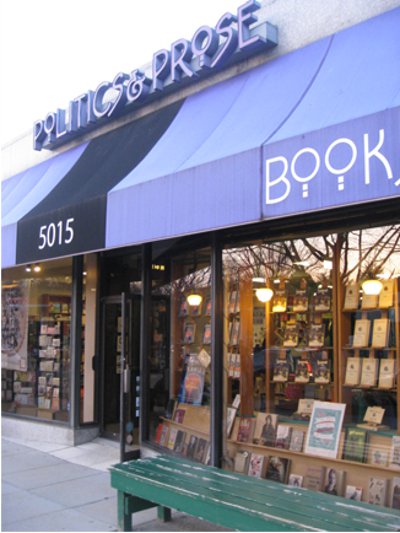 Politics & Prose is known throughout the bookselling community as a store that authors vie to have an author event at, as the store hosts over 475 events a year. Michelle Obama, Sue Monk Kidd, Sonia Sotomayor, and Michael Pollan are just a few authors who came to the store in the recent months.
But all that wouldn't have been possible without Carla Cohen and Barbara Meade, the original owners of the store. They opened Politics & Prose in the fall of 1984. From the start, Cohen and Meade's vision was to make the store a community institution rather than just a business.
After Cohen's passing in 2010, Cohen's husband, David, and Barbara Meade began looking into selling the store. It wasn't until June 2011 that Brad Graham and Lissa Muscatine, a husband-wife duo, took over ownership and got to continue and strengthen what Cohen and Meade had left in their hands.
Although Brad and Lissa never thought they would end up in the bookselling business, as Lissa points out, it isn't as different as their past careers. "We are both from the world of words. That idea is part of our world," Lissa stated.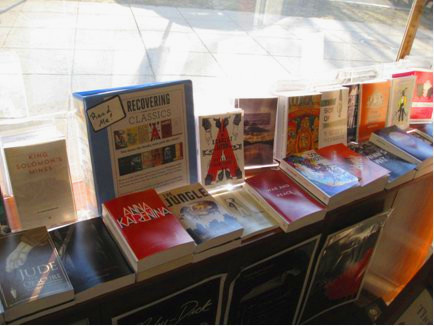 Brad and Lissa both worked as journalists at the Washington Post. Brad was a foreign and Pentagon correspondent and is the author of By His Own Rules and Hit to Kill. Lissa left the Post to work with Hilary Clinton as a speechwriter at the State and White House level. She later helped Clinton on her book, Living History.
"As a journalist going into a story that you may not be familiar with, you have to learn the people and boil it down to it's important elements," Brad stated. Brad notes that backgrounds in journalism brought them confidence on how to deal with unfamiliar situations of owning a bookstore.
As Brad told me, his and Lissa's journey to becoming owners was more like an audition rather than an auction. He didn't initially see himself as a potential owner of the store, but after urging from his friends, he filled out the questionnaire required for all prospective buyers. After making it down to the final six, Brad urged his wife Lissa to come along for moral support in the hopes that she might become interested. At that point, Lissa still wasn't sure if this was a venture she was up for, but the owners immediately took to her. "They really liked the idea of a female presence at the store," Lissa stated.
When Brad and Lissa took over, Barbara Meade tutored them for a year and a half on how to manage a bookstore. Brad also traveled to indies around the country looking to get advice on the keys to their success. "One owner was blunt and said that you have to be willing to lose everything," Brad revealed. Having talked to many different bookstore owners, Brad came away noting that the key to each independent bookstore's success was "a deep rootedness in community."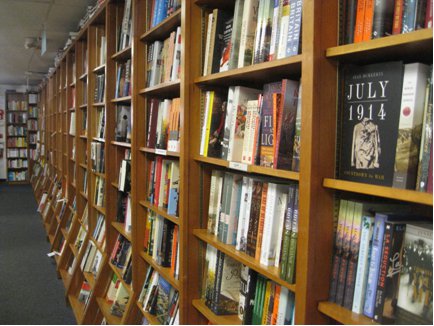 From a quick glance into the Politics & Prose's cafe, Modern Times Coffeehouse, one can see from the ease of conversation and laughter between the baristas and what look like many regulars, this store has accomplished just that. In keeping with being a community institution, Brad and Lissa have expanded on the classes and trips they offer to their customers bringing the final count to over 150 courses and countless events. This coming October, Politics & Prose has a group going to Provence, France, while another two groups are heading to Paris in July and August to get a tourist experience that can't be found in the guidebooks.
For customers that are looking for trips closer to home, the bookstore offers outings around the community to baseball games, plays, historical sites such as the Civil War battlefields, and Fallingwater, a house designed by Frank Lloyd Wright in 1935. The team at Politics & Prose has passed along a survey to customers to give their input about the trips.
Looking toward both Cohen and Meade for inspiration as they continue to run the store, Brad stated how independent bookstores tend to be associated with personalities. During Meade and Cohen's years of ownership, Carla acted as the marketing force for the store with her extroverted personality, while Barbara handled a lot of what went on behind the scenes and was a tremendous buyer.
Both Brad and Lissa want to continue to be accessible to customers and put their own mark on the store as they finish up their third year as owners and celebrate Politics & Prose's 30th anniversary this fall.
We at Independent Publisher wish them the best of luck and look forward to seeing how Brad, Lissa, and their team at Politics & Prose continue to pave the way for other independent bookstores.
Keep up to date on Politics & Prose by visiting their website at: http://www.politics-prose.com/
If you need a few book recommendations, Brad suggests you check out Duty: Memoirs of a Secretary at War and The Everything Store. Lissa's recommendations are The Goldfinch and Words Will Break Cement.
---
Nicolette Amstutz is a writer for Independent Publisher. She recently graduated from the University of Michigan where she majored in English and Communications. Please contact her with any comments, questions, or criticisms at namstutz (at) umich.edu
---
Comments
---