Books and Beer
It's been a little over a month since the opening of the Phoenix location of Changing Hands and First Draft Book Bar. "The process of opening a second location has been quite a journey, which couldn't have been possible without a thriving Indiegogo campaign and local architects, wood-makers, and carpenters. We wanted the greater Phoenix community to have its 'own' bookstore," Gayle said of the decision to open a second location.
"We love the idea of a bar—coffee, wine, and beer seem a natural to go with books and so far our customers agree," Gayle continued. When deciding on what food they wanted to make available at First Draft Book Bar, the Changing Hands team enlisted help from the Southwest Autism Research Resource Center, a center who not only trains but employs autistic adults, after they learned that the culinary arts is a field where many thrive in when otherwise it can be hard to find a job. Through SARRC, Changing Hands was introduced to Matt Cottle, owner of The Stuttering King Bakery, and James Pearson, a chef at the center who runs the culinary arts program.
Like everything that Changing Hands does, how they could give back to their community as they worked on this project was always on their mind.
Independent Publisher on Instagram
Indie Groundbreaking Bookseller
Changing Hands Bookstore
Keeping the Community in Mind
It was during Gayle Shanks, Tom Brodersen, and Bob Sommer's time as volunteers at an alternative school for kids that the idea for a socially responsible bookstore in Tempe, Arizona, was born.
Changing Hands opened in 1974 and has been going strong ever since. This year is about celebrating the 40 past years of successful book-selling as well as new beginnings. After multiple moves to accommodate their expanding inventory, Changing Hands now has one location in Tempe and another in Phoenix, which just opened at the end of this past May along with First Draft Book Bar.
While the store started as a worker-owned collective, it became more beneficial to reduce it to a smaller group of decision makers. Currently, there are three owners and two associate board members in the core group: Cindy Dach serves as general manager, Bob Sommer as CFO, Sarah Murrell in charge of chief operations, Brandon Stout as marketing manager and Gayle Shanks as head buyer.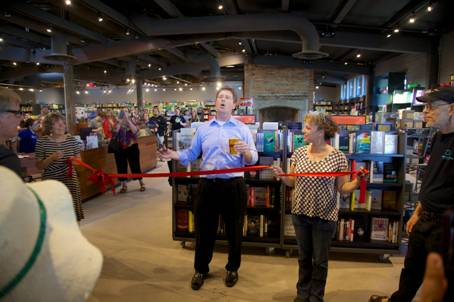 What makes Changing Hands different from other bookstores is their level of community involvement. They aren't just involved in one or two aspects of their community; they are deeply immersed in what is going on around their city and how they can affect the lives of more people. "We serve on boards, volunteer, and act as resources for literacy programs, schools, and other non-profits. Our partnerships are ongoing and we are constantly asked to become involved in new start-ups in the community. We always find that our work/money/time comes back to us tenfold in terms of good will and loyalty from members of the city," Gayle said.
Changing Hands was the first sponsor of public radio in Arizona thirty years ago. It is a partnership that has never stopped. "Our customers are listeners of public radio and the synergy of our business and the listenership of both stations is a perfect match. We can't imagine our business or our community without them and do anything we can to keep them alive and thriving," Gayle stated. Currently, part of the profit the store generates goes to support local stations such as KJZZ and KBAQ.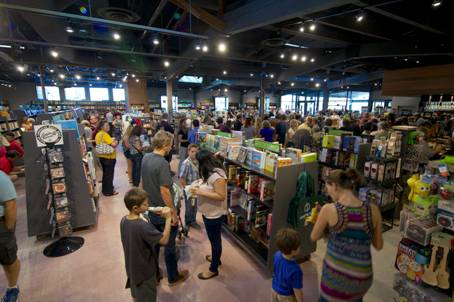 Not only does the money earned from the books sold go to the local radio stations, it also helps supports local schools, teachers, and over 200 charities (local, national, and international) that Changing Hands supports. Part of the bookstore's mission is to get customers to think about where their money is going when they shop locally versus when they go to larger chains. By shopping at community stores, such as their own, the money customers spend at the store isn't going to faraway corporate headquarters where the focus is on profit over quality and community, or to employees who don't work in the store or live somewhere in the area.
If you are a bookstore owner or employee looking to make your bookstore more socially conscious, Gayle suggests that owners look to what their community wants and find a way to provide it to them. When it comes to supporting young readers or the teachers that inspire them to learn, Changing Hands is always there to do what they can. "I love education and teachers. I support them and think they have the hardest job in the world and are extremely underpaid. We have a teacher's discount, give them free books, and serve on school boards and advisory councils and generally do all we can to promote learning and reading in our community," Gayle stated.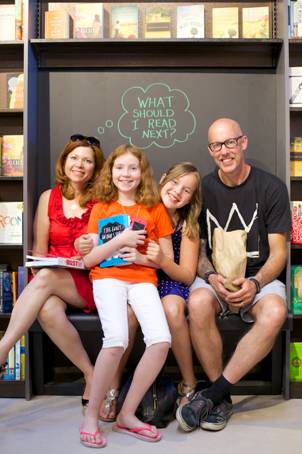 At the heart of the bookstore's vision is the dedication to encouraging reading at a young age by, as Gayle puts it, "'growing' [young readers] through story times, activities, a fun environment and anything else you can think of doing. Kids need books, real books, not devices and I think that will develop in them a love of learning, reading and critical thinking. If they think critically they will think locally and globally and create a world that will continue."
With that, we look forward to seeing how Changing Hands continues to put charity and public spirit above all else.
If you are in need of a book you won't be able to put down, check out Gayle's recommendation, All The Light We Cannot See by Anthony Doerr.
Photo credits for this article: Andrew Pielage Photography apizm.com
---
Nicolette Amstutz is a writer for Independent Publisher. She recently graduated from the University of Michigan where she majored in English and Communications. Please contact her with any comments, questions, or criticisms at namstutz (at) umich.edu
---
Comments
---