The Benefits of Print Books
In the past 10 years, countless people have made the switch from reading print books to enjoying texts on devices like the Amazon Kindle or the Apple iPad. Not only are e-readers and tablets significantly more portable and space-conscious than thick printed books, but they also provide more convenient access to extensive libraries of titles. In short, it's not difficult to see why so many readers have embraced eBooks.
Then again, there are several sizable advantages to print books, and those advantages are what the developers of the Booke app are trying to preserve. One factor at play is the reading experience that only print books can provide. Just as there are music listeners who still prefer the physical experience of dropping the needle on a vinyl record to clicking "play" on an MP3, there are also still readers who want to be able to flip pages, marvel at cover art, and hold a physical book in their hands. The best books are keepsakes, and while a tablet or e-reader is a cool gadget to have, it doesn't offer the same euphoric experience of cracking the spine on a print book for the first time.
Another benefit is that researchers have actually found that most people retain information more effectively if they read it in print than if they read it through digital means. Therefore, if you are researching something, or reading and annotating a book for class, you are more likely to recall the information later if you are consuming it through print media. Since Booke allows you to read a print book, but annotate via a digital device, it offers the best of both worlds.
Are you still holding onto print books as your chosen reading medium? If so, how come? Let us know in the comments section.
Independent Publisher on Instagram
Tech Desk
From the Tech Desk
New Indiegogo Campaign Seeks to Find Balance Between Print Books and Modern Technology
If you've been trying hard to cling to print books, even as all of your friends and family members have been making the switch to tablets and e-readers, then there is an Indiegogo crowdfunding campaign called Booke that absolutely needs to be on your radar. The full name of the project on Indiegogo boldly proclaims that "The Booke Social Reading App Gives Power to the Printed Word." It's the kind of ambitious claim that is supposed to generate interest and help chip away at a hefty $15,000 fundraising goal. The funny thing is, with Booke, it might actually be true.
So how does it work? How can a reading application show respect for printed texts without actively contributing to the destruction of print in the wake of electronic publishing? The Booke app accomplishes the task (or will accomplish the task, if the Indiegogo campaign is successful) by giving print books a handful of technological advantages and social networking capabilities that not even all eBooks have. The developers of Booke want to give modern print readers "the ability to search, bookmark, annotate, and share content right from their device." In short, they want to integrate traditional print book reading and exploration with the consistent networking of modern mobile platforms.
Thus far, Booke's Indiegogo campaign has been struggling to pick up steam, and it isn't impossible to understand why. As intriguing as the idea of "bringing print into the 21st century" is, it's not easy to wrap your head around everything that the developers of Booke are trying to do just from reading through the Indiegogo page. And that's partially just because Booke, as it is planned currently, is an incredibly ambitious app that is seeking to accomplish a laundry list of different tasks.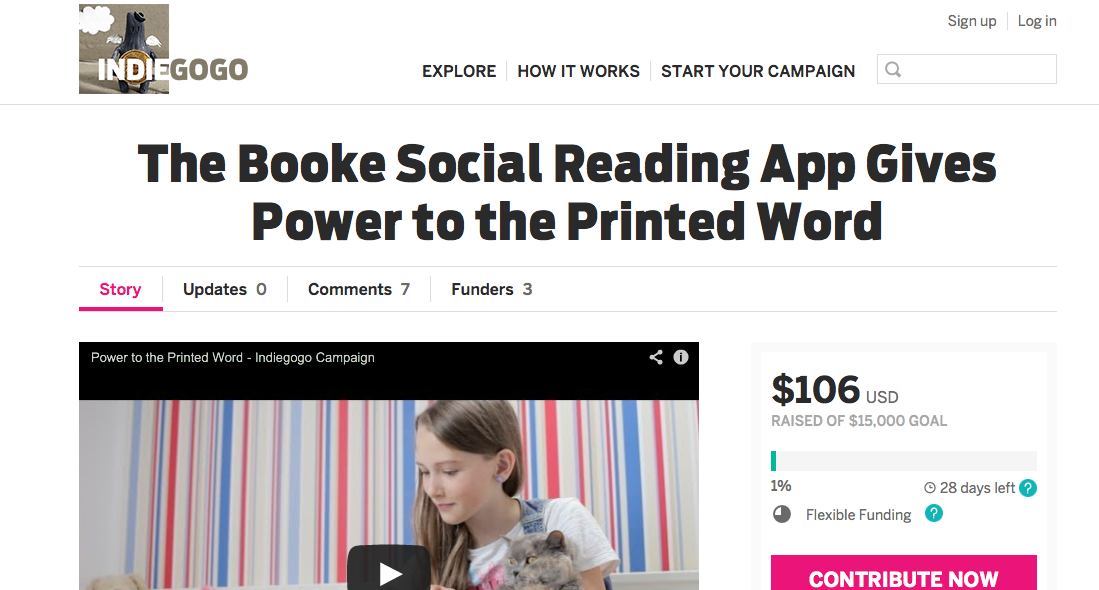 Essentially, what the app does is allow you to access an electronic version of a physical text that you already own or have in your possession. That way, you can do all of your actual reading in the physical book, but if you want to highlight certain sections, bookmark passages to reference in a paper, make annotations for a class, or just mark bits and pieces of the book that you find particularly resonant, you can do so with the Booke app and the electronic version of the text. Said another way, Booke helps save your physical copies from markings, notes, dog-eared pages, and other types of reader-inflicted damage.
Booke doesn't just provide a place for you to store your annotations and save your valued First Edition copies from unsightly notes and highlights, though. The developers of the app are also looking to build an entire interactive reading community, where users will be able to view notes and annotations made by other readers, engage in conversations about contentious passages, or view "augmented" content—including illustrations to help visualize certain scenes, videos explaining elements of the text, links to dictionary definitions of unusual words, and more.
As you can see, Booke is trying to do a lot, and the above elements are all only scratching the surface of the app. Indeed, Booke isn't even meant exclusively for readers, but also has intriguing possibilities for publishers and other content creators. Publishers, for instance, can freely add the aforementioned augmented content that will encourage readers to experience texts in new ways. They can also keep an eye on readers through the app, whether by tracking annotations and discussions in order to assess the public opinion of a recent release, or by collecting demographic information and other data that can be leveraged for marketing purposes.
The number of intriguing possibilities offered by the Booke app could fill a book all by itself. Specifically, it's easy to see the app being integrated into school curriculums, both at the high school and college levels. Upper-level English courses are all about annotating books, highlighting passages, interpreting segments, and more. Having a way to do all of these things on a mobile app instead of writing them in a book would obviously make librarians and teachers very happy, and because Booke has social media aspects incorporated into its design, the app could even take conversations about literary interpretation and intent beyond the walls of the classroom.
Of course, schools might not be too eager to adopt a mobile app for educational use. Even with all of its valuable features, Booke would still be, at its core, a program for iOS and Android platforms. With text messaging, Facebook, email, and other distractions, it's not hard to see why schools frown upon the use of mobile phones within their hallways and classrooms. If developed and marketed correctly, though, perhaps an app like Booke has the potential to change the conversation.
Interested in contributing funds to the Booke app? The campaign will be accepting contributions on Indiegogo until 11:59 p.m. PT on July 29, 2014. Booke is also operating on a "flexible funding" basis, which means that the project will receive all pledged funds—regardless of weather or not it reaches its $15,000 goal.
---
Craig Manning is currently studying English and Music at Western Michigan University. In addition to writing for IndependentPublisher.com, he maintains a pair of entertainment blogs, interns at the Traverse City Business News, and writes for Rockfreaks.net and his college newspaper. He welcomes comments or questions concerning his articles via email, at manningcr953@gmail.com.
---
Comments
---