Other Kindle Direct Publishing Improvements That Could Help Indie Authors
Amazon did independent children's book authors a solid with the introduction of KDP Kids, but there are still so many other ways that the platform could evolve and improve to further help do-it-yourself authors bring their work to the highest level possible. Here are a couple of our desired changes.
1. Interactive eBooks: If there's one thing that you really can't do independently—at least without spending a fair chunk of change—it's interactive eBooks and book apps. Personalization and choose-your-own-adventure interactivity are just a few of the Kindle Direct Publishing updates that would go perfectly hand in hand with the new kids platform. Perhaps they could even be built right into future incarnations of the Kindle Kids' Book Creator.
2. More sophisticated cover design options: If there's one thing that kind of sucks about self-released books, it's cover design. Amazon's Kindle Direct Publishing cover creator does an okay job of helping authors generate the images that will serve as the "faces" of their books, but with the KDP Kids platform now integrating illustrations and images seamlessly into books, the natural next step is for Amazon to update the cover creator and allow for a greater range of user-friendly graphic design options.
Have you ever used Kindle Direct Publishing? If so, which other changes or improvements would you like to see to the platform in the future? Share your insights in the replies!
Independent Publisher on Instagram
Tech Desk
From the Tech Desk
Amazon Opens up Kindle Direct Publishing for Children's Book Authors
For several years now, Amazon has been making it easy for independent author to publish their books and reach broad worldwide audiences via Kindle Direct Publishing (KDP). But while the KDP system has been perfect for authors of novels, biographies, and other text-based works, it has left something big to be desired for authors and illustrators of picture-heavy children's books. Perhaps that was because of limitations in the eBook platform, or maybe because most of the people looking for the free or cheap eBooks coming out of Kindle Direct Publishing were adults. Whatever the reason, though, there is no doubt that independent children's book authors have had a considerably more difficult time getting their work out into the electronic publishing world than other writers.
Now, however, it looks as if all of that is about to change. Amazon has officially announced a "KDP Kids" platform, designed to give children's book authors the same advantages of Kindle Direct Publishing that authors in other genres have enjoyed for years. And considering Amazon's influence in the eBook and self-publishing industries, it's highly likely that this new kid-focused platform will have a major influence on the dissemination and consumption of independent children's books.
Perhaps the coolest new Kindle Direct Publishing update introduced through KDP Kids is the Kindle Kids' Book Creator, a new interfacing tool that gives independent children's book authors unprecedented support for their titles. According to Amazon, the kids' book creator allows authors to easily "import illustrations, add pop-ups and preview [their] illustrated kids book." In essence, the creator program is designed to help authors take their vision of an illustrated children's book from a paper format to an eBook format that is ready to go for the Kindle store. Authors can download the program, both for Mac and Windows, directly from Amazon.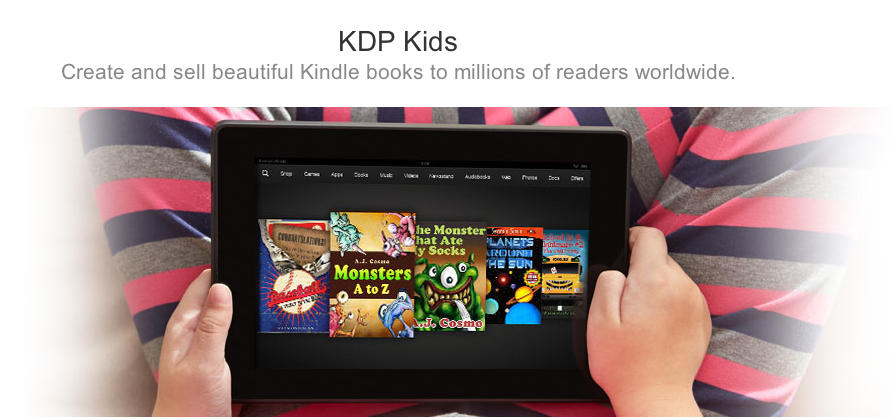 In essence, KDP Kids will give children's book authors the resources they need to truly convert their titles to high-quality Kindle-compatible eBooks. The digital versions that come out of the Kindle Kids' Book Creator will not look like cheap PDF scans that are a pale imitation of a print picture book; instead, they will be fully realized eBooks designed to take advantage of Kindle device software and look great in the process. In other words, KDP Kids books will allow authors to format their children's titles in a professional and competitive manner, helping those titles to reach larger audiences as a result.
Best of all, authors don't have to pay an arm and a leg to turn their artfully illustrated children's books into electronic versions anymore. Instead, they can execute the whole process themselves directly from the comfort of their own homes. Authors build their books using the creator, then upload to KDP for quick, direct publishing. The KDP system will even help authors choose the necessary genre, age, and grade classification categories for their books—all to make sure that their work ends up reaching the correct audiences.
So is this a good thing or a bad thing? On one hand, it's another sign that Amazon is more or less taking over the world, and with the company's recent smartphone release (not to mention the talk of front door deliveries via drones!) that's a serious cause for concern for some. For independent children's authors and illustrators, though, there really isn't a downside. Amazon's KDP Kids will give those authors an easier and more cost-effective (read: free) way to optimize their works for electronic publications. In addition, the new platform will help children's book authors get their work out there and build their audiences and followings with Amazon's well-established customer base.
In many ways, the announcement of KDP kids really marks the breakdown of the final boundary that remained for independent authors in the publishing industry. Illustrated eBooks have been difficult and expensive to make and manage in the past, but now that Amazon is actively addressing those challenges, there is really no kind of publishing product that independent authors or upstart publishers can't manage on their own.
For readers—parents of young children especially—the new development is equally exciting. Even as electronic publishing has become incredibly popular among most readers, the children's book industry has not yet fully embraced the medium. Physical products are still very much the norm in kids' books. KDP Kids, in getting more children's book authors online and engaged with Amazon's publishing model, will increase the number of quality titles online. For parents looking to do evening book times on a Kindle instead of with a pile of library books or recent purchases, that's a real jackpot.
Interested in learning more about KDP Kids? Read an article about the platform on TechCrunch, or visit Amazon.com for the full tour of the new service.
---
Comments
---