Book of the Month Surprise
Brilliant Books' innovative Book of the Month has been garnering national attention. A perennial bestseller, especially at the holidays, Book of the Month is sold in 4, 6, and 12 month packages with hardcover or paperback options. Recipients fill out a very specific card and based on those responses, staff members select a new title each month of the subscription. The idea originally came to Peter early on after yet another regular customer asked him for more recommendations. He floated the idea to a few customers that he could arrange to send out a surprise book every month and the program was born.
Having a well rounded team with a variety of backgrounds allowed Peter to expand the product. He is still involved in the selection process, but his expert staff has allowed him to serve so many more subscribers. With the addition of Sara this year, they have expanded the program to include children as young as two years old.
Book of the Month has become so well known, people who have never even been to the store order the service for themselves or as gifts. When asked about this growth, Peter credits both the program and work that has been put into making Brilliant Books so exceptional in general. "It's tempting to simply answer 'branding', because honestly, that's what you need to get right first. Good solid branding is the only way to have folks who have never been to Michigan, let alone seen my store, trust my store and its booksellers to select a book for their loved ones."
From day one, they have won over even the most discerning readers. As one of their many testimonials raved, "I'm fairly convinced you've got psychics picking these out."

Independent Publisher on Instagram
Indie Groundbreaking Bookseller
Brilliant Books
Long Distance, Local Bookstore
In America, brilliant is often used to refer to something profound or intelligent. In England, brilliant is used much more as an excited utterance regarding something outstanding or exceptional. Brilliant Books bridges these two meanings to create a bookstore featuring "quality fact and literary fiction" with a curated stock and a classic feel. The balance of American and British is a reflection of Brilliant Books owner Peter Makin- a recently naturalized American from London, England.
Brilliant Books began when Peter moved to the village of Suttons Bay in the upper lower peninsula of Michigan (think the pinkie on Michigan's mitten). He noticed the thriving town had many businesses, but not a bookstore.
"When a small store front opened up about a year after Suttons Bay lost its long time bookstore, I decided to take the plunge and open the bookstore I knew I would enjoy," Peter explained. "It was going to have the best of all genres and would be an unabashed intelligent bookstore. That was seven years ago. Now, I'm happy to say that what was intended to be a small town quirky bookstore has now grown into a small national brand."
As fate would have it, he opened the new store in 2007 on the cusp of the recession. Peter and Brilliant Books survived when others failed by immediately becoming part of the community. By participating in Suttons Bay events and becoming the Official Bookseller of the Traverse City Film Festival, Peter got his name out there. He also offered free shipping to all customers in the United States. In a small town with a large summer population, becoming customers' Long Distance Local Bookstore kept business steady even in the quiet winter months.
As it turned out, the idea of a Long Distance Bookstore was more than a means to help Brilliant Books; it was an untapped need in the book market. While independent bookstores are on the rise once again, not every community has an indie bookstore-or any bookstore for that matter. Visitors wanted an alternative to Amazon for books. They wanted to know, even if they couldn't visit it frequently, a real bookstore that "even smells like books" would be waiting for them on their next vacation.
"We knew, from our early days in Suttons Bay, which has a population of only a few hundred in the winter, that if we could retain the customer that might be with us for only a day, and be their chosen bookstore, no matter where they might live, we would be successful. Originally, that was simply communicating with loyal customers and sending them books, now we have grown to have a huge [voluntary] email list."
Though they started as the "Little Blue Store" in Suttons Bay, they soon had enough customers from the nearby town of Traverse City to open a second location there as well. A couple of years ago, Brilliant lost their space in Suttons Bay when their lease expired. Unable to find a new, suitable location, Peter decided the Traverse City store was a good home.
The Long Distance Local Bookstore idea has gained a lot of attention for both Peter and Brilliant Books. Customers who appreciate the option to buy "local" have created a buzz just from word of mouth, telling others they know about the store. He has also lead groups at ABA conferences in discussions of how bookstores can think outside their comfort zone to expand their business.
Though making Brilliant Books people's local bookstore even when they live thousands of miles away makes it unique, the staff at Brilliant is the key to building that loyalty. When asked what he looks for in a bookseller, Peter replied, "They need to be able to reflect the ethos and brand of the store. They must have an expert level of knowledge in their field. They must be avid readers. They must be folks to whom customer service is second nature." Brilliant's staff reflects that and is comprised of professionals, each bringing years of bookselling experience to the store.
With his Viking-esque beard (which he will sometimes braid), Jack is hard to miss and that is a good thing for lovers of literature. He is the go-to guy for serious readers of fiction and is not afraid to lead customers off the beaten track to indie publishers like Milkweed and Europa Editions. The sometimes neglected genres of Science Fiction and Fantasy have a guardian in the form of Jodie at Brilliant. He is also the coordinator of the wildly successful annual May the Fourth event, where he serves a mean Yoda Soda. Sara, blogger of the popular The Hiding Spot, joined the team in 2014. From great picture books to the best YA for any reader, Sara brings a wealth of information and great recommendations to the store.
For all the talk about long distance bookselling, Peter has not forgotten the local part. As many bookstores find recognition and success with unusual aesthetics, specialized cafes, or niche selection, Brilliant Books is, as one patron remarked, a "throw-back to what should be, versus what is!" Though owning a bookstore is not always easy, Peter is reminded daily about what he and Brilliant Books offer people. "I was shoveling the sidewalk the other day and a woman stops to ask if this is my store, and then proceeds to tell me how cozy, well laid out, friendly, and fabulous it is. We get to delight people daily. Whether it's putting a great book in an excited child's hand, or creating a warm, inviting place to hang out."
For more information about the Book of the Month program, click here.
To check out the staffs' top choices for 2014, click here.

---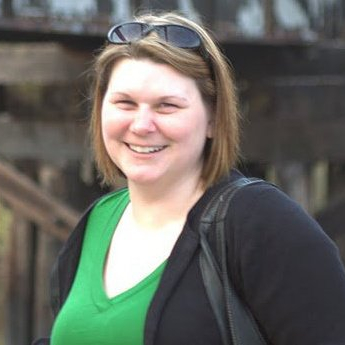 Amy Shamroe is Festival Director and Awards Coordinator at Jenkins Group. She has spent most of her adult life working in, with, and around books. Though she started her career as a bookseller, for the past eight years she has worked as a Jack of All Trades for the Awards. In her spare time, Amy enjoys traveling, sits on her local library's Friends Board, and keeps a blog about what she reads (when she remembers to update it).
---
Comments
---