Fleur de Lit
Long before opening Tubby and Coo's Mid-City Book Shop, Candice Huber already had her finger on the pulse of New Orleans' literary scene. As a lifelong reader, she was especially interested in taking advantage of the rich literary culture in New Orleans. The search often led to frustration because there did not seem to be a good resource for literary events. Taking matters into her own hands, she started the site Fleur de Lit, which hails itself as "your one-stop-shop for all things literary in the New Orleans metro area". Fleur de Lit is more than an event listing site though. Huber features literary spaces and places as well as highlighting some of the city's local authors.
Fleur de Lit has expanded to creating its own events. They teamed with local wine bar Pearl Wine Co. for a literary series called Reading Between the Wines. The free event is open to the public and usually held the first Wednesday of the month and features local authors discussing a specific topic or genre. There are wine specials and pop-up food vendors.
So, if you are the literary type and are planning a trip to NOLA, be sure to check Fleur de Lit for great events you might otherwise miss during your visit!
Independent Publisher on Instagram
Indie Groundbreaking Bookseller
Tubby & Coo's Mid-City Book Shop
Discovering New Worlds in the Old Neighborhood
Candice Huber's grandparents were born across the street from one another on Toulouse Street in the Mid-City neighborhood of New Orleans. As children, they were given the nicknames Tubby and Coo. The nicknames stuck and so did their love of their city- specifically Mid-City. The couple spent almost their entire lives in the area, most of those years as husband and wife.
When her grandmother's eyesight started failing years ago, Candice started reading to her, something that strengthened their already strong bond and shared love of reading. The experience increased her desire to work in the book industry.
A lifelong dream of owning a bookstore finally became a reality for Candice when a space opened up in Mid-City on Carrollton Avenue, of all places. "It was actually not a planned thing; it just sort of happened," Candice admits. Her mother-in-law, a real estate agent, knew someone who knew of a great space for rent. She and her husband decided to jump right in after checking out the charming two storey. In honor of her deep connection to her grandparents, Candice knew she had to name the store after them. So, Tubby and Coo's Mid-City Book Shop was born- without a solid plan, but with a great idea in mind and a lot of faith in the community her family loves.
"I'm a nerd, I'll tell everybody that, and I haven't seen a bookstore here that caters to my particular interests," Candice explained. "I'm trying to build the nerd Mecca for New Orleans." Many would say she has succeeded. Tubby and Coo's Mid-City Book Shop is the realization of a dream for many science fiction and fantasy fans. From the dragon on the logo (Candice is really into dragons), it is clear this shop is all in on its theme. Stepping into the store, customers are greeted by some of the genre's greatest characters- painted on the walls. The stairs feature the spines of classics like Harry Potter, Dune, and 1984. As well as an extensive collection of genre books, the store also features kids books, books by local authors, book related apparel, board games (think more Settlers of Catan and Dominion than Life), and "other nerd stuff". This selection is especially great for the store's Fandom of the Month specials. Every month, a different fandom, like Game of Thrones or Doctor Who, is selected and related merchandise is 15% off- this includes books, games, and collectables.
Beyond the wall murals and Sci-Fi/Fantasy packed bookshelves, the shop really is a haven for geeks. The bookstore hosts some really creative and original events most fans of the genre would love to see in their own neighborhoods.
Every Sunday at 6 p.m. New Orleans gamers meetup at the bookstore for Board Game Night. From classic games like Settlers of Catan to newer favorites like Betrayal At The House On The Hill, enthusiasts have a welcoming place to set up and play. The schedule lists the evening as lasting until 10 p.m. officially, but can often be found listed with just a question mark. When the owner can be found at the boards it is more like playing with friends than hosting an event at a business.
As new ideas or special occasions of a geeky nature present themselves, Candice is ready to create an event. For example, in February the shop hosted Dungeons & Dating, a night where like-minded singles gathered for mingling and trivia. Recently, when Geek Pride Day fell on a Monday, Candice decided to honor it with an entire weekend celebrating genre and fandom. Geek Pride Day is May 25th to coincide with the original release date of Star Wars and two significant days in the works of Terry Pratchett and Douglas Adams. Lucky New Orleans nerds spent May 23-25, 2015 embracing their inner superhero, reimagining a steampunk past, and unleashing their Trekkie side among other fandom favorites as Tubby and Coo's Mid-City Book Shop became host to cosplayers and superfans. Each day was divided up to give space for various subgenres to take over with Flash Sales on related merchandise to coincide. Costumes were definitely encouraged.
Candice knows the love of Sci-Fi/Fantasy is not limited to adults though. This summer, Tubby and Coo's Mid-City Book Shop is offering its own take on the standard summer reading club- League of Extraordinary Readers! This free program will be offered to thirty kids, ten from each of the three age groups. With great power comes great responsibility, so there is a training component. The first session offers an overview of the program and allows trainees to select a book. Subsequent one hour sessions focus on elements of a story, like plot and character, and will be led by experts like local authors. After completing the four sessions, each trainee becomes an "Extraordinary Reader" and an honorary staff member. Extraordinary Readers are also allowed to make staff selections and write reviews for the store.
In a time when some herald the death of brick and mortar bookstores, Tubby and Coo's Mid-City Book Shop is a reminder of what makes them so vital. Beyond offering a place to find books and interact with other readers, Candice and her shop celebrate a community that is not restricted by physical boundaries. Because, though she finds her business in a beloved part of New Orleans, Candice has built her community around the motto "It's all Geek to me!", creating a home for "freaks", "nerds", and "geeks" from all over.
---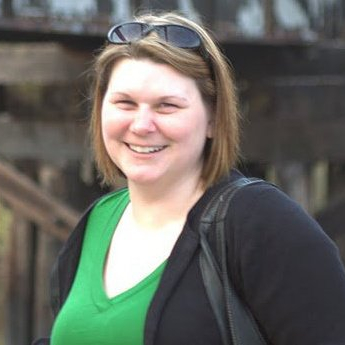 Amy Shamroe is Festival Director and Awards Coordinator at Jenkins Group. She has spent most of her adult life working in, with, and around books. Though she started her career as a bookseller, for the past eight years she has worked as a Jack of All Trades for the Awards. In her spare time, Amy enjoys traveling, sits on her local library's Friends Board, and keeps a blog about what she reads (when she remembers to update it).
---
Comments
---