Book/Plate
Greenlight Bookstore hosts many wonderful book events every, but Book/Plate is probably the most unique. All of these dinners are held offsite at neighboring shop, Peck's Homemade, with a maximum of forty people in attendance. This "literary/cuisine series" is an experience that combines the entertainment and intimacy of a book club and the stirring discussion of an author talk.
Held in the backyard of Peck's deli, the location sets the tone. Guests are given the evening's signature drink and a copy of the book on arrival. The night's featured author then mingles with everyone while appetizers are served. Dinner is then served family style, shared by everyone including the author. The author then takes the stage for an informal talk that is not just limited to the book. It is an author experience readers can truly relish.
At the heart of the event is the dinner. Theodore Peck, the owner of Peck's Homemade, and his chef work hard to capture the essence of each featured book. The meals cultivate discussion by adding a sensory experience to the author's words. Previous dinners this season have featured a variety of themes from Hemingway's Spain to contemporary Israeli cuisine. Upcoming events include Annie Liontas's Let Me Explain You, the story of a Greek immigrant who opens a diner in America and Jonathan Weisman's No. 4 Imperial Lane, a novel about an American expatriate who becomes the aide of a disabled British aristocrat. With such an array of material to work with, these books will surely inspire interesting discussions and delicious meals.
For more information on upcoming Book/Plate dinners, click here.
Independent Publisher on Instagram
Indie Groundbreaking Bookseller
Greenlight Bookstore
A Fairytale of New York
"I often think of our story—the Greenlight story—as a bookstore fairytale."
- Rebecca Fitting, co-owner
Most bookstores don't have their launch party a year before the store actually opens. In 2008, the Fort Greene Association did just that and Rebecca Fitting and Jessica Stockton Bagnulo gave their future store a name - Greenlight Bookstore.
It all began in 2008 when Rebecca Fitting and Jessica Stockton Bagnulo, veterans of bookselling and publishing, formed a partnership with the aim of opening an independent bookstore. At the same time, Jessica Stockton Bagnulo entered her idea into the Brooklyn Business Library's Power Up! business plan competition and ended up winning. "We are fortunate to have the right combination of a vibrant neighborhood, a great location, and complimentary skillsets," Fitting said, "where we can partner together to create a healthy bookstore."
As it happened, the Fort Greene Association had just conducted a survey in the neighborhood to find out what retail store residents would most like to see move into the area; the number one answer was a bookstore. Jessica's winning plan caught the attention of the Fort Greene Association and a brilliant plan was set in motion.
At the launch party, they also kicked off the Community Lender Program which allowed supporters to lend $1000 or more to get the store opened. They raised $70,000 through it. That seed money allowed them to secure even more loans of larger sums. But the community involvement did not stop there. From cleaning to painting, neighbors came out to help and truly made Greenlight Bookstore their bookstore. As the two proud owners said in a toast at the store's opening:

A little over a year ago we had a launch party for a bookstore that didn't exist, where the community came together to support the idea of this place. From that point all the way to now, where we're standing in a bookstore that does exist, the support for this project from all kinds of people has been unwavering, and amazing. We feel like there's so much soul in this space, because of all the energy and enthusiasm that you have brought to it. We're here because of you."
But Greenlight Bookstore has now gone from Cinderella to more of a Fairy Godmother in the community. The store offers both fiction and non-fiction book clubs open to the public and has a registration for private book groups as well. Greenlight recognizes it is not just adults who read. They offer storytimes for children and a book group for ages 8-14. Many area schools add their reading lists to the registry and special days are set aside when a portion of the sale of these books also goes back to the school. Schools are also invited to post a list of books needed for classrooms and libraries that anyone can purchase and donate.
Greenlight Books has quickly become recognized for its innovation by authors and publishers alike, allowing them to bring great authors to the borough and highlighting some of its talented residents. Their close connection to the neighborhood also allows them to work with local businesses and organizations to create a thriving community. Bagnulo has noted that events are about "more and more partnerships, being more creative, and getting a new audience."
A look at Greenlight's schedule shows a variety of events like author signings and storytimes. Working with Brooklyn Academy of Music, Greenlight presents Unbound, a series that has brought authors such as Elizabeth Gilbert, Richard Dawkins, Zadie Smith, and even John Cleese into the store. They have also partnered with St. Joseph's College for Brooklyn Voices, a series of lectures, forums, and performances. The series "promotes and enhances the creative vitality of our home neighborhoods of Fort Greene and Clinton Hill by providing writers, artists, and intellectuals with a local forum in which to discuss and present their works." They also work with Bedford Stuyvesant Restoration to bring authors like Hill Harper and Mike Tyson in for appearances.
Cookbooks are the store's third most popular section (after picture books and fiction). Recognizing this interest, Book/Plate (see sidebar) and Book Cooks at Berg'n were created. Book Cooks at Berg'n is a series that features New York based chefs and food writers discussing their new books with Eric Denby of Smorgasbord and co-founder of Berg'n. Guests get a copy of the discussion book and appetizers created by the featured author.
Through it all the community has been right there with them. Since opening, Greenlight has expanded its operations into a nearby office. As of this year, they are also debt free, paying back the last of the Community Lender loans. With such a strong presence, is there a worry about the digital age thwarting them? "For a while I was really interested in the future of books," Bagnulo said. "Now I'm interested in the present of books."

---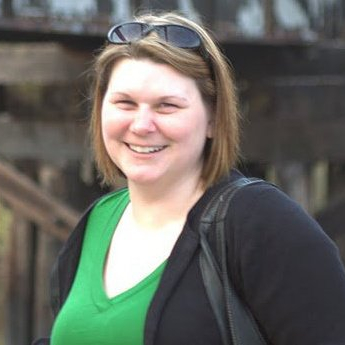 Amy Shamroe is Festival Director and Awards Coordinator at Jenkins Group. She has spent most of her adult life working in, with, and around books. Though she started her career as a bookseller, for the past eight years she has worked as a Jack of All Trades for the Awards. In her spare time, Amy enjoys traveling, sits on her local library's Friends Board, and keeps a blog about what she reads (when she remembers to update it).
---
Comments
---