Tech Desk
From the Tech Desk
Vook Re-launches as Pronoun, Vows to Fix Publishing
Vook is one of the few self-publishing platforms that I have experience using first-hand. Two years ago, I helped my grandfather publish a memoir in digital and physical formats, and we went through Vook to get both the eBook and the print book done. The experience was largely positive: Vook's rates were more reasonable than those of their competitors, and they kept most of their promises about distribution and royalties—a rarity among self-publishing platform, from what I've read.
Now, though, Vook is aiming to separate itself even further from the competition. Back in May, the company re-launched itself as Pronoun, a supposedly author-centered self-publishing platform. The announcement came after Vook made a number of intriguing acquisitions in the publishing community, including an analytics firm called Bookler and a start-up called Byliner that had attempted to sell long-form journalism in the form of eBooks. When the re-launch happened, it did so in a somewhat self-aggrandizing manner, with a blog post proclaiming that the people at Pronoun knew "How to Fix Publishing."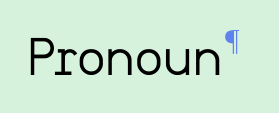 The question among skeptics at the time of the launch—and still, today—was about what Pronoun was going to do to be a "better" self-publishing company. Sure, being an "author-centered" self-publisher sounds like a strong start, but shouldn't all self-publishing platforms be author-centered? After all, if the author is writing the book and publishing it, what else is there? An editor? Maybe a cover designer? But not much else: it all stops and starts with the writer.
Still, despite the somewhat overblown nature of the Pronoun launch, the service sounded intriguing—in part because of how the mission-statement blog acknowledged problems with both traditional publishing companies, and new-frontier self-publishing services.
"Traditional publishers, in the pursuit of blockbusters, take control of publishing rights — then abandon authors whose sales don't generate the expected return on investment. Self-publishing forces you to choose between hundreds of costly services whose value is obscured by sales pitches. And once you publish, you're on your own. We believe authors deserve better."
Pronoun's goal is to offer a publishing option that "start[s] with the author, and build[s] from there." They plan to do this in a number of different ways:
1. Pronoun will give authors the data and analytics they need to understand who their readers are, what they are looking for, and how they find books. Ideally, with this information in hand, authors will be better able to reach a broader audience of readers.
2. With Pronoun, authors won't just pay for their publication package, get a cheap eBook or print version of their book, and then never hear from the company again. Instead, Pronoun vows to provide ongoing support for authors—including advice on how to launch, market, and maintain buzz for their books.
3. Perhaps the biggest advantage of Pronoun is that authors will have complete rights to their books and will earn 100% of the royalties from every sale. Pronoun authors will also have greater control over prices, publication dates, and more.
4. Pronoun pledges complete transparency in working with authors. For the most part, they mean transparency in the aftermath of the publication—so authors always know about up-to-date sales numbers, social media mentions of their book, and more. Hopefully, though, this will also translate into greater transparency throughout the publication process, since one of the most common problems with self-publishing platforms is that communication can drop off while eBooks, cover designs, print files, or other assets are in the works.
5. The least clear promise that Pronoun made in their initial blog pitch was to give authors the chance to "profit from advances in technology." The gist is essentially that Pronoun wants to give authors access to new tech that can speed up the process of self-publishing and result in more attractive finished products—minus the middle men that usually hold the keys to that tech. Exactly how the company is going to do that, though, remains an unanswered question.
All of these things play into Pronoun's bold belief that "publishing should be open and completely free." The idea is that, if authors don't have to actually pay to get their works formatted for publication, or even to get them out into the world, they can instead spend money on the tools and support they need to really get their book some traction in the marketplace.
There's an intriguing concept here. Most self-publishing platforms, even if you work through their processes without any major complaints, or without feeling scammed or mislead, can only take your book so far. In order to sell a significant number of copies, get reviews and coverage in publications, and truly start a conversation among readers, you need to spend money—whether on market research, editing, book design, printing, or marketing and PR. Optimally, Pronoun will give authors access to the technology and support they need to get their books ready for publication whilst freeing up funds to be spent elsewhere.
Pronoun isn't officially open for business yet, but you can visit their website and sign up to receive a notification email when the service officially goes live. The company is currently in the process of acquiring new funding, and just secured a cool $3.5 million, according to TechCrunch.
---
Craig Manning is currently studying English and Music at Western Michigan University. In addition to writing for IndependentPublisher.com, he maintains a pair of entertainment blogs, interns at the Traverse City Business News, and writes for Rockfreaks.net and his college newspaper. He welcomes comments or questions concerning his articles via email, at manningcr953@gmail.com.
---
Comments
---