Indie Groundbreaking Bookseller
The Writer's Block
Prospecting Books in Las Vegas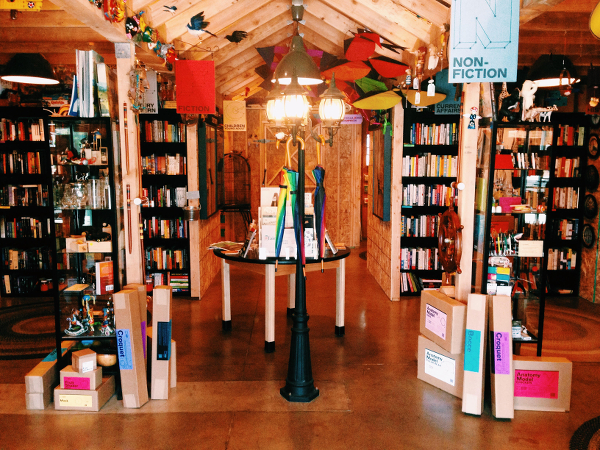 The latest attraction getting attention in downtown Las Vegas isn't a new feature in the Fremont Street Experience or a hot new game at the Golden Nugget- it's a bookstore located a couple blocks away. The Writer's Block is the product of Scott Seeley and Drew Cohen's creativity and experience. Both hail from New York, but were lured to Las Vegas by the prospect of creating an independent bookstore that would also serve the community. Seely was co-founder of 826NYC (famously associated with author Dave Eggers) and was executive director of the not-for-profit.
An introduction a few years ago made the couple aware of Las Vegas' Downtown Project, which was looking to invest in an 826-like literary project for the city. Working with the the Downtown Project and Trinity Haven Development they were able to create what they wanted from a blank slate. This included making distinctive spaces for the Book Shop and the Codex Workshop. "It also helped that our vision was to create a natural, workshop-like space, so our building costs were very low!" Drew Cohen noted good naturedly.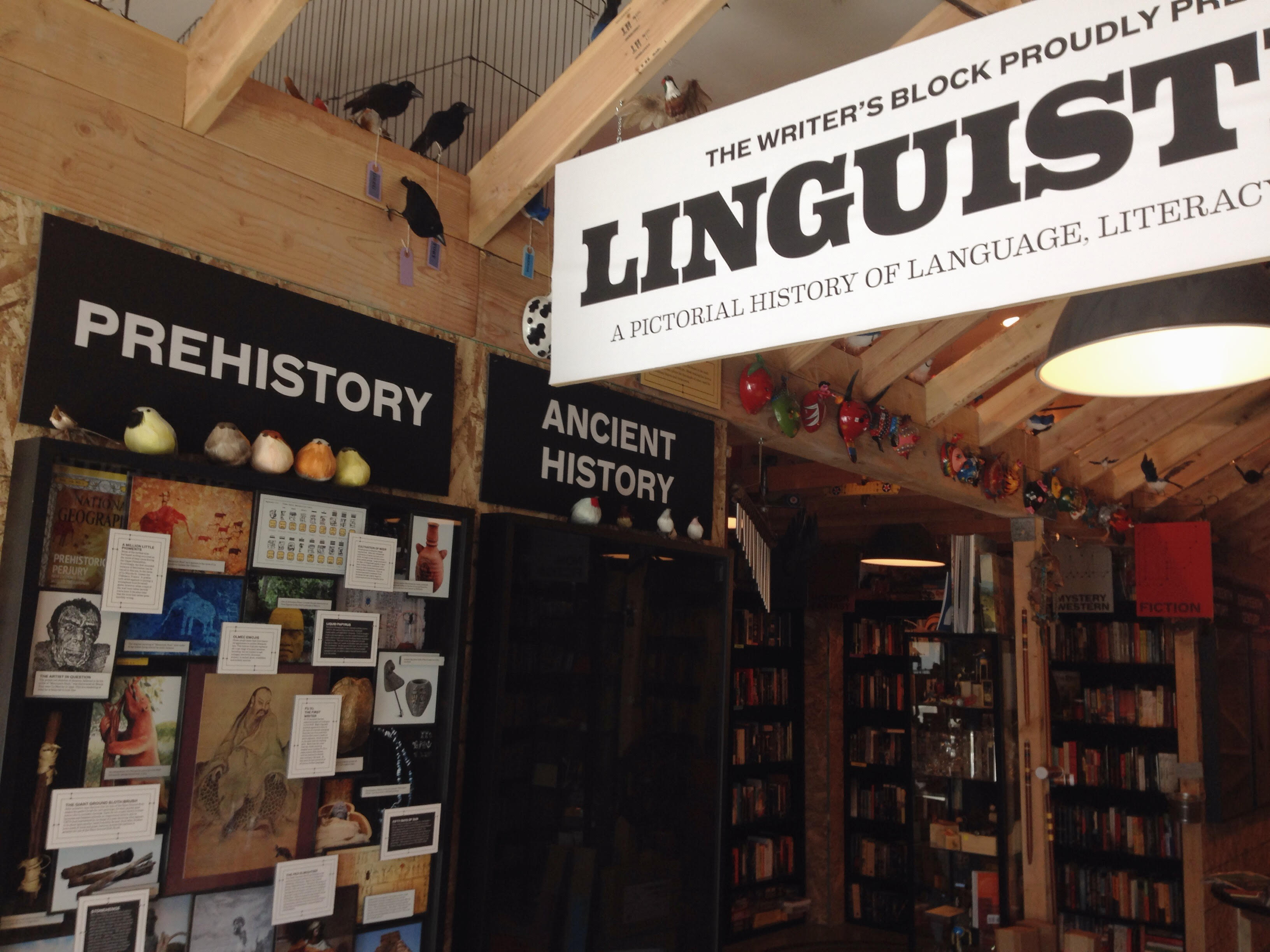 The Writer's Block is the only independent bookstore in Las Vegas. At first, the Book Shop tried to carry a wide variety of books. Quite soon after opening, it was clear the shop was attracting readers looking for a different quality of books than what one would find in the airport gift shop. This careful curation of the inventory is a joy for browsers while the assorted "goods" like snacks and literary t-shirts displayed attract curiosity. Understanding their customers has also led to the creation of store events like a book club, but also indoor croquet matches and the upcoming Book-KO trivia for "literary pugilists".
Then there are the birds. Inspired by Disneyland and the "faux outdoor-indoor spaces on the Las Vegas Strip", Scott and Drew created a forest feel for The Writer's Block, including a pathway leading from the separate Book Shop space to the Workshop. Hanging from the from wires and perched throughout, a collection of artificial birds keeps watch. For a very reasonable fee, customers can even adopt their very own bird from the menagerie, complete with its own history. The unique design is part of the creativity Drew sees as necessary for independent bookstores to survive. "...for us, that has involved constructing a space that is unusual enough that it draws people away from the disassociation of online shopping into something that they want to explore in person."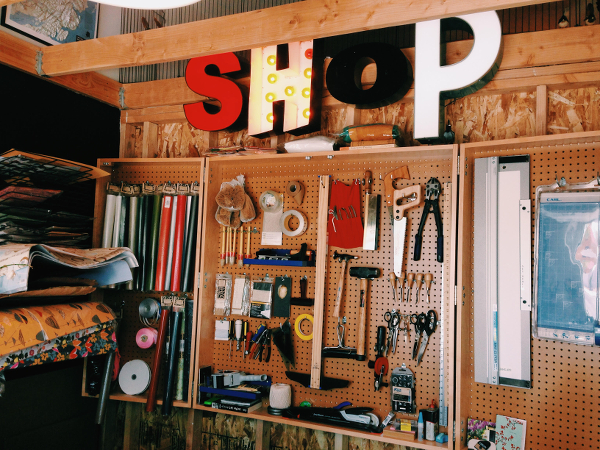 Codex is the workshop portion that makes The Writer's Block a completely unique space. As the website explains, it "...brings together writers and artists to produce original stories and one-of-a-kind objects—books, prints, recordings, films, and other works of art." Free classes are available for students as young as five years old and cover the range to eighteen with enrollment determined by lottery.
Courses are project based and a cover a variety of topics from traditional writing styles like poetry and prose to new media like podcasting and blogging. At the end of every course, the students are sent home with a finished product- a sound recording, film, or book- something they created and can take home. A recent workshop taught kids songwriting and sent them home with a recording of their work. Instructors come from the community and are often the creators of the workshops themselves. The classes have strengthened partnerships with local colleges and universities, but are not the only source of instructors with the passion to give their time to students. Parents and local professionals have also been eager to teach- and they are all welcomed. As Drew explains, "... they have a topic that they're passionate about teaching, and we will find a way to co-develop a workshop that somehow incorporates writing."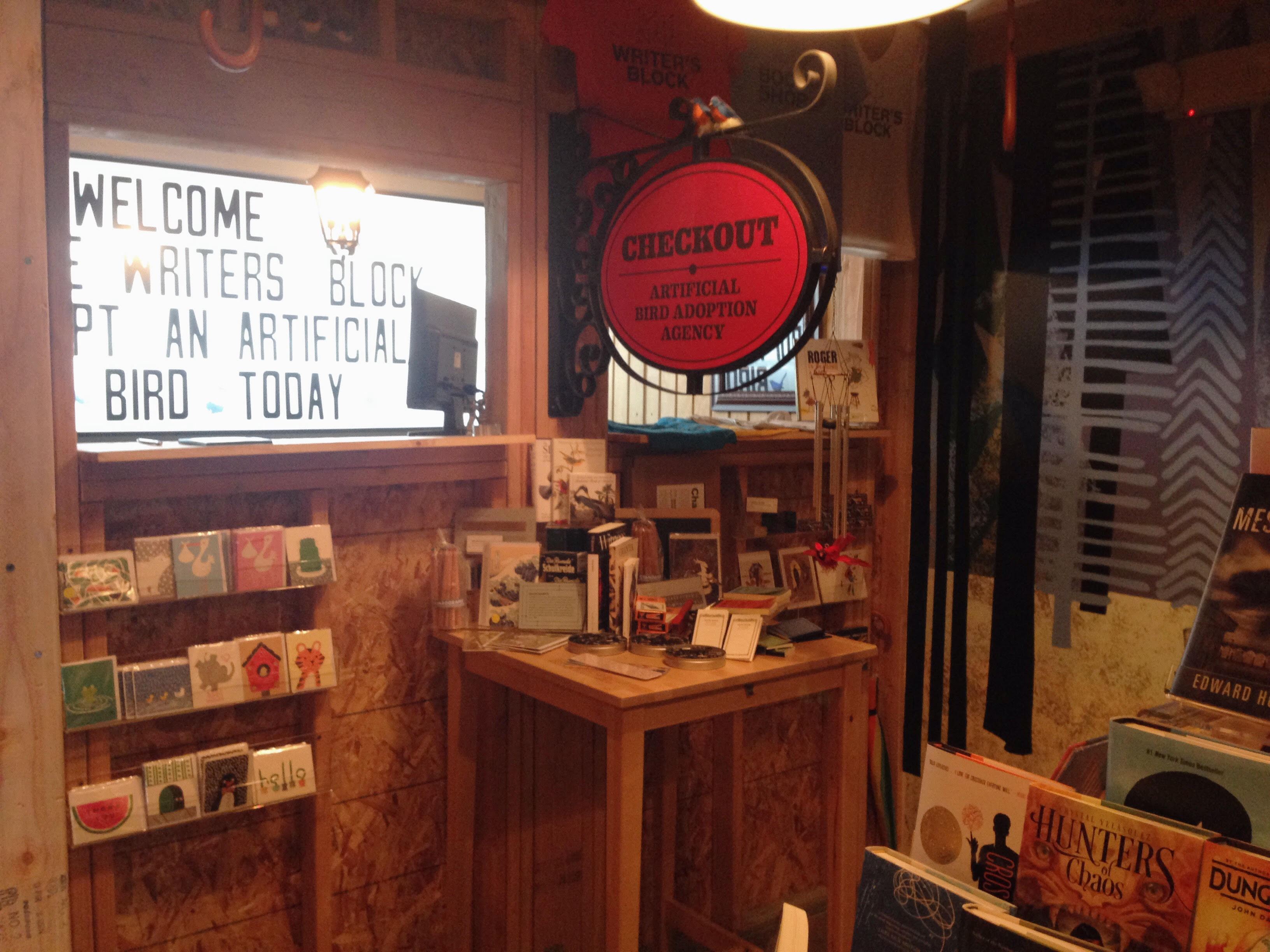 The next step is to get local schools in for field trips. These would be free, two-hour programs meant to give the students a sample of what the courses offer. Las Vegas schools are notoriously low ranked and through Codex they hope to show kids a more exciting and dynamic side of what they are learning in the classroom. As with the courses offered at Codex, classes with go home with the finished product of whatever program they worked on together. Drew and Scott are currently investigating funding options to pay for transportation to The Writer's Block to include as many classrooms as possible.
While The Writer's Block has laid down some very solid roots, Las Vegas can be a transient town. People come seeking only to move on when they don't find what they wanted. That fact, coupled with the city's focus on tourism, means there is always risk creating something ostensibly for locals. While they love when tourists make the effort to find them, Drew is quick to point out they have been embraced by residents.
"We see people come and go, but our goal from the beginning was to set down roots that expand beyond the downtown district... and encompass readers all over the Vegas Valley... I feel like many readers here have felt a sense of isolation, because there hasn't been a centralized indie bookstore to act not only as vendor of books, but as platform for meeting other people and feeling like you're part of something larger."
Looking to the future, there is a lot more to come at The Writer's Block. As well as looking to expand their events and school participation, they have more traditional and some not so traditional goals in mind. Las Vegas is a large city with an untapped audience and they would like to see The Writer's Block become a more regular stop for authors on book tours. In the Book Shop, they are working on making the decor more interactive. The upcoming "Linguistica" project is perhaps a bit less typical than what you would expect at a bookstore but a great example of this. Billed as an in-store museum exhibit covering the history of literacy and literature, it "may or may not be made up," Drew admits. With Drew and Scott as the creative minds behind it- fact or fiction, the exhibit will be another unique feature people will not want to miss.
"Perhaps it's because we're in Vegas, but we try to insert as much showmanship into our store as possible," Drew confesses. Showmanship might just be the key to making a book shop work in such a glitzy town. The Writer's Block succeeds in wowing readers as well as inspiring writers of all ages. This bookstore should be on everyone's Must See list when visiting Las Vegas.
---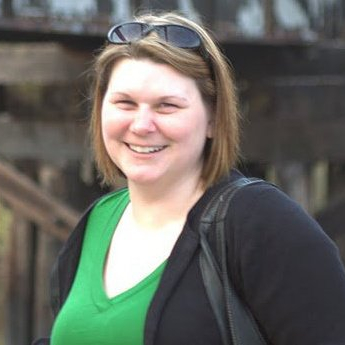 Amy Shamroe is Festival Director and Awards Coordinator at Jenkins Group. She has spent most of her adult life working in, with, and around books. Though she started her career as a bookseller, for the past eight years she has worked as a Jack of All Trades for the Awards. In her spare time, Amy enjoys traveling, sits on her local library's Friends Board, and keeps a blog about what she reads (when she remembers to update it).
---
Comments
---