Indie Groundbreaking Bookseller
Uncle Hugo's Science Fiction & Uncle Edgar's Mystery Bookstore
Legends in the Business of Books
The return of independent bookstores is often heralded with stories of quaint "old fashioned" shops, out-of-the-box store concepts, and community projects. While all of those types–and independents of every stripe–are welcome additions to America's retail landscape, Uncle Hugo's Science Fiction Bookshop is seemingly unique in its purpose. It is a bookstore and its business is books. Uncle Hugo's and its sister store, Uncle Edgar's Mystery Bookshop, have been around for a combined forty plus years by offering a great selection of genre books. Period.
Over forty years ago, Uncle Hugo's Science Fiction Bookstore opened in Minneapolis. After a couple of years, the business was doing so well that owner Don Blyly decided to move into a larger space on Franklin Avenue when it became available. "It took about 3 months for Uncle Hugo's to start breaking even... because so many of the science fiction and fantasy fans belonged to the various fan clubs in the Twin Cities, making it easy and inexpensive to make a large number of potential customers aware of our existence," Blyly explained.
In 1980, a large space opened up in the building and Uncle Hugo's was once again at a point where they could expand. They knocked down a wall and doubled the store's size. Still, fans kept the store thriving.
It was in December of that year that Blyly opened Uncle Edgar's Mystery Bookshop in a newly available space in the same building. The store was set up with its own door and phone number.
Their most recent move, thirty-one years ago, landed Uncle Hugo's and Uncle Edgar's under one roof, but still in independent spaces. Don Blyly decided at the time to keep them separate in name and phone number, a decision that still stands today. "The theory is that if a potential customer wants information about science fiction, they will call the number for the science fiction store and be connected to the SF expert on duty... and a potential customer looking for mysteries will call the number for the mystery store–and sometimes potential customers actually follow that logic," Blyly explained.
Despite all of its different physical locations, Uncle Hugo's was consistently available to customers located anywhere via a mail order service. In the Internet era, it is easy to forget that businesses, and especially small businesses, were not often connected to customers beyond their zip code. To be accessible as a bookstore to anyone from anywhere was a rarity 40 years ago. And the bookstore truly has sent books anywhere they need to go; Blyly explained how they have managed to send books to all seven continents, saying "Back in the 1980s, a regular customer spent a year at the South Pole and depended on Uncle Hugo's for his books."
Through the years, the Uncles, especially Uncle Hugo's, gained a reputation for their outstanding selections of books. New books help to keep the store running and their stock might be the most comprehensive found anywhere, including a wide selection of used books. While many of the used books are purchased by budget conscious readers, the store's used books are also a Mecca for rare and out-of-print editions sought by collectors. Curating and maintaining such a wide variety is no easy feat, but Blyly has a knowledgeable staff that he respects as professionals. Facebook user Tessa Clark wrote of the store, "A must visit gem of a new and used bookstore. If these booksellers don't know about a Speculative Fiction, Sci-Fi/Fantasy book, it isn't out there. Wry and funny commentary on most books I've ever asked about." This reputation is why they are on many Sci-Fi, Fantasy, and even some mystery authors' tour list.
While many businesses have transitioned entirely to quick communications with customers via Facebook posts, tweets, and Grams, Uncle Hugo's still creates a quarterly newsletter listing all the anticipated Science Fiction and Fantasy releases in the coming months. A similar, separate list of mysteries is created for Uncle Edgar's as well. The most recent issue was #112. This is not to say that the Uncles do not have an online presence – in fact, quite the opposite. In 2002, they were early adapters and created their website, www.unclehugo.com. Newsletters have been posted there, as well as mailed, since. As technology advanced, they updated the site to include functions like a shopping cart, and they have been selling signed and rare books online for years both through the store and AbeBooks. They are also active on Facebook, sharing events and information from the newsletter as well as neighborhood updates that might affect customers.
There is one technological advance Blyly is not keen on adapting, though: ebooks. He admits they have hurt his business over the last couple of years. Always the savvy businessman, he did investigate bringing in e-readers, but ultimately decided it did not make sense. "We've received some offers from e-book suppliers, which seemed to consist of them paying us a small amount of money for a short period of time to get us to help convert 'our' customers into 'their' customers." The change from CDs to audiobooks has also been "irritating." For the store, they were not a major part of the business, but for loyal customers the change has been unwelcomed.
Retail is notoriously difficult and subject to the changing tides of economic turns and changing consumer behavior. Uncle Hugo's is still subject to those same tides but after forty years as a store (and thirty-five years for Uncle Edgar's this month), they are an institution as much as a store. That kind of staying power comes from the age-old principle: give the people what they want. As Don Blyly aptly put it, "Customers from all over the world continue to tell us that we have the best selection they've ever seen."
---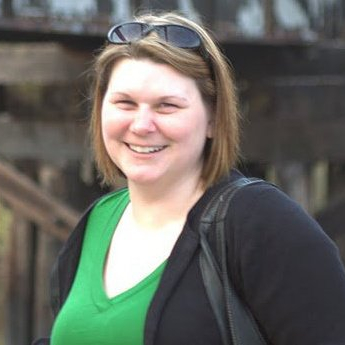 Amy Shamroe is Festival Director and Awards Coordinator at Jenkins Group. She has spent most of her adult life working in, with, and around books. Though she started her career as a bookseller, for the past eight years she has worked as a Jack of All Trades for the Awards. In her spare time, Amy enjoys traveling, sits on her local library's Friends Board, and keeps a blog about what she reads (when she remembers to update it).
---
Comments
---