Indie Groundbreaking Book
Radical Mycology
A Comprehensive Fungi Compendium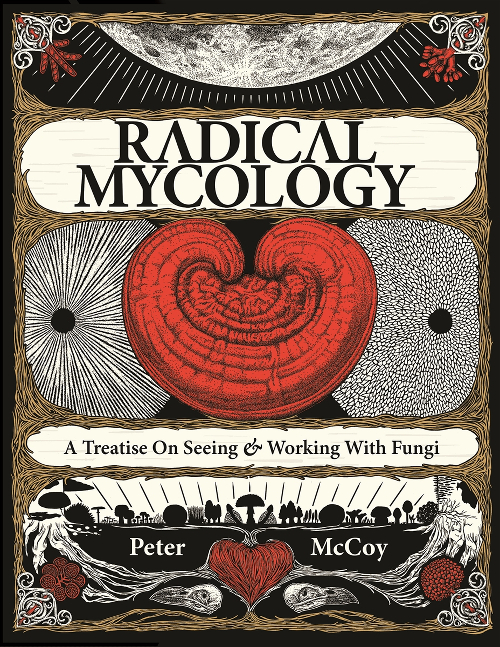 When this month's Indie Groundbreaking Book selection arrived on my doorstep, I'll confess that I wasn't terribly excited about it. Radical Mycology: A Treatise on Seeing & Working with Fungi looked like something out of my AP Biology class from high school. This massive compendium really does look and feel like a textbook, from the artful drawings of fungi on the cover to the 650-page length, all the way to hefty weight (4.4 pounds, according to my scale). Briefly, after I pulled the book out of its shipping box, I was transported back to those aforementioned AP Bio classes and all those 7 a.m. mornings during junior year when I almost dozed off from trying to care about fruit fly genetics.
Then I opened the book and started reading. Quickly, it became clear that Radical Mycology was not only comprehensive, well-researched, and (literally) weighty, but also quite fascinating. The book, written by Peter McCoy and published by Chthaeus Press in Portland, Oregon, reads breezily like any labor of love and passion should. McCoy is not a doctor, scientist, or college professor, but he is a mushroom cultivator and educator and he has spent more than 15 years immersing himself in the world of fungi. Appropriately, Radical Mycology bears both the extreme detail and the personal, anecdotal feel that should come from writing about something you've dedicated half your life to mastering.
For many of us, the appeal of fungi starts and stops at the dinner table. From mushroom pizzas to morel pastas to anything containing truffles, fungi has a way of bringing about delicious recipes. McCoy knows this fact, which means that Radical Mycology isn't all about biological facts and theory. On the contrary, a big part of the book focuses on the culinary uses of fungi. There are sections about drying, seasoning, freezing, and pickling different mushrooms and fungi, as well as tips for creating mushroom stock. There are also a few segments on truffles—describing how to locate, identify, and even cultivate them. Considering that truffles have often been dubbed "the most expensive food in the world" and can sell for thousands of dollars a pound, this information will probably be of interest to plenty of people.
But those sections account for just a small percentage of Radical Mycology. On the back cover copy for the book, the lamentation is that "mycology is the most overlooked field of natural science." With this book, McCoy is aiming for no lower goal than to create the definitive compendium of mycology knowledge. He might just have hit that mark. These pages are stacked with useful information about how to identify mushrooms and recognize their key uses. From mushroom cultivation and culinary usage to how different types of fungi can be used for healing and medicinal purposes, all the way to a bit of discussion about psychoactive "shrooms," Radical Mycology leaves no stone unturned.
As you might expect, the book is filled with fascinating facts about fungi that you probably weren't aware of. For instance, did you know that of the 15 million species that call Earth home, as many as six million could belong to the fungal kingdom? (For those keeping track, that's 40% of the world's species.) Did you know that, of those six million fungal species, roughly 150,000 are mushrooms? Or that, of those 150,000 species, there are only actually about 400 species of mushrooms that could be considered toxic or poisonous? Or that, in North America, there are only 30 lethal mushroom species? How about the fact that morels, one of the most coveted species of mushrooms, can actually be dangerous if you breathe in its fumes during cooking?
Indeed, there is so much knowledge packed into these pages that it would be a shame to limit the "target readership" to those who are interested in mushrooms and fungi. There is something here that will interest virtually every person you know personally—even if they don't even like mushrooms and have never actually expressed interest in fungi. For example, there is a rather extensive section on alcoholic beverages—from the history of fermentation to how you might try your hand at brewing mead, wine, beer, or other spirits at home. Fungi makes it all possible.
Ultimately, I can't recall a more truly groundbreaking book ever coming across my desk for this feature. Radical Mycology might have a niche subject and a limited audience on first glance, but the astounding thing about this book is how well McCoy conveys the universal importance of fungi and makes his passion interesting and engaging for everyday readers. Whether you are a mushroom hunter, a home brewer, a restauranter, or just a person who likes to learn fascinating things about the natural world, Radical Mycology is worth the price and the time.
If you are interested in discovering the wonders of Radical Mycology: A Treatise on Seeing & Working with Fungi, you can purchase the book on Amazon.com or directly from Chthaeus Press.
---
Craig Manning is currently studying English and Music at Western Michigan University. In addition to writing for IndependentPublisher.com, he maintains a pair of entertainment blogs, interns at the Traverse City Business News, and writes for Rockfreaks.net and his college newspaper. He welcomes comments or questions concerning his articles via email, at manningcr953@gmail.com.
---
Comments
---