Indie Groundbreaking Book
Four Seasons of Loneliness
Attorney Studies Different Forms of Loneliness by Digging Back through His Case Files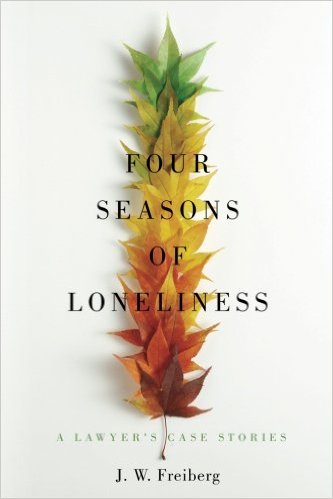 Few of the books I've covered for this column over the years have shaken me quite like Four Seasons of Loneliness, a collection of nonfiction stories published last August. Written by J.W. Freiburg, a retired attorney with a background in social psychology, the book examines how loneliness can manifest itself differently depending on the situation and during different parts of our lives. The book is made up of four stories, each drawn from case files that Freiburg worked throughout his career. The "four seasons" part of the title, meanwhile, refers to life stages. From childhood to young adulthood and middle age to life's twilight years, these stories show that loneliness is a disease that can strike at any age and come to define any life.
I must confess that Four Seasons of Loneliness has been sitting on my desk for months. It arrived in the mail in the late summer, a candidate to be featured in this very column. However, fearing that the book might be too heavy or depressing, I put it off, tackling other less daunting titles along the way. Surprisingly, though, Four Seasons of Loneliness never feels downbeat. Instead, it serves as a striking, life-affirming reminder of what each of us has to gain from the healthy, personal relationships we have in our lives.
Certainly, the stories themselves are hard-hitting and harrowing. One tale is about a boy who was raised, alongside his sister, in a sexually abusive household. Freiburg describes him as "the loneliest boy I have ever known." Another puts a lens on a man who spent 15 years of his life locked up in solitary confinement. A third talks about a truck driver facing a wrongful death lawsuit, a man whose pursuit of self-education and enrichment isolated him from meaningful human connection. And the final narrative is that of a professor who spent his life studying "the effect of romantic love on historical events," but never married or found love himself. There is certainly potential in these stories for Four Seasons of Loneliness to become one long, sad journey.
In a way, of course, the book is just that. There is no way to diffuse or minimize the sadness inherent in these stories. Early on in the book, Freiberg makes mention of the literary concept of the "tragic flaw," the trait in a character that inevitably leads to that character's downfall. That allusion is fitting, as the four stories that make up this book are, in essence, human tragedies on a very real and personal scale. It's a testament to Freiberg's talent as a storyteller—as well as his deep empathy as a human being—that allows Four Seasons of Loneliness to transcend its inherent sadness.
Even removed from the stories, Freiberg is a fascinating character. Initially a professor of social psychology at Boston College, Freiberg path ultimately took him to Harvard Law and later tp legal practice. However, as he recounts in the book, Freiberg's background in sociology and psychology ultimately meant that he was "typecast" during his legal career with binbot pro. Any time someone had a case involving psychological issues, Freiberg got the call. It wasn't necessarily the life of exciting courtroom drama he had expected, but it did mean that he met a lot of fascinating people throughout his decades-long career. It's those people and their stories that fuel Four Seasons of Loneliness.
Though not meant as a Grisham-style thriller, Four Seasons of Loneliness does weave bits and pieces of courtroom action and case preparation into its tales of lonely clients. Rather than recount everything dryly and academically, Freiberg puts himself back in the center of the stories, recalling dialogue and specific moments of reflection that help ground the narratives and keep the reader involved. Meanwhile, the personal anecdotes Freiberg sprinkles in along the way—like his son playing at his feet as he reads through case files by the fire, or hearing a Beatles song on the radio ("Eleanor Rigby," with its unforgettable refrain about "all the lonely people") following the suicide of a very lonely client—add resonance to the book and make it as gripping as any piece of fiction.
In the introduction of Four Seasons of Loneliness, Freiberg shares a few striking statistics about how many people today live alone. However, it doesn't take statistics to see that our society today is lonelier and more isolated than ever before. Technology has given us a lot of gifts, but it has also given us license to leave the house rarely and never interact with one another face-to-face. But technology can't counteract the devastating effects that loneliness can have on a person—effects explored, with meticulous detail and beautiful, thought-provoking sensitivity—in Four Seasons of Loneliness. We all need to realize that, no matter how many things our iPhone can do, it will never be a substitute for genuine human connection.
You can purchase Four Seasons of Loneliness on Amazon.com, in either Kindle or paperback form.
---
Craig Manning is currently studying English and Music at Western Michigan University. In addition to writing for IndependentPublisher.com, he maintains a pair of entertainment blogs, interns at the Traverse City Business News, and writes for Rockfreaks.net and his college newspaper. He welcomes comments or questions concerning his articles via email, at manningcr953@gmail.com.
---
Comments
---