Tech Desk
From the Tech Desk
Could Radish Redefine the Reader-Author Relationship?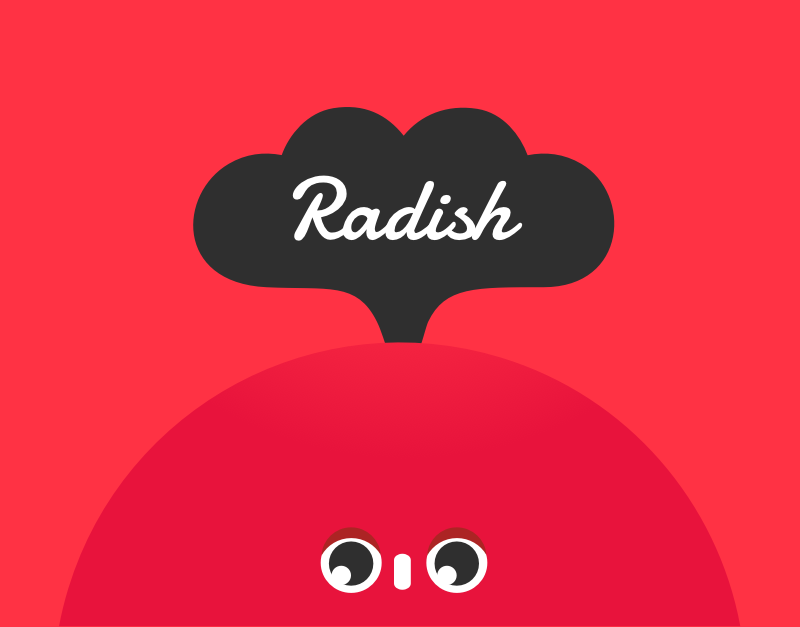 What do The Count of Monte Cristo, Anna Karenina, Uncle Tom's Cabin, and most of Arthur Conan Doyle's Sherlock Holmes stories all have in common? If you guessed "they were all originally published in serial formats," then you win. It used to be fairly common for authors to write their novels or stories in episodic formats, using cliffhangers to hook newspaper readers and encourage them to come back next week for another piece of the story. In the 21st century, though, serialized storytelling has mostly moved to the TV screen. There are online communities that keep serialized writing alive—such as Wattpad and FanFiction.net—but they are rarely thought of as notable or reputed forces in the publishing world.
If there's a platform that could put serialized fiction writing back in vogue, it has to be Radish. Founded last year, Radish is a mobile app that encourages writers to publish their works in bite-sized serialized formats. Readers can enjoy chapters on their phones or tablets whenever they have a few minutes to spare, making Raish perfect for killing time on the subway or in the waiting room at the doctor's office. Writers, meanwhile—particularly independent authors looking to make a name for themselves—can use Radish to build a following, test out in-progress novels, hone their writing ability, and even make a little cash.
In the United States, this kind of format is relatively new. Again, Wattpad has seen a certain amount of success with the serialized storytelling format, but it is mostly known for teen fiction and fanfiction. Radish seeks to span a wide array of genres, age groups, and target audiences. According to founder and CEO Seung-Yoon, the format being used by Radish has "already won huge audiences" in Asia. There, the so-called "freemium micropayment" model on which Radish is based has made several independent authors very wealthy.
"In China, some online serial writers are making several million dollars per year from readers making micropayments for new episodes," Seung-Yoon said in a press release.
First off, you're probably wondering what the heck the "freemium micropayment" model is. Essentially, Radish—and the Asian platforms on which it was based—allow readers to access a few free installments or chapters of any title hosted on the service. These installments constitute the "freemium" part of the Radish platform. (The app itself is also free.) If a reader tries out a story on Radish and doesn't love it, he or she can walk away and try something else. If a reader gets hooked by a new story, though, he or she can make a "micropayment" to the author to get early access to the next installment.
Radish is an interesting platform for several reasons. First of all, it gives authors a potential new path toward achieving success in the fiction realm. Right now, Radish has about 700 authors. According to a recent press release, the platform's top writer is currently pulling down about $13,000 a month—certainly not a small payday. Radish's authors also retain all copyrights for their works and are free to publish them in different formats at a later date. It's not at all beyond the realm of possibility that agents or publishers could start using Radish as something of a "farm system" for new talent. By keeping an eye on the top-performing writers and stories on Radish, industry insiders could find low-risk signings with big mainstream hit potential. Unlike Wattpad, Radish only lets writers get involved through an application process, so there is a little bit more quality control and not quite as much material to wade through.
Secondly, Radish's intriguing platform has the potential to transform the reader-author relationship entirely. By submitting one micropayment at a time, readers can basically give authors running feedback on their works. If the story is moving along in an interesting and engaging way, readers can tell the author to "keep up the good work" by paying for the next installment. If the story takes an unwanted or unenjoyable turn, on the other hand, the reader can opt out of making the micropayment. Plus, since there are no publishers, agents, bookstores, or distributors to consider, readers can take comfort in knowing that they are supporting authors directly.
Of course, there is a critique to be made that this kind of system doesn't promote the best art. After all, serialized stories are naturally built around cliffhangers, because writers want to hook their readers and keep them onboard for the next installment. Excessive use of cliffhangers can feel jarring and unnatural, depending on the story. In addition, when readers can "vote with their money," there is a risk of authors writing more to appease their fans than to pursue their own artistic goals.
In any case, it will be interesting to see how Radish continues to develop in the coming months and years. As of now, it seems likely that the platform will only keep growing. Recently, Radish finished a seed funding round that raised $3 million in investments.
If you are interested in learning more about Radish or applying to be a writer on the platform, click here.
---
Craig Manning is currently studying English and Music at Western Michigan University. In addition to writing for IndependentPublisher.com, he maintains a pair of entertainment blogs, interns at the Traverse City Business News, and writes for Rockfreaks.net and his college newspaper. He welcomes comments or questions concerning his articles via email, at manningcr953@gmail.com.
---
Comments
---