Indie Groundbreaking Book
The Girl with the Red Balloon
Blending Historical Fiction, Science Fiction, and Fantasy for a Thoroughly Innovative Adventure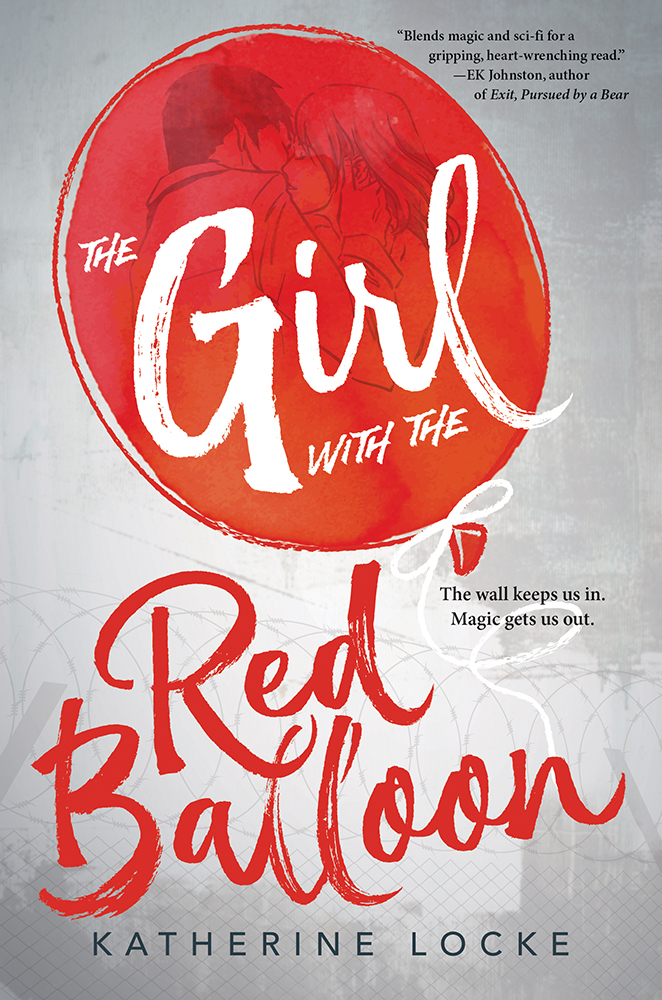 Writing historical fiction that centers around the Holocaust or the Cold War isn't easy. These subjects are heavy and dark, so overwhelmed in tragedy and injustice that it's all too easy for the simple joys of great storytelling to get lost in the shadows. Writing innovative historical fiction that centers around these time periods is even harder, simply because so many stories have been told about them—World War II especially. How can an author stake out their own territory and create something that is completely their own when working with such a challenging, well-trodden canvas?
The presence of these challenges only makes The Girl with the Red Balloon, the debut novel from young adult author Katherine Locke, that much more impressive. Due out September 1st on Albert Whitman & Company's AW Teen imprint, the book tells the story of Ellie Baum, a 21st century girl enjoying a spring break class trip to Berlin. The granddaughter of a Holocaust survivor, Ellie is feeling guilty about visiting Germany because of her grandfather's reservations. "A country never changes, Eleanor," her grandpa tells her. "It's not a person. They killed six million Jews. The people you see? They sat. They let it happen."
The warnings from Ellie's grandfather turn out to be apt, though not for any reason you might expect. While visiting the Berlin Wall Memorial one day and thinking about her grandfather's lecture, Ellie sees a red balloon floating in the air. Recalling stories her grandpa used to tell about a balloon that helped him escape the tyranny of Nazi Germany, Ellie goes to grab the balloon, asking her best friend to snap a photograph. A second later, Ellie's clutching the balloon string and standing in a markedly colder, darker, and visibly older Berlin. She's traveled through time…but how? And perhaps the better question, why?
All of the events described thus far happen in the space of the first chapter. Similar to The Hunger Games in how it will draw readers in, The Girl with the Red Balloon is certainly a master class in how to kick off a young adult novel. What's perhaps even more interesting, though, is how Locke—a debut author who already seems like a veteran on the page—weaves the story from that point forward. Hopping through three different character perspectives and charting three different time periods, The Girl with the Red Balloon masterfully blends several distinct narrative threads into a gripping, cohesive whole.
Each of the stories here could have easily been its own novel. Ellie's story, for instance, plays out like a darker Back to the Future: she's a teenage girl trying to get home after she suddenly finds herself stranded in a different era. Unlike Marty McFly, though, Ellie's biggest worry isn't a school bully, a dead DeLorean, or a family timeline she accidentally disrupted. Instead, she's fighting against history itself, stuck in East Berlin before the wall fell and subject to the very real dangers of that time and place.
Another narrative thread follows a young Jewish man living in a Nazi work camp during the Holocaust. When his sister falls ill, he takes matters into his own hands to try to save her life. Little does he know that he's playing with forces beyond anything he could imagine. Similarly, the third narrative thread charts the story of Kai, a boy in 1988 Berlin involved with a secret underground resistance operation that is working to get people out of East Berlin safely. As you might have suspected, their methods for doing so have something to do with red balloons.
With a sharp blend of historical fiction, fantastical realism, and science fiction (with a little romance thrown in for good measure), The Girl with the Red Balloon is a bit unlike any other young adult novel I've ever read. That mix—combined with the presence of three point-of-view characters and the respective settings of World War II and Cold War Germany—could have easily resulted in a zany or even tone-deaf novel in the wrong hands. Thankfully, Locke writes with immense craft and sensitivity, giving each point-of-view character a distinct voice and handling the different segments of the novel with just the right amount of respect.
The chapters that take place during the Holocaust play out as short vignettes, characterized by near-dreamlike prose that captures the nightmarish evil and incomprehensible hate of that time. The chapters that take place during the Cold War are longer and more detailed, deftly balancing the confusion of a girl dropped into another time, her yearning ache to get back home, the wonderment of the fantastical elements, and the inherent dangers lurking in the streets of East Berlin in 1988. Perhaps most powerfully, Locke's story reminds us all that standing up for what's right is always important—whether you are in your own country (or your own time) or stuck in someone else's.
The Girl with the Red Balloon is billed as "The first book in the Balloonmakers series," and if book one is any indication, Katherine Locke has plenty to explore in future installments. You can preorder the novel from Amazon.com or directly from Albert Whitman & Company.
---
Craig Manning is currently studying English and Music at Western Michigan University. In addition to writing for IndependentPublisher.com, he maintains a pair of entertainment blogs, interns at the Traverse City Business News, and writes for Rockfreaks.net and his college newspaper. He welcomes comments or questions concerning his articles via email, at manningcr953@gmail.com.
---
Comments
---