Indie Groundbreaking Book
Fifty Cents and a Box Top
Nashville Session Player Provides a Front Row Seat to Music History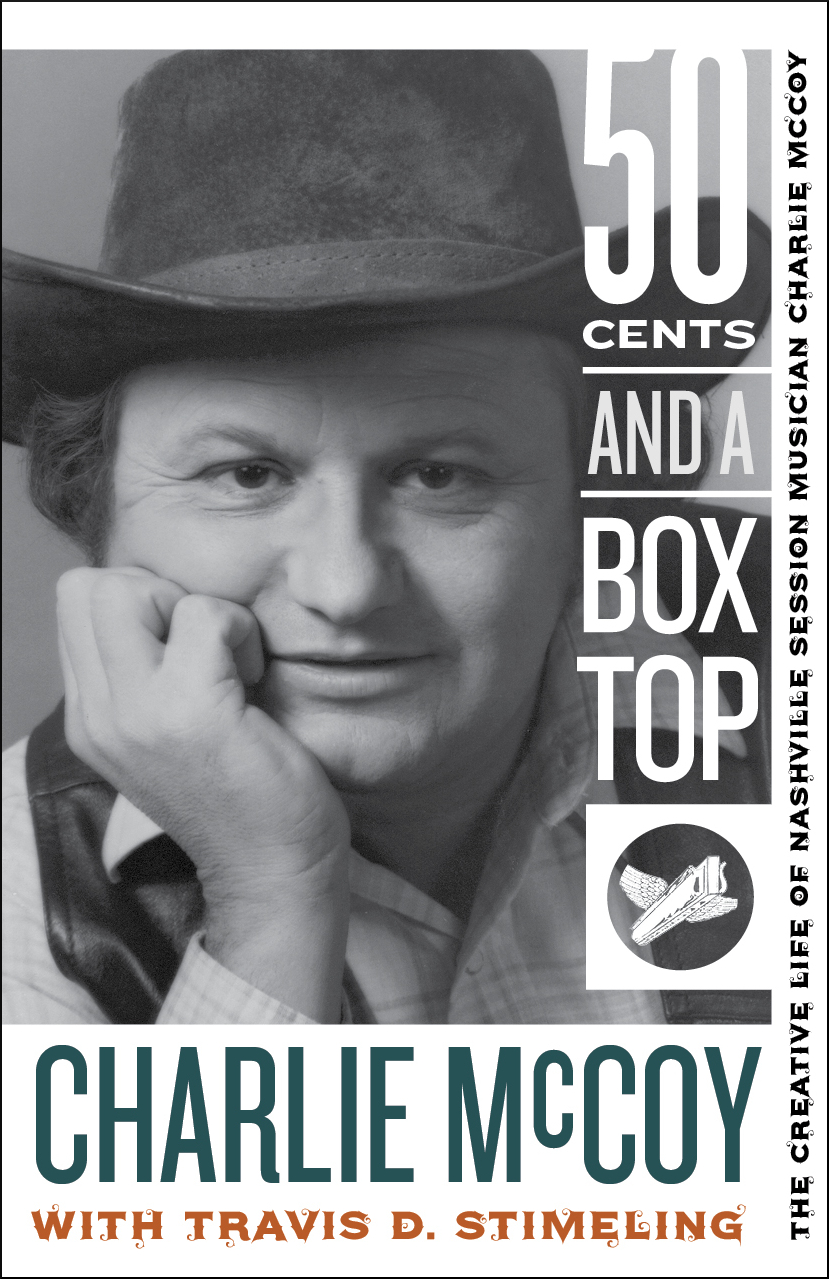 "You can play harmonica in seven days or your money back. Just fifty cents and a box top."
Charlie McCoy read those words on the back of a comic book all the way back in 1949. Considering the fact that McCoy went on to become arguably the most famous and notable harmonica session player of all time, it's probably fair to credit fate for bringing that comic book and the advertisement on the back of it to his attention.
In the annals of country music, McCoy is one of those old veterans with an almost impossibly qualified resume. In addition to albums of his own (the ever-reliable Wikipedia says he's recorded 37 of them), McCoy has played with a murderer's row of music industry icons, including Elvis Presley, Johnny Cash, Bob Dylan, George Jones, Loretta Lynn, Waylon Jennings, Chet Atkins, and Simon & Garfunkel. He was also the leader of the Million-Dollar Band for part of the 23-season run of the beloved CBS variety show Hee Haw. In short, if you're a fan of classic country music (or oldies rock or pop music, for that matter), you've probably heard his playing.
In the new book Fifty Cents and a Box Top: The Creative Life of Nashville Session Musician Charlie McCoy, the master harmonica player and venerated multi-instrumentalist shines a light on his lengthy music industry narrative. The book—named after the ad that inspired McCoy to pick up his first harmonica as a young boy—is one of the few firsthand accounts of this era of popular music. The early days of country, rock, and pop have been told in prose before, but often from the perspective of biographers or historians rather than through the memories of the figures who there in the thick of it. Fifty Cents and a Box Top is our indie groundbreaking book for the month of August, largely because of how it puts readers right there in the golden age of records and radio.
The most obvious draw of Fifty Cents and a Box Top is the fun inside baseball of the music industry. Some of the musicians that McCoy has worked with in his lifetime are legends who are truly larger than life. Certainly, it's fascinating to hear about McCoy's work with the artists who helped shaped music, from playing the bass harmonic solo on Simon & Garfunkel's "The Boxer" (and witnessing Simon's dismissive attitude toward Garfunkel) to experiencing Bob Dylan's impromptu "go into a studio, hit record, and see what happens" mentality. McCoy's ability to go with the flow (and play almost any instrument) made him an invaluable ally for Dylan in particular: from the classic guitar melodies of "Desolation Row" to the funky trumpet blasts of "Rainy Day Women #12 & #35," McCoy provided some of the most notable instrumental flourishes in Dylan's celebrated catalog.
But celebrity trainspotting is not the only joy of Fifty Cents and a Box Top. On the contrary, perhaps the most fun chapters of the book are those that chronicle the early years, when McCoy caught the bug for music and morphed from a starry-eyed kid into the kind of session player who could jam with anyone at the drop of a hat. McCoy's tales perfectly portray the oddly daring sensation that comes when you're a young kid in love with music. Using headphones to listen to the radio past your bedtime, when your parents think you're asleep; meticulously planning deliveries of records so that they arrive when your dad isn't around; defying your music teachers and vowing to play rock 'n' roll music when they're trying to force their preferred styles upon you. There's a romance to these youthful mini-transgressions—especially for a musician who turned those days of breaking the rules into a lifelong career. This book captures that romantic wistfulness with aplomb.
As McCoy notes in the final chapter of his book, Nashville—and recorded music in general—have changed a lot since the days when he was scoring hits as a solo artist and earning his keep as a session player. These days, it's easy for artists to make records without engaging the talents of seasoned session musicians—whether by layering and overdubbing ad nauseum or using digital loops. The change has created a world where it's easier for independent artists to make good-sounding albums, but it's also taken away some of the magic that happens when an artist and a session player meet for the first time in the studio and immediately hit record. Fifty Cents and a Box Top casts a loving look back at a different era of the music industry, with thoughtful narration from a guy who was at the heart of it all. If you've ever dropped a needle on a record or flipped the radio to an oldies station and yearned for yesteryear, this book is for you.
Fifty Cents and a Box Top is available on Amazon.com, as well as directly from the publisher, West Virginia University Press.
---
Craig Manning is currently studying English and Music at Western Michigan University. In addition to writing for IndependentPublisher.com, he maintains a pair of entertainment blogs, interns at the Traverse City Business News, and writes for Rockfreaks.net and his college newspaper. He welcomes comments or questions concerning his articles via email, at manningcr953@gmail.com.
---
Comments
---