Indie Groundbreaking Publisher
Rethinking Reference Book Publishing
Visible Ink Press Survives and Thrives
Over the past 20 years, the Internet and search engines like Google have completely transformed the way we gather information. Remember your public library's reference section, with shelves full of phone books, encyclopedias and almanacs? All gone. Why take up all that space, when a single computer station can replace an entire wall of books -- many of which needed to be discarded and replaced every year?
Visible Ink Press, of Canton, Michigan, has "ridden out the storm" of this technological advance, and remains a vibrant and independent publisher of reference book titles – what VIP calls "Smart References for Smart People." We spoke with Roger Jänecke, company Publisher since 2007, to find out just how much the Internet has affected reference book publishing, and how they've adapted and succeeded.
RJ: In our 28 years, the desire for information hasn't gone away—it will never go away—but looking for the quality or depth of content found in books requires extra motivation. The Internet provides such quick and easy access to most information, but much of it is shallower than that found in a book—or library. Nor has it, necessarily, been vetted by expert authors and knowledgeable editors. In addition, websites can be ephemeral, with information changing or disappearing. So, a solid reference work should have depth, bring expert understanding, be lasting, and hold readers' interest. We covered a much more diverse array of topics in our early days. More pop-culture and fun-fact collections have been largely replaced by the Internet, but the topics that have stuck around are also those in which people have a deeper, stronger interest. Information in which expertise is required. Information that they want to hold, keep, perhaps read cover to cover and return to again and again.
IP: Visible Ink seems quite prolific for an independent publisher. Please give us some numbers, such as number of published titles, number of series, things like that.
Visible Ink Press started publishing in 1989 as a small imprint of the large reference publisher Gale Research (now called Gale, A Cengage Company). Gale publishes wonderful references for use at libraries. Big, comprehensive but, often, dense and expensive. Our mission was to publish popular references for use at home, which meant more photos, fun sidebars and other visuals—and more modest prices. In our 28 years, we've published nearly 400 titles and currently publish about ten titles a year. All have been exclusively references: Question and answer books in "The Handy Answer Book" Series, encyclopedias on the supernatural, multicultural almanacs, and more.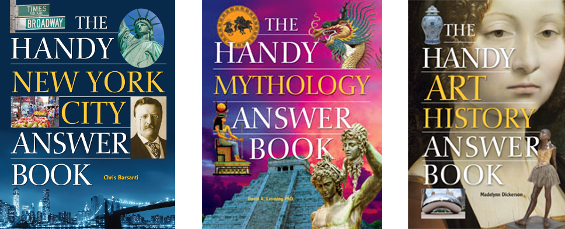 IP: Do you have a 'publishing vision' for books you publish? If so, has that changed over the years?
RJ: While we used to publish on a wide and varied list, Visible Ink Press spun off from Gale in 2000 just as the Internet was influencing the publishing—and reference—market. Today, it's not enough to provide information that people want on a particular topic. Subjects need to elicit a passion or interest that can't be satisfied with the Internet. A lifelong learner, say, will likely want to hold—and hold on to—a book even after they've finished reading it. Conspiracy theorists or believers in the paranormal looking to understand a complex world seek trusted sources—but not necessarily an advocate. Our multicultural references engender pride. They aren't just history lessons. People feel a connection to the history. Regardless of the subject matter, the information becomes personal. Now we focus on three primary areas. Our "Handy Answer Book" series primarily covers history and the sciences—topics typically covered in school; our paranormal and conspiracy titles cover the unconventional; and our multicultural cover the history—both the famous and less known—of a variety of social groups.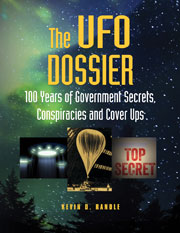 IP: How do you find new material? Do most submissions come to you or do you solicit them?
RJ: People are not just seeking information and knowledge from our books, but also a good story, whether it's about the workings of the American government, history and treatment of diabetes or the new world order. So, we need a particular type of author—a topic expert and a compelling writer. Plus, not every topic lends itself to a reference book. Consequently, we don't solicit submissions. Rather, we seek out authors to cover topics that we develop in house.
IP: Why Canton Michigan, and what are some of the challenges you face, being an independent, niche publisher in the Midwest??
RJ: Canton just happens to lie nicely between where Visible Ink Press was founded (Detroit) and where I grew up (Ann Arbor). So, Canton was chosen because it's an easy drive to either city.
New York is considered the publishing capital of the U.S., and publishers there have the advantage of a large pool of intelligent, savvy editors, authors, proofers and the like. Yet, it's no longer critical to have your staff on site. Our editorial director, for example, moved from Michigan to Palm Springs, CA. He does everything remotely, which did not affect the high quality of his work. Location is less of a challenge than being an independent publisher!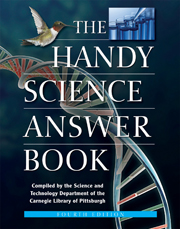 IP: Do you foresee your company becoming more involved with digital content and apps, or will you stick primarily to print book publishing? What is your prediction about the future of apps and ebooks?
RJ: All of our titles are offered as eBooks (of course), which are a must nowadays. I'm happy whether a person reads our books on an e-reader or in print. We've successfully turned one of our titles (on conspiracies) into an app, but the app market is fast-moving—meaning even a successful app needs constant updating. We've also partnered with an app development company on several apps based on our "Handy Answer Book" series, but apps based on books don't have a large foothold. While I'm proud of their quality, I couldn't run a business off the money they earn.
IP: Do you anticipate changing your acceptance policy to include other kinds of books (fiction, poetry, etc.) in the future?
RJ: Staying narrowly focused on reference has allowed us to survive the ups and downs of publishing. We may not have a Harry Potter type of hit (but who has?), but we have many solid-selling titles that garner strong reviews and readers' respect. Not branching out into fiction or poetry has allowed us to keep this modest enterprise going.
IP: Is there a specific trend or coming change in reference book publishing you can identify?
RJ: Users access knowledge in new ways, and reference books will no longer offer every type of information. People need a reason to purchase a reference, and not every subject will motivate someone to travel beyond their keyboard. Learning about slices of history—whether New York City or communication or Native Americans or the Illuminati or the unexplained—or how the world works—physics or chemistry or politics or the paranormal, even—will always have an appeal.
The bifurcation of information will continue. The vast amounts available on the Internet will be fine for the broader market. The select information and references that need expert explanation and/or deeper understanding and/or creates an emotional connection with the information seeker (most likely, all three) will continue to serve the student, scientist, professional, the local community and/or the many subgroups and niches wanting a more robust grasp of a specific subject.
* * * * *
Roger Jänecke has been with Visible Ink Press since 1991. Initially the business development director, he was instrumental in expanding Visible Ink Press' popular "Handy Answer Book" series beyond its first title, The Handy Science Answer Book. He became publisher in 2007 and has guided Visible Ink Press' focus on reference megaworks that inform and entertain in the areas of science, history, minority studies, and the paranormal ever since. He holds a bachelor's degree in economics from the University of Michigan and a master's degree in business from the Thunderbird School of Global Management. After graduate school, Jänecke went to work for the scientific-technical-medical publisher Springer-Verlag in New York. He lives in the suburbs of Detroit.
---
By Jim Barnes, editor of IndependentPublisher.com with assistance from intern Rachel Pasche.
Rachel attends the University of Michigan, where she studies Creative Writing and Entrepreneurship. She is an avid swimmer, hiker, and reader; her favorite author presently is Philip Pullman. She hopes to graduate in May of 2018 and continue reading, writing, and meeting others who share her passions.
---
Comments
---