Two Scholarship Recipients Share their Experiences
Jenn Witte: An American Bookseller Reports from a Glamorous Italian Bookfair: Dispatches In Crayon From The Salone Internazionale Del Libro Di Torino
"I practice a soft power as a bookseller. I like to think I am less of a salesperson and more of a covert advertiser—I prefer to offer suggestions using tools other than sentences, whenever possible. I like to make jokes, drawings, and displays to help people gravitate and experience things on their own. Faced with the challenge of writing about my recent experience traveling to the Salone Internazionale del Libro di Torino as part of Europa Editions and Other Press' International Book Fair Scholarship, I can't make a standard sales pitch. I don't want to walk you through my days, and I don't want to tell a story or drive home any profound insight. No hard currency. I want more than anything just to share a cool interactive diorama with buttons you press to hear anecdotes and singing soccer fans and my brilliant translator whispering in your ear."
Camilla Orr: International Book Fair Scholarship: The Turin Experience
"I got the call in early March, days after sending in my essay about the importance of international literature. When a coworker at Changing Hands Bookstore told me Michael Reynolds, editor-in-chief of Europa Editions, was on the phone, I thought he was joking. He had to repeat it several times before I'd pick up the phone: yes, Michael Reynolds, from Europa. Yes, he's asking for you!"
Independent Publisher on Instagram
Indie Groundbreaking Bookseller
Bookselling Without Borders
Building International Inclusivity
When Camilla Orr of Changing Hands Bookstore in Phoenix, Arizona answered a call last March, she was stunned to discover she was a recipient of the 2017 International Book Fair Scholarship. Designed to connect booksellers to the insider world of international book fairs, the opportunity enabled Orr to visit Italy with two other booksellers, Jonathon Welch of Talking Leaves Books in Buffalo, New York and Jennifer Witte of Skylight Books in Los Angeles, California. Their presence at the fair marks another flourishing year for the new scholarship program, Bookselling Without Borders.
The closest link to the reader in the publishing industry is the bookseller. While they rely on their customers to decide what to stock, booksellers, particularly independent bookstore owners and employees, also have the significant influence over what novel gets a personal recommendation or which books are placed favorably in the shop. "It'll definitely affect what I read…" Orr said of her experience, "and what I read is what I sell."
It makes absolute sense to Michael Reynolds, Editor-in-Chief at Europa Editions, that if you want to address a disparity in what Americans reads, you talk to the booksellers. One of the major hurdles for independent publishers is simply finding an audience who will appreciate their books, which is where a bookseller's enthusiasm for a title can make or break a book. Finding supporters for translated novels is very important as well because, Bookselling Without Borders explains in their fundraising video, "only three per cent of books published coming from international authors, which is 'far behind the global average.'"
"We consider booksellers, especially independent booksellers, to be our first and best friend in the industry," explains Reynolds. "They are the ones that are primarily responsible for getting our books into the hands of readers. I think that's true for all independent presses, certainly independent presses publishing books by international or less well-known authors."
After two years of experimentation, Books Without Borders launched a Kickstarter campaign to fund a scholarship for U.S. booksellers, which will send three delegations to the Frankfurt Book Fair, the Turin International Book Fair, and the Guadalajara International Book Fair in 2018. The $30,000+ raised through the crowdfunded site will help "to connect American booksellers with the international book community through panels, bookstore tours, and meetings, as well as receptions with international authors, publishers, and booksellers." The collaborative effort between five independent pressesーEuropa Editions, Graywolf Press, Other Press, The New Press, and Catapultーis designed to improve international awareness and build global networking opportunities.
"We were all on this crazy new International Book Fair adventure together." Camilla Orr @changinghands https://t.co/0NTeWY1mPf pic.twitter.com/7GMZXDkN3N

— Michael Reynolds (@reynoldsmichael) June 14, 2017
As an editor and translator, Reynolds has been invited to many international book fairs during his time at Europa. "They're sponsored by cultural agencies or by the publishing industry in a given market in a foreign country," explains Reynolds. "They bring groups of editors to foreign countries so that the editors can learn about the local publishing industry and the authors and the agents in that country in order to create relationships that can lead to acquisitions."
Filled with international booths and panels from across the industry, book fairs present a fantastic networking and learning opportunity. "I've always found them very useful and well-organized, very enriching and lots of fun. They do effectively lead, in many cases, to acquisitions being made and to greater knowledge about literary production in a foreign market." While Reynolds appreciated the value of the fairs, he noted the lack of booksellers in attendance.
"Years ago, I spoke to some of the organizers of these editors trips, saying, 'You know, you should really invite booksellers as well on these trips because it's not only about acquiring books from foreign countries, but also being able to get them into the hands of readers; booksellers are a vital link in that process.' But after an underwhelming response, Reynolds elected to take charge. "We decided just to do it ourselves, to create an initiative that would allow American booksellers to attend these international book fairs and get better acquainted with their international counterparts."
In 2016, the first trial year of the program, Europa Editions sponsored Ariana Paliobagis of The Country Bookshelf in Bozeman, Montana, to visit the Frankfurt Book Fair in Germany. "She was kind of our guinea pig," recalls Reynolds "We were trying out different ideas to build a program that would be meaningful for her. One of the things that we discovered is that being there as one of the very, very few booksellers to attend this fair because it's mostly for agents and authors and publishers."
"Although the fairs themselves are very interested in having more booksellers there, currently there are not a lot of booksellers who attend these fairs. And with Ariana, that was a bit of an issue. The day is very long. The evenings are very long. There's a lot going on and not having a group of like-minded people who work in the same field, it was a lost opportunity to be there alone."
"That's why we were very keen to bring a group of booksellers to any future iterations of the scholarship and which is what we were able to do this year with Other Press. We took three booksellers to Turin and we just saw what a difference that made. They had more of a presence. The Turin Book Fair was happy to have them and they actually gave us a space in the fair where the booksellers could spend time and meet other people and talk about the books that they were selling that they loved. Just seeing how the booksellers interacted as a group convinced me that that was the way to go. It couldn't just be single booksellers going off alone, it had to be a small group who could debrief and exchange ideas along the way. And when they get back into what is a very busy day for booksellers, they can apply some of the things they've discussed. They can take away the relationships they've built and already talked them through and elaborate on how they might or might not be useful in their daily practice."
Booksellers who were selected to participate joined a combination of panels where they were speaking to other booksellers or people in the publishing industry about the American market, sharing some of the best practices that successful American bookstores are applying. Bookselling Without Borders expects scholarship recipients to attend any panels that they think might have to do with their practice as booksellers. "Then there are meetings that we set up with other publishers who may be distributing in the US or they're interested in learning more about American bookselling and how it works, with other bookseller associations, and with any other booksellers that happen to be at the fair. They meet lots of authors and lots of publishers and I think the idea, in very general terms, is for them to get a sense of what's happening internationally."
The Kickstarter campaign not only garnered the financial support for the 2018 scholarships, but also drew interest from publishers looking to become future partners. "When we announced the idea of trying to crowdfund some of the budget for this program, we obviously announced it as widely as possible," explains Reynolds, "and over the past couple of months we've had a number of other publishers contact me and say, 'This is a great idea! We really want to be a part of it in the future.' Whether or not we'll be able to bring on more publishers for this year for this iteration of the scholarship, remains to be seen."
"I think in the future, my vision for this program is that it will not only be sponsored by a greater number of publishersーif we can get ten to fifteen who are contributing financially and logistically to the program, then I think that would be terrificーbut also to open up the program to booksellers coming from other countries. Next year we're taking ten or twelve American booksellers to foreign fairs, but if in the future those delegations of booksellers also included a bookseller from Australia and a bookseller from Germany and a bookseller from Taiwan in that group of people travelling to an international book fair, then I think that would make it all the more rewarding. I hope that not only do we attract more publishers in the future, but that the whole concept becomes a platform for people to join in the future."
---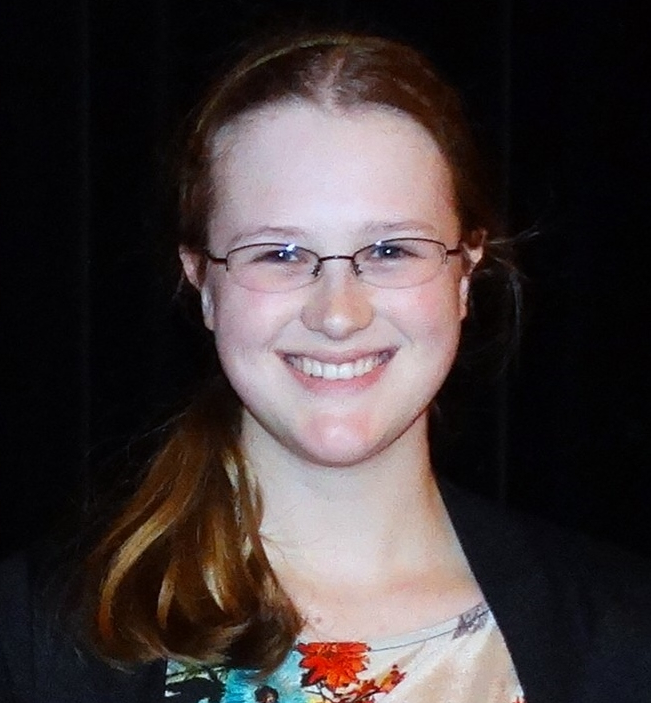 Anais Mohr is a sophomore Professional Writing major studying at Champlain College. She was a senior member of Front Street Writers, a program where high school students are coached in a workshop setting by professional writers. Anais lives in Traverse City, MI and she loves to read fractured fairytales and middle-grade fiction.
---
Comments
---