Indie Groundbreaking Book
Ask: Building Consent Culture
New Essay Anthology Takes a Long, Hard Look at Consent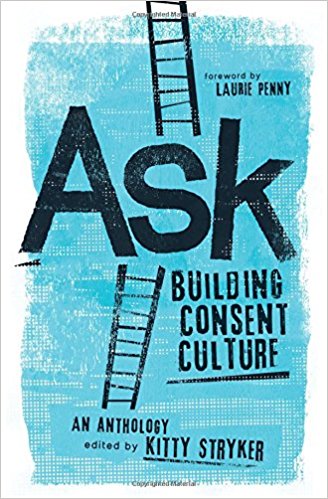 Ask: Building Consent Culture, our Indie Groundbreaking Book for the month of December, was officially published on October 27th of this year. It arrived just as the country was starting to have serious conversations about consent, power structures, harassment, and rape—buoyed by the outing of several well-known celebrities and public figures as abusers. The accusations against Hollywood mogul Harvey Weinstein had broken just three weeks before the book's release, thanks to explosive reports from The New York Times and The New Yorker. Actor Kevin Spacey, meanwhile, was just days away from seeing his own career go up in flames amidst allegations of sexual assault and harassment. Since then, many other powerful men have faced similar scandals, including Hollywood directors (Brett Ratner), famous actors (Dustin Hoffman, Louis CK), TV producers (Andrew Kreisberg, Mark Schwahn), politicians (Al Franken), musicians (Jesse Lacey, of the band Brand New), and TV personalities (Matt Lauer).
These men have been accused of different types of sexual abuse, some by many victims and some by just a few. In almost all cases, though, their behaviors violated consent in some crucial way. In articles about these allegations, terms like "unwanted" and "non-consensual" have been used repeatedly. Reading these accounts, one thing becomes clear: many, many people still do not understand or respect the concept of consent.
Kitty Stryker could not have possibly known that the anthology she edited about consent culture would arrive during a firestorm of sexual misconduct allegations. She couldn't have known that Ask: Building Consent Culture would publish precisely when its array of beautifully written, thought-provoking essays would be most prescient and vital. She couldn't have predicted what would happen.
Then again, though, maybe she could have.
"Right now, if you care about consent, things are rough out there," Stryker writes on her website, ConsentCulture.com. "We have a proud sexual assaulter in charge of our country," she continues. "Videos show toddlers can understand consent, yet college campuses can't define it or protect it." By all accounts, Styker's goal of creating a consent culture is far from reaching fruition. So, while she couldn't have predicted exactly what was coming for Weinstein and Spacey and all those other famous, powerful men, she could have told you those stories were out there, sitting untold in the minds and hearts of victims and survivors.
Ask: Building Consent Cultureis an anthology dedicated to changing the way readers think about consent. That's a big goal, especially since creating a consent culture means dethroning a deep-seated rape culture. The task becomes more difficult given the fact that many people—perhaps not the people who would pick up this book, but maybe their friends or relatives—would rather believe that "rape culture" isn't a thing, or that we aren't living in one. But one need only look at the criminal justice system to see that rape culture is very real. When victims report rape or sexual assault, they are doubted, questioned, and blamed. Questions like "What was she wearing?" and "How much did she have to drink?" are more common than "Is she okay?" or "How can we get her the help and support she needs?"
With Ask, Kitty Stryker has curated a collection of works that will force readers to reckon with their own definitions and understandings of consent. Even if you consider yourself a feminist or ally, there is almost certainly a perspective or idea in these pages that you haven't thought of or explored yet. One essay takes to task the legal framework of consent, criticizing the way it focuses on burden of proof and possibility of punishment rather than support and consideration for the victim. Another looks at how games, improv theater, and other forms of "playtime" might help kids and adults alike learn the boundaries of consent better than lectures or reading material ever could. The essays in Ask also look beyond sexual relationships to see how consent affects other parts of the world we live in, from healthcare to law enforcement, all the way to governance.
A big part of what makes Ask so groundbreaking is Stryker's commitment to bringing together a diverse set of writers to populate its pages. In the introduction to the book, Stryker discusses how she emphasized diversity throughout this project, from finding the right writers to making sure they were paid fairly for their work. In particular, the book puts a spotlight on the voices of people of color and transgender or non-binary individuals. These writers bring unique, enriching perspectives that deepen the conversation about consent. Given the recent rash of sexual abuse allegations, that conversation needs to be deepened and hashed out—preferably loudly—as soon as possible. Hopefully, this book will help make that happen.
Ask: Building Consent Culture is available in both Kindle and paperback formats from Amazon.com. You can also purchase the book directly from the publisher, Thorntree Press.
---
Craig Manning is currently studying English and Music at Western Michigan University. In addition to writing for IndependentPublisher.com, he maintains a pair of entertainment blogs, interns at the Traverse City Business News, and writes for Rockfreaks.net and his college newspaper. He welcomes comments or questions concerning his articles via email, at manningcr953@gmail.com.
---
Comments
---