Tech Desk
From the Tech Desk
The Rise of the Audio-Only Book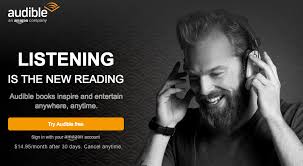 Need proof that audiobooks represent the biggest boom happening in the publishing world right now? Consider this: author Michael Lewis, the famed non-fiction writer known for Moneyball, The Blind Side, and The Big Short, recently signed a contract with Audible. The contract stipulates that Lewis will deliver four projects to Audible over the course of several years. Exactly what form those projects will take is difficult to say: Lewis has been mum on most of the details so far. What he has said, though, is that his fans won't be able to read these projects in physical form. They will have to listen to them. "I've become Audible's first magazine writer," he said.
That quote suggests that Lewis won't be delivering full book projects to Audible on an audio-only basis. Considering the success of Lewis's past works, such a move would almost certainly be folly. Instead, Lewis is using the Audible deal to drum up anticipation for his next book—and probably to expand the audience for his older works. In the past, Lewis—a contributor to Vanity Fair—has presaged many of his books by writing extensive magazine articles that he later expanded into full-length works. In all likelihood, Lewis's Audible contributions will be the audiobook equivalents of his old Vanity Fair articles.
Lewis isn't the only author betting big on audiobooks. Jeffery Deaver, the mystery author known for books like The Bone Collector and the 2011 original James Bond story Carte Blanche, changed the game back in 2014 when he sold his book The Starling Project to Audible as an original exclusive. And last March, noted historian Robert Caro, a winner of both the Pulitzer Prize and the National Book Award, sold a Lyndon B. Johnson project called On Power to Audible, also as an exclusive. In fairness, Caro has said that On Power's Audible exclusive status was a one-time deal. Deaver, meanwhile, has had numerous books arrive in a more traditional fashion since his Audible project.
Still, the trend is continuing. Actor and comedian David Spade will release his upcoming memoir, titled A Polaroid Guy in a Snapchat World, as an Audible original. Olympic snowboarding superstar Shaun White will also bring his memoir to Audible as an exclusive this October—though a print edition of that project will arrive a mere month later.
Clearly, Amazon is jockeying to make Audible the Netflix of audiobooks. The first step was collecting an array of existing content on a single easy-to-use subscription service. The second step is releasing original content. Just like Netflix managed to evolve into an entertainment titan by producing exclusive shows like House of Cards and Orange Is the New Black, Audible stands to win new members and secure an even more dominant industry position by going the "original and exclusive" route.
The problem with this model, especially for indie publishers and indie authors, is that it remains largely out of reach. The authors that have so far tried the Audible-only method are mostly big names. Well-known authors like Michael Lewis and Jeffery Deaver aren't really taking a risk by handing over some of their work to the biggest audiobook service in the world. If things work out, great. If not, they can turn around and do something else in a matter of months. Indie authors don't have the same clout—either in terms of being able to churn out published projects or in their ability to move the needle enough to land an exclusive deal with Audible.
Which brings us to the other issue: reader interest. If you've been on Netflix lately, you've probably noticed that the platform is hocking a new original show virtually every day. In fact, at this stage, Netflix has hundreds of original series. Earlier this year, the company announced plans to have somewhere in the neighborhood of 700 original TV shows on the streaming platform by the end of the year. For every 13 Reasons Why or Stranger Things, though, Netflix has dozens or hundreds of shows you've probably never even heard of. It's easy to imagine an identical scenario with Audible, one where the big projects float to the top and anything without a recognizable name attached to it gets shunted to the sidelines.
Perhaps Audible could add an exclusive series called "indie spotlight" (or something similar), featuring original works from up-and-coming authors. That kind of feature could do a lot to keep indie publishing alive while also adding a "tastemaking" element to what Amazon is trying to do with the platform. It would also help carve out a niche for independent publishers and authors in audiobooks, which is currently a marketplace dominated by majors. Only time will tell if Audible actually goes that route, but suffice to say that the possibilities for original audiobook productions are nearly limitless.
* * * * *
Craig Manning is currently studying English and Music at Western Michigan University. In addition to writing for IndependentPublisher.com, he maintains a pair of entertainment blogs, interns at the Traverse City Business News, and writes for Rockfreaks.net and his college newspaper. He welcomes comments or questions concerning his articles via email, at manningcr953@gmail.com.
---
Comments
---