Tech Desk
From the Tech Desk
New Customizable Children's Book Platform Arrives Just in Time for the Holidays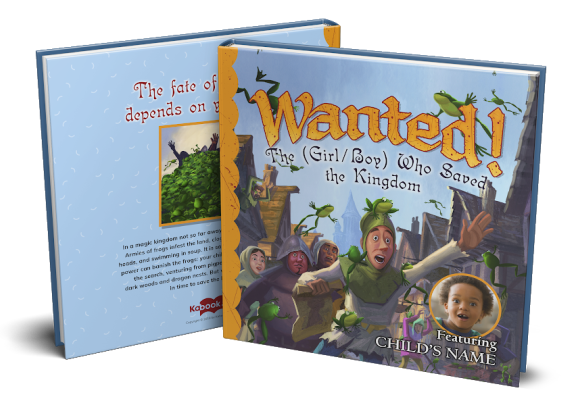 Are you looking for the perfect book-centric Christmas gift for your child? If so, a brand-new personalized children's book platform might have the answer you've been seeking.
The beginning of November marked the launch of Kabook!, a technology platform in the growing niche of customizable children's books. Where most companies or imprints in this space work by inserting a child's name or location into a pre-existing story template, though, Kabook! is unique in how it can integrate photos of a child into the actual story.
Here's how it works: Kabook! offers several different books for users to choose from, including titles like Hornswoggled, about a swashbuckling treasure hunt, or Wanted, about a quest to save a magic kingdom. Each book then has personalization and photo prompts that the user needs to go through to create a finished product. Different books have different levels of customization. For instance, Wanted only requires one photo of the child, instead relying mostly on personalized details such as the child's name, eye color, favorite food, and favorite stuffed animal. Hornswoggled, meanwhile, has nine photo prompts that parents and their kids are instructed to work through together.
You can start building a customized book right there on the Kabook! website, working through the personalization prompts and uploading photos from your phone or computer library. The personalized details, such as the child's name or favorite color, are incorporated into the story in the way you would expect from a customized children's book. The photos, meanwhile, are rendered and repurposed as stylized illustrations. For instance, in Wanted, the child's picture will appear numerous times throughout the story, rendered as an old-fashioned wanted poster. The platform uses advanced photo filtering technology to make each photo look like it really belongs in the story, alongside the pre-existing illustrations. The final books, in other words, are a lot cooler to look at than just having the child's photo copied and pasted into random points on each page.
According to the official website, Kabook! is the first publishing platform in the world that can incorporate photos in this fashion. The company designed a brand-new photo technology to apply filters to each photo so that they mirror the illustration style of the story at hand. The technology, Kabook! says, is currently in the patent-pending stage.
In the age of phone cameras, Instagram, and Facebook photo albums, it's actually surprising that a platform of this ilk hasn't made its way to market before now. Undoubtedly, though, the concept behind Kabook! offers a lot of appeal for parents who are looking for unique gifts for their kids, or who want to get their children more interested in reading. A personalized book that simply puts the child's name and a few details about them into a story is fun, but it's also a little limited in terms of appeal or lasting value. By adding photos into the mix, Kabook! feels like it could push the "keepsake" facet of personalized children's book further than any platform before it.
Since Kabook! only just launched, the platform's offerings aren't very extensive yet. Parents have three launch titles to choose from at the moment: the aforementioned Wanted and Hornswoggled, as well as We Hope You Remember, which functions essentially as an illustrated memory book of the child's life. Kabook! also plans to add a fourth title in time for Christmas:The List, a "festive caper" where a page from Santa's famous naughty and nice list goes mysteriously missing. Parents can read each Kabook! title in full on the website—minus the customization—in order to decide which book they think their child will like best.
Kabook! titles start at $24.99 apiece and are geared toward children between the ages of 0 and 7. Customization for the platform can take up to 45 minutes, depending on the title and which photo prompts the user already has usable photos for. Books are printed on high quality 70# paper stock and are available in both soft cover and hard cover versions. Kabook! says that each title takes 3-5 days to print and put together, after which the books ship out promptly to their recipients.
Are you interested in giving Kabook! a try for the upcoming holiday season? Learn more about the platform or see the available titles by visiting www.mykabook.com. If you decide to place an order, you can get free shipping by entering the promo code FREESHIPUU at checkout.
* * * * *
Craig Manning is currently studying English and Music at Western Michigan University. In addition to writing for IndependentPublisher.com, he maintains a pair of entertainment blogs, interns at the Traverse City Business News, and writes for Rockfreaks.net and his college newspaper. He welcomes comments or questions concerning his articles via email, at manningcr953 (at) gmail.com.
---
Comments
---