Indie Groundbreaking Book
Stray
Unflinching Memoir Shines a Light on the Tumultuous Life of a Teenage Runaway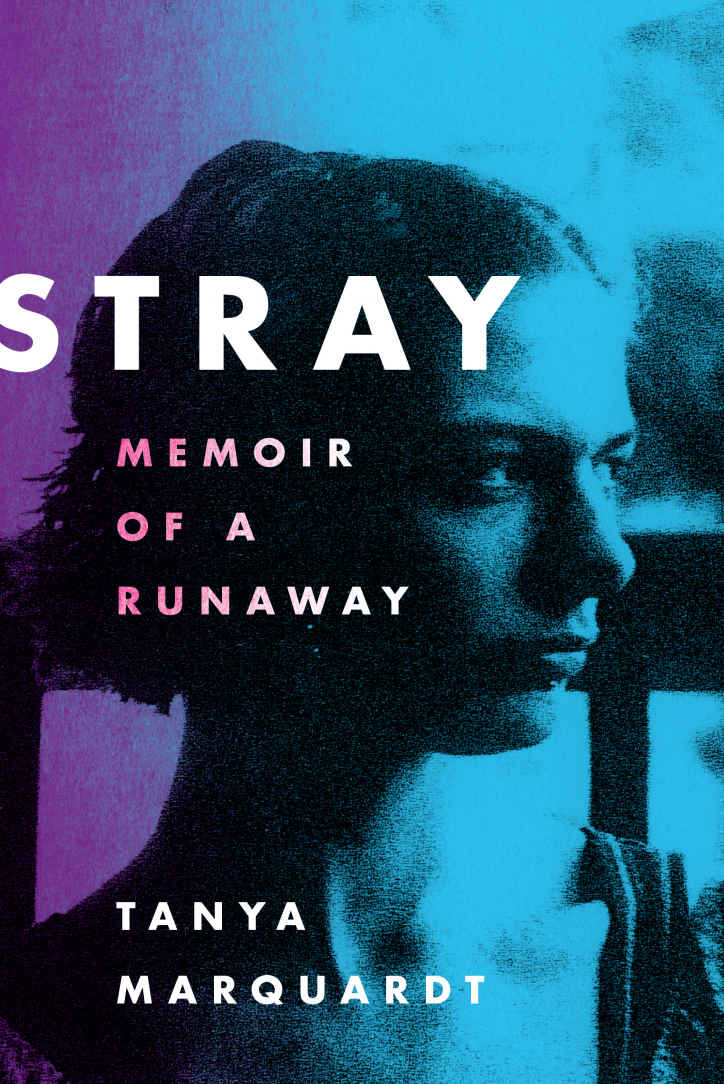 At some point along the journey of growing up, many of us had visions of running away from home. For most, those dreams were fleeting and unrealistic—little more than petty flare-ups of emotion over some perceived grievance on the part of our parents. For some, though, running away from home was or is more than that. For some, running away is a chance to escape unhappiness or even abuse. Such is the case in Stray: Memoir of a Runaway, a new book from Canadian playwright Tonya Marquardt and our Indie Groundbreaking Book for the month of December.
If you are looking for a feel-good read, then Stray is not for you. Marquardt's tale begins amidst childhood abuse and neglect, prompting a fierce exodus into the unknown. Rather than bringing clarity or redemption, though, that exodus takes Marquardt deeper into the darkness of the unknown. The pages of this book are splattered with blood and liquor and cigarette smoke and regrets. Marquardt spends much of the story, by her estimation, blackout drunk. Along the way, she battles addiction and makes discoveries about her own sexuality, in situations that are in turns awkward, horrific, and emotional. By any metric, Stray is a heavy read.
However, there are also deeply resonant themes here for those willing to take the journey. Marquardt's story starts when she is just 16 years old. She's grown up in an abusive home, with an alcoholic father whose penchant for drinking early in the day and driving while intoxicated makes him a dangerous menace both in and outside of the home. He abuses Marquardt and her younger brother by forcing them to kneel on a marble floor for hours at a time, until their knees ache and their legs are numb. Eventually, Marquardt's mother takes the kids and leaves, but the damage has been done. Attempts to start a new life in a new town fail. Eventually, Marquardt takes flight. Since 16 is the legal age of emancipation in Canada, her mom can't come after her. Marquardt is on her own.
Most of Stray was sourced from Marquardt's personal diaries from this time of her life, with the dialogue approximated and recreated from memory. Unsurprisingly, then, the story unfolds with feverish intensity, often carrying the feel of a half-remembered dream. Marquardt bounces around temporary homes with friends, takes up reckless habits, and even finds herself in the doldrums of dive bars and BDSM sex dens. The journey is unsettling, the manifesto of a young woman trying to find herself with almost no adult guidance. Far from being meaningless or unnecessary, though, these stories underline the core themes of the book: the failure of society to protect a fragile young woman; the cost of bad parenting; the long-tail effects of abuse; the strength of the human spirit; and the saving grace of discovering new passion and direction in life.
Eventually, Marquardt finds her way to a happy ending of sorts, in the form of a theater class that unlocks a new side of her. If there is one flaw in Stray, it's that it doesn't explore this ending thoroughly enough. Most of the book focuses on the wild-and-crazy years of Marquardt's life, trailing off and speeding through her senior year of high school when she calmed down a bit and started recommitting herself to a normal life. After all the darkness at the heart of this tale, it would have been nice to explore more deeply some of the later years of Marquardt's life. In the years since the period that this book recreates, Marquardt has become a respected and award-winning performer and playwright in Canada. Even just an epilogue or afterward to explore how she morphed from the reckless, damaged teen of these pages to the successful artistic soul she is today would have been fulfilling. It would have been interesting to hear Marquardt's view on that time of her life from the vantage point of now, to find out what she learned in her wilderness years and how those lessons have continued to impact her life to this day.
Even without the satisfaction of a clean, tidy finish, though, Stray is a powerful and unsettling story that becomes even sadder and stranger when you consider its status as a non-fiction work. It is a piercing examination of innocence lost, told through the eyes of a young adult whose innocence was wrenched away from her far too soon. Through it all, Marquardt writes vividly and matter-of-factly, recounting her life story without reservation or shame. The result is in turns heartbreaking and fascinating, a beautiful story of growth and self-discovery told through a series of brutal and bruising truths.
Stray is available to purchase on Amazon.com.
* * * * *
Craig Manning is currently studying English and Music at Western Michigan University. In addition to writing for IndependentPublisher.com, he maintains a pair of entertainment blogs, interns at the Traverse City Business News, and writes for Rockfreaks.net and his college newspaper. He welcomes comments or questions concerning his articles via email, at manningcr953 (at) gmail.com.
---
Comments
---