Indie Groundbreaking Book
The Heart's Necessities: Life in Poetry
Unique Collaboration between Two Generations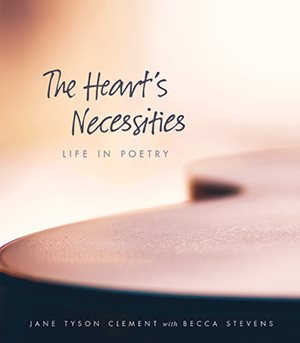 It began when Veery Huleatt, an editor at Plough Publishing, was wading through the slush pile, where she enjoys looking for new voices, and came across the idea for
The Heart's Necessities
. Previously, on a serendipitous day in 2010, jazz musician Becca Stevens had stumbled on a book of poetry called
No One Can Stem The Tide: Selected Poems 1931-1991,
by Jane Tyson Clement (1917-2000), which had been published by Plough Publishing House in 2000. Grieving the death of a dear friend, Becca was struggling to complete a song to honor her friend, and pulled the poetry book off her bookshelf. Two poems in the collection, "Winter" and "Thaw" captured her feelings of loss, and they exactly fit the melodies she had already composed. Becca contacted Plough and asked for permission to use some phrases from the poems in her songs.
Thus began a decade-long artistic collaboration during which Becca wrote five more songs featuring Jane's work, and eventually pitched the book idea. Now Plough has released the second ever collection of Jane's poetry called The Heart's Necessities: Life in Poetry. Several of the poems are annotated by Becca's interpretations, "a reminder that great work can still be relevant many generations after it was written."
Clement, who was a contemporary of Emily Dickinson and Gerard Manley Hopkins, wrote poignantly about love, longing, heartbreak, and nature. In this new book, skillfully edited by Veery Huleatt, a portrait of the poet emerges as a strong yet vulnerable, politically active young woman.
The concept would be quite unique: to present the life and poetry of a little-known poet alongside an introduction and commentary from an up-and-coming singer-songwriter. Huleatt felt that a poet's biography, mixed with thoughts from a contemporary voice, would resonate with younger people – especially women – who ask the same questions Clement asked in her poems: Who am I? What is love? What is faith? How do I deal with loss and death? What are my creative efforts worth?
"I spent a long time looking for comparable titles, and there really isn't a lot out there. It really felt like we were building it from scratch, which was exciting but also difficult," recalls Huleatt. "As Becca notes in the book, Jane's poetry has this universal, generous quality that always meets you where you're at, and accompanies you through different seasons of the soul. We're living in a time that demands a constant flow of content and there's so much that is always yanking at our attention."
"In this environment, I think there's something centering and refreshing about unplugging and sitting down with a physical book full of poetry that demands your time and attention …and then more than repays your time and attention with wisdom and beauty and truth."
"Jane Tyson Clement's poetry is intimate – she writes from the heart about the questions of her daily existence: love, faith, doubt, discontent. I think that will always be relevant. Jane's life was full of contradictions, for example, she was a woman of deep faith and spirituality who often found herself at odds with established religion. I think that will feel accessible to anyone who doesn't feel that they fit neatly into any of society's boxes. She was woman who doubted herself, and who was vulnerable about that doubt and hesitation. In a way, her poetry gives the reader permission to feel weak and insufficient, but then to come out of that with a stronger sense of themselves and their potential." Her lyrics for "I Am No Artist" are a perfect example of this.
(Hear the song on YouTube.)
"I think it's easy to dismiss idealism as naïve, but Jane found her guiding stars -- peace, justice, truth -- and shaped her life around them. It takes courage to live without a pre-defined script, and I think having mentors and models like Clement, who did have that courage, can open the way for others."
"The most obvious commonality is that Becca and Jane are both artists, and both women whose approach to their art – honest, vulnerable, humble, whole-hearted – is also their approach to life. Reading the book almost feels like listening in on a conversation between two women who, although outwardly very different, inwardly share so much."
The book also contains compelling images from three different sources: the nature photography was taken by Jane Tyson Clement's son, Tim Clement; the photos of Becca were taken at her home – a safe, intimate space (The videos that accompany the book were also all shot in Becca's home, and a few of the images in the book are stills from the videos); finally, the photographs of Clement, provided by the Clement family, open each chapter with a collage of imagery and found items that give an impression of each stage of Jane's life.
"Jane's poetry is a steady source of inspiration," says Becca Stevens. "When I'm writing at home and I hit writer's block, I often go to that shelf to draw inspiration for a song. Sometimes the poetry ends up being the lyrics, and other time just inspiration I draw from the words. If I could meet Jane Clement today, I would thank her for all the joy and creative fuel she's brought to my life and my songs."
* * * * *
About the Authors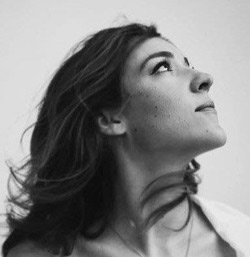 North Carolina bred, Brooklyn based singer and composer
Becca Stevens
has already received copious praise from the likes of
The New York Times
and
Downbeat
magazine, being named their 2017 Rising Star Female Vocalist. Drawing upon elements of pop, indierock, jazz, and traditional Appalachian folk, Stevens has been hailed for her unique ability to craft exquisite compositions both for her own band, and for artists who run the gamut of genre from the legendary David Crosby, to singer José James to classical pianist Timo Andres. Stevens has toured the world with her band and collaborated with the likes of: Brad Mehldau, Esperanza Spalding, Billy Childs, Ambrose Akinmusire, Jacob Collier, Vijay Iyer and many others.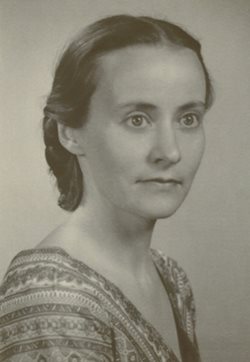 Jane Tyson Clement (1917–2000)
was a poet, author, and playwright. Clement grew up in Manhattan and, though she lived there until she was nineteen, she was never truly at home in the city but preferred Bay Head, New Jersey, where the family owned a summer house. She graduated from Smith College in 1939, became a teacher, and married Robert Allen Clement, a Quaker attorney and fellow pacifist. Despite her privileged background, Clement was disturbed by the injustices she saw around her and yearned to do something constructive with her life, to move beyond the "frivolous, self-centered side of my nature … and to do something – anything – about the unfair treatment of workers, the hoarding of wealth in the hands of a few." Clement taught school, raised seven children, and, through her poetry and fiction, continued her search for wholeness and truth. As a writer and poet, Clement has been compared with Denise Levertov, Wendell Berry, and Jane Kenyon. Her poems are collected in
The Heart's Necessities, No One Can Stem the Tide,
and some of her best short stories in
The Secret Flower
.
The Heart's Necessities: Life in Poetry, by Jane Tyson Clement with Becca Stevens
The Lighthouse Band:
---
Comments
---