Tech Desk
From the Tech Desk
What the Audible Book Captioning Lawsuit Says about the Future of Technology in Publishing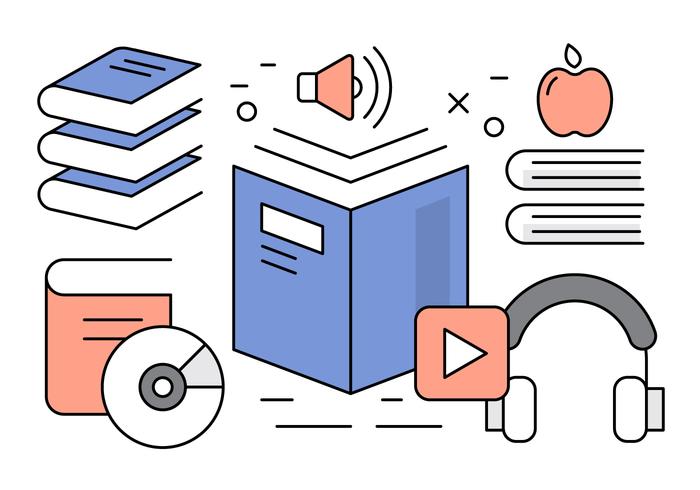 Audible and audiobooks in general have been very good for the publishing industry over the past few years. Audiobooks are on the rise, tracking a 37.1 percent year-over-year uptick in sales from 2017 to 2018. As e-books have declined, audiobooks have caught fire, keeping an option open for tech-savvy consumers who aren't interested in physical books but still want to read. Audible, a subsidiary of Amazon, is arguably the face of this market growth, given its position as the largest seller of downloadable audiobooks. Despite these facts and figures, though, it seems the publishing industry doesn't have totally warm feelings toward Audible. As the company prepares to launch "Audible Captions," a technology for adding closed captioning to audiobooks downloaded from the service, it has been slapped with a lawsuit from seven publishing companies.
As a piece of publishing technology, Audible Captions is, objectively, pretty cool. Any Audible customer can choose to turn on Captions if they'd like to use it. Once switched on, Audible Captions offers a view within the Audible app where readers can see transcriptions of the words currently being read. These transcriptions are created using automated technology, which means there may be inaccuracies for complex words or narrations that the tech can't completely understand. Still, the idea is to give readers a way to see and connect with the meaning of the words in the audiobook. If an Audible user doesn't recognize a word, all they need to do is tap the transcribed word on their screen to pause playback and pull up a dictionary definition.
So far, Audible Captions has not officially launched. The initial goal was to launch the feature at the beginning of September, to correspond with the start of the school year. Captions is mostly meant as an educational tool and was even inspired by an educational experiment. Last year, Audible launched Project Listen Up, where it donated Kindle Fire tablets, headphones, a bundle of educator-selected audiobooks, and one free Audible subscriptions to thousands of students in Newark, New Jersey. According to Audible Chief Product Officer Richard Stern, the company learned that students were interested in a more engaged listening experience that included captioning. Thus, Audible Captions was born.
The delayed launch of Captions could have something to do with the major publishing industry lawsuit that is brewing against the technology. Seven plaintiffs—including the "Big Five" publishers (Hachette, HarperCollins, Macmillan, Penguin Random House, and Simon & Schuster) as well as Chronicle Books and Scholastic—are claiming that Audible Captions is a violation of copyright law. "Audible's actions—taking copyrighted works and repurposing them for its own benefit without permission—are the kind of quintessential infringement that the Copyright Act directly forbids," reads part of the suit. The belief of the plaintiffs, in other words, is that Audible Captions and its speech-to-text technology is tantamount to Audible creating counterfeit e-books and bundling them with audiobooks at no extra charge.
This claim is, quite frankly, absurd—at least if you've watched Audible's handy demonstrator video on how the Captions technology works. Audible Captions does not produce anything resembling an e-book. It is not a technology that provides readers with a copy of the text and allows them to read along. In fact, Audible has been offering that technology—called "Immersion Reading"—since 2012. Immersion Reading allows costumers to purchase a Kindle e-book and then buy the Audible audiobook copy of that same title for an additional fee. The feature integrates both the e-book reading experience and the audiobook listening experience into one, so that readers can listen to an audiobook narration and read along with the text in the corresponding e-book, all at the same time. The e-book even highlights the text—one syllable at a time—to go along with the narration. This technology is intended to help readers who struggle with disorders like dyslexia.
Audible Captions is fundamentally different from Immersion Reading, in that it just shows a few words of text on the screen at any given time. Once the text disappears from the screen, it can't be revisited unless the reader rewinds the audiobook. The feature is not creating an e-book version of the text that Audible users will be able to copy or read in the future. Instead, it is simply a tool meant to foster reader engagement and to help readers (primarily students) understand the meaning of the text at hand. Richard Stern has called it an "audio-first experience." "It's not a replacement for reading," he said. "It's not a reading experience at all. It really is an enhanced listening experience."
It seems that the publishing "powers that be" have fundamentally misunderstood the Audible Captions technology and the intention behind it. One worry they've raised is that the tech will give Audible an unfair competitive advantage over audiobook sellers that don't have captioning options. In truth though, it seems doubtful that this technology would be super widely used outside of the educational sphere. Immersion Reading, which offers a more full-fledged "read and listen along" interface, only accounts for about one percent of all Audible audiobook sales. As a result, the publishers come across here as actively taking steps to block a technology aimed at fostering excitement, engagement, and understanding for kids reading in a school environment.
According to Gizmodo, there is legal precedent on Audible's side here. The seven publishing companies bringing this lawsuit are unlikely to accomplish much beyond delaying the launch of Audible Captions. Still, the case shows the publishing industry—like the music industry before it—largely unwilling to embrace new technologies. It's a bad look, and one unlikely to benefit the industry in the long run. Just ask the record labels.
* * * * *
Image: vecteezy.com
* * * * *
Craig Manning is currently studying English and Music at Western Michigan University. In addition to writing for IndependentPublisher.com, he maintains a pair of entertainment blogs, interns at the Traverse City Business News, and writes for Rockfreaks.net and his college newspaper. He welcomes comments or questions concerning his articles via email, at manningcr953 (at) gmail.com.
---
Comments
---