Indie Groundbreaking Book
O America: Discovery in a New Land
Epic Road Trip for Two Unlikely Travel Mates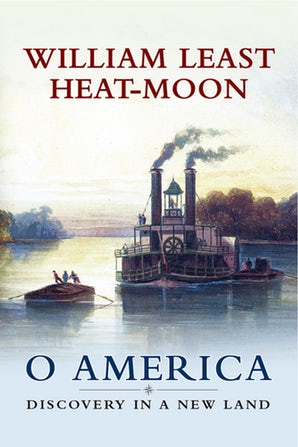 If this isn't the Great American Novel, it certainly is a great American novel. A joyous, rollicking mash-up of Moby-Dick, Huckleberry Finn, and On the Road, narrated by a young British widower, Nathaniel Trennant, M.D., King's College Class of 1836, who hops a Yankee freighter bound for the New World with a cargo of colonists and supplies.
"Every immigrant carries a little bundle of clothing wrapped in a sheet or blanket. They also carry a bigger -- if unperceivable -- bundle of hopes wrapped in a dream to be fulfilled in a constitutional democracy present on Earth not yet three-quarters of a century. Only in the past year has it assembled itself -- from the Rio Grande to the Canadian forests -- into a contiguous three million square miles now bestriding a continent. A collection completed through conquest and purchase, sabers and dollars."
The crossing is well-documented in the doctor's journal, and the close quarters and class differences make for some lively social commentary. Upon arrival, rather than stay on as ship's doctor, he sets off from Baltimore to observe "the American experiment" and "keep roaming the territory to see bison and Indians." The plot thickens when he discovers an escaped slave, whom he befriends and assists, now committing to both adventure and criminality. The two wanted men get to know each other on the road, concealing their identities and dodging bullets, real and metaphorical, while discovering the wonders of America when "out west" meant the state of Ohio.
"Deep travel is to be gauged not by paces but by enlargement of the mind, progression of the heart. To survey how deep wanderers have traveled, look not to the testimony of their soles but to the affadavits of their soul."
And travel deeply they do, on foot, on horseback, and by all manner of land and sea vehicle. Here they are on a mule-drawn passenger ferry heading west on the Erie Canal:
"Once atop the Flight, we gloried in the aerial view eastward over the landscape engineers had mastered, not just at seeing long miles now behind us but at the aerial perspective itself. It was as close as a human -- without a hot-air balloon -- can get to lifting off heavenward."
Quite a relief from the scene inside the boat's sleeping quarters at night:
"As the night proceeds, the cabin fills with an evening serenade which rises to a fully dissonant symphony of inhalations and exhalations, snores and gasps, snortles and snorks, sniffles and snuffles, puffs and huffs, wheezes and whiffles and whistles, aspirations beyond classification, and without fail, expulsions of flatulence, usually from the bloke above. Could a wind trumpet be attached to the various orifices, the walls of mighty Jericho would face a second challenge."
Oh, the humanity! Heat-Moon's ornate, archaic language permeates the tale, as does his sharp wit and political truisms. This land has been changed greatly, but the people? Not so much.
"So: Is the American experiment proceeding more rapidly than its citizens can comprehend and control? How much of and how fast can the wilderness be safely turned over to humans? What is the cost per acre of the loss of woodlands? Costs reckoned not simply in monetary profit. Who is calculating the future? When I raise these issues with an American, I receive a look suggesting I must be simple to challenge headlong affluence. Perhaps so, but hasty and unreckoned change is not always a salutary companion to liberty."
Dr. Trennant for president!
When the travelers reach Indian country they team up with Two Hearts, an Osage tribal elder who leads them off the riverboat and onto the prairie, making their way inland to observe a buffalo hunt. Exciting encounters with a slave hunter, Pawnee warriors, and the rugged landscape ensue, as the white, black and red-skinned trio further tests the ethnic diversity and social unity of the American Experiment.
"Their features so different from either his or mine, and ours so different one from the other. Nevertheless we all ride across the prairie in a shared mission: theirs to find food, ours to witness a great passage of that food. For a traveler, nothing is finer than to be able to say, 'It is for all this I have come.'"
O America: Discovery in a New Land is William Least Heat-Moon's love letter to America and its complicated past. His passion for the American landscape is only surpassed by his insistence we face up to our continuing struggle with social injustice and economic inequality. Heat-Moon reminds us that the great American Experiment is still underway, and all lives matter, as do all of our words and all of our deeds. This is truly a great American novel and a soulful gift to humanity and the earth we inhabit.
* * * * *
O America: Discovery in a New Land
by William Least Heat-Moon
344 page hardcover, $29.95, Feb. 2020
ISBN: 978-0-8262-2204-6
University of Missouri Press - http://upress.missouri.edu
About the author:
(from Wikipedia) William Least Heat-Moon (born William Lewis Trogdon August 27, 1939) is an American travel writer and historian of English, Irish, and Osage ancestry. He is the author of several books which chronicle unusual journeys through the United States, including cross-country trips by boat (River Horse, 1999) and, in his best known work (1982's Blue Highways), about his journey in a 1975 Ford Econoline van. The Trogdon family name comes from his Euro-American lineage, and the Heat-Moon name reflects his Osage lineage. William's father is Heat-Moon, his elder brother is Little Heat-Moon, and he is Least Heat-Moon. Born in Kansas City, Missouri, Least Heat-Moon grew up in Missouri where he attended public schools. He earned bachelor's, master's, and Ph.D. degrees in English, as well as a bachelor's degree in photojournalism from the University of Missouri. Least Heat-Moon was a member of the Beta-Theta chapter of Tau Kappa Epsilon. He later served as a professor of English at the university. Least Heat-Moon resides near Columbia, Missouri, in Boone County near the Missouri River.
---
Comments
---