Book Review : Multicultural Fiction/Young Adult
The Breaking of a Wave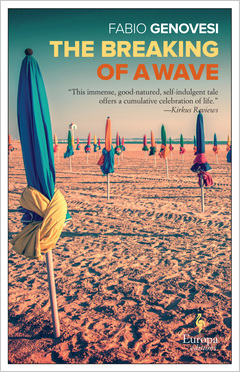 Review by Mari Carlson
In THE BREAKING OF A WAVE, Fabio Genovesi simulates a tsunami of interwoven tales that crash over us, leaving a wake of devastation as well as hope.

Serena, a knock-out single mother of two, allows eighteen year old Luca go to France surfing for his birthday. Younger sister Luna, an albino teen derided by schoolmates, stays home with Serena and her friend-by-default, Zot, a newly transplanted Chernobyl orphan who supplants her as the most ridiculed middle schooler. Meanwhile, a threesome of n'er-do-well forty year olds, Sandro, Marino and Rambo, scheme to make money and lure chicks. When catastrophe strikes Serena's family, Sandro steps in to win her heart. But, as usual, his best intentions end in disaster – or do they?

Genovesi cites many instances of waves, but also creates a wave by building stories to a peak that inevitably comes crashing down. Waves of pleasure thinking about sex, waves of shock as bullies pounce, waves of grief, waves on which to surf and waves to survey while sitting on the beach eating pizza: these are the small waves of our main characters' ordinary time. A storm is brewing as they try to change the course of their lives with a trip to Pontremoli to see the ancient statues made by moon worshippers of Lunigiana. Luna convinces her mom and Sandro to take her and Zot to find out what message these relics might bear for them. Back at home, Marino and Rambo, fleeing a scheme-gone-sour, meet the crew in Pontremoli. When they come together, myth collides with reality, youth confronts maturity, and best laid plans fails. The giant wave of narrative breaks in these climactic scenes.

But that isn't the end. "And whatever is behind us we don't see, though something is there. The whole gigantic sea and the water that never rests and the waves that have always come and will always come, one after the other. They break on the shore and that seems to be the end of them. Only it's not. They withdraw so that the next one can rise and the next and the next, with a shove from who knows where, but it's there and it sends us up and down, up and down, sending us up and down, up and down, in this warm embrace that we don't need to face to feel, it's all around us, while we keep looking ahead, at what the current carries us, at the break of day, which looks like an enormous orange gift waiting to be opened" (461). Rather than wrapping up the story, the last chapter opens up new possibilities, the early stages of a new wave.

The book won the Stega Prize for Young Readers. Its fast pace and the age of the characters (both mentally and physically) clued me in to the intended audience. The characters, although well drawn, are bumbling and likable and not fully developed as people. They're reminiscent of holy fools in Russian literature – wise and dumb at the same time, not made for this world. First and foremost of these "idiots" is Luna, the narrator, who sometimes speaks as "I" but sometimes addresses her mother as "you," as though she's looking back on her life from another era, perhaps as Tages, the little white man we meet in a fable told in the first chapter, with whom Luna identifies. The novel is a coming of age story, for all of us coming into our own age; all of us who need relief from growing pains. It is not a challenging read, rather, utterly enjoyable and engaging. It makes me want to do something rash and spontaneous, like hop a plane to Italy and find these friends I've just made!
* * * * *
The author
Fabio Genovesi was born in Forte dei Marmi in Versilia in 1974. He is the author of Live Bait (Other Press, 2014), which has been translated into over ten languages, an earlier novel, Versilia Rock City, the memoir Morte Dei Marmi (Laterza, 2012), and the Young Reader's Strega Prize winning-novel, The Breaking of a Wave.
* * * * *
The reviewer
When not reading books and writing reviews, Mari teaches violin lessons and practices and performs with chamber and symphony orchestras and folk ensembles in Minneapolis, MN and Eau Claire, WI. See all of her reviews and contact page at
https://marisbookreviews.wordpress.com
/
Europa Editions
2017, 432 page paperback; $18.00
ISBN: 9781609453879
Translated by Will Schutt
https://www.europaeditions.com/book/9781609453879/the-breaking-of-a-wave

---
Comments
---