Book Review : Psychological Thriller/Women's Fiction
A Matter of Chance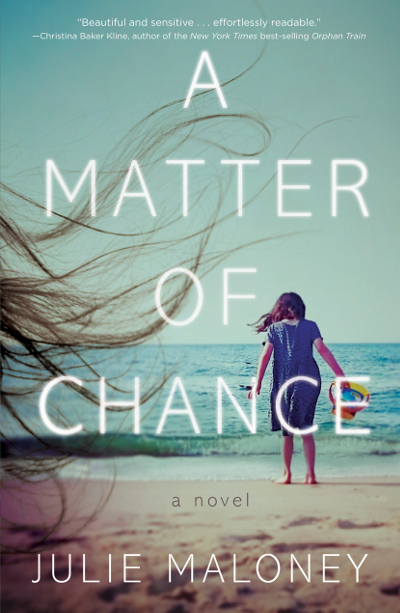 Editors Note: One of the biggest stories in the world of independent publishing over the past decade is She Writes Press. Launched in 2012, the fast-growing hybrid publisher has given voice to hundreds of female authors with powerful, uniquely feminist stories to tell. Many SWP titles have won awards from this publication, and here is yet another fantastic effort that has inspired both an author profile and a book review.
Review by Jim Barnes - March 2018
This potent book explores some of the major touchstones of the female experience: the joy of birth, the pain of loss, and the strength to endure. By immediately grabbing our attention with a shocking disruption – a mother having her eight-year-old daughter abducted during a simple walk on the beach – author Julie Maloney starts up a roller-coaster ride of emotion and suspense that will keep readers hanging on until the end.

What plot-thickeners occur along the way…child sex-trafficking? Check. German immigrants that fled Hitler? Check. Russian mafia? Check. And since it's set in New York City, throw in scenes set in St. Patrick's Cathedral, NY Public and Morgan Libraries, art galleries, cabs, trains, subways -- even a love affair with a hunky New Jersey detective – the city itself becomes a leading character.

But what really makes this novel tick is the raw emotion of Maddy, the grieving mother who must deal with the grinding bureaucracy of police and FBI, the terrorizing thoughts of what's become of her stolen child, and the raw mix of guilt and hope she steadfastly endures. Nothing happens fast enough for her, and if not for finding an outlet in drawing and painting, she would have gone mad. Discovering the works of Käthe Kollwitz, a German painter who articulated sorrow and loss based on the politics of the time and losing a son on the World War I battlefield, Maddy becomes renowned for her dramatic creations.
If you're ready for a thrill ride that combines a nail-biting story with a deep-dive into the human psyche, exploring issues of trust and betrayal, sorrow and joy, and good old-fashioned love and hate --this book is for you.
She Writes Press
Paperback; $16.95 (April 2018)
ISBN: 978-63152-369-4
---
Comments
---