Book Review : Mystery/Thriller
Deros: A Father Jake Austin Mystery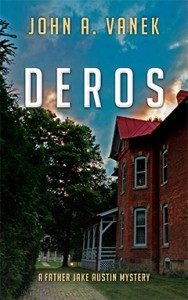 Review by Anita Lock / May 2019
Rising mystery author, John Vanek, spins a chilling tale in Deros, the first of the Father Jake Austin Mystery series.
The year is 2002. Father Jake Austin accepts a temporary assignment at Sacred Heart Church in the quaint town of Oberlin, Ohio one year after his ordination. Jake, who is also a doctor, takes on hours at a hospital north of Oberlin. Three decades have passed since he left his childhood environs to fight in the Vietnam War. Although the GI Bill helped him get through medical school and entered seminary afterward, flashbacks as well as memories from his childhood. Not surprising, Jake's return to Oberlin evokes a rush of emotion and unresolved conflict from his tainted youth.
Jake literally bumps into his school buddy, Tree Macon, who is now the town's chief of police. As the two childhood friends hash out old memories, Tree mentions the recent murder of a townie; her demise is troubling, especially since Tree has an inkling that the perpetrator is none other than their old school nemesis, Everett McDermott. McDermott plays a pivotal role in Jake's mind since he is the ex-husband of Emily Beale, Jake's high school sweetie and the woman who still holds his heart in spite of his celibate lifestyle.
Jake, who grudgingly attends his thirty-year high school class reunion, is happy at least to reconnect with Emily. He is also thrilled to learn that he'll be able to see her more frequently since she helps her father run the snack shop at the same hospital where Jake works. What he doesn't expect is the unfolding of a series of unnerving events that leaves one classmate comatose and another dead. When Jake discovers a death-threat note supposedly directed toward Emily, he decides it's time to get to the bottom of these mysteries by doing his own sleuthing.
Vanek smartly utilizes literary elements to engage his audience from the get-go. For starters, he opens his plot with a bizarre crime scene set within the confines of a small town. His choice of a real location, namely Oberlin, is perfect because of its absorbing town-and-gown (town-and-college) history with the Underground Railroad and its cryptic tales of secret passages.
Vanek's apt incorporation of history and iconic buildings of the past and present provides those familiar with Oberlin an opportunity to allow their minds to venture into a world of imagination within a realistic realm, and newcomers, the chance to explore the internet for further information. To Vanek's credit, his connection with Oberlin goes far beyond book and Internet knowledge:
"I practiced medicine for years at hospitals throughout Lorain County [of which Oberlin in one of its towns], including St. Joseph's Hospital [where Jake works], which I resurrected for the novel. It closed its doors in 1997. In addition to treating patients, I also taught interns and residents, many of whom were foreign-born, far from home, and living in dormitories adjacent to the hospital as depicted in the story."
Another literary technique that Vanek uses to grab the attention of his readers is in the portrayal of Jake Austin. Contrary to the recent scandalous reports on priests, Vanek pulls from two Catholic priests who have become his close friends and confidants to create his main character. Jake is both a relatable and likable character; he is a spiritual man riddled with human frailty who constantly battles with choosing morals over the weaknesses of the flesh.
Vanek's writing style is crisp and tight, covering a story with events that unfold within one week. Keeping to a small yet very colorful cast, Vanek whips up a tale that if it wasn't known as fiction could easily be mistaken for a story based on facts. Quite the raconteur, Vanek can address a range of circumstances in the matter of a few chapters—from hilarious moments and instances that drip with sarcasm and irony to downright chilling and nail-biting scenes replete with red herrings, twists and turns, cliffhanging chapters, and everything in between.
Vanek fans have much to look forward to as Jake Austin's adventures continue in Miracles, book two in the Father Jake Austin Mystery series.
Coffeetown Press, 2018
ISBN: 9781603816199
304 pages
http://coffeetownpress.com/2018/02/deros-by-john-a-vanek-a-deadly-homecoming/

---
Comments
---